Eagle Editions | EC99: Fw 190 A-8s IV./JG3
Reviewed by Mark Proulx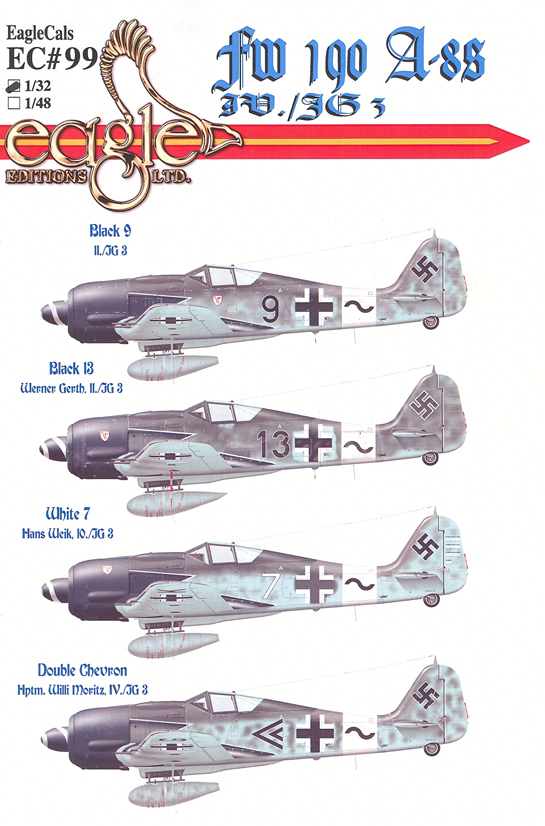 Eagle Editions has released new 1/32nd scale decals depicting Fw 190A-8 Sturmbocks of Sturmjager IV./JG 3 "Udet".
Four similar markings are provided depicting the following aircraft all circa July 1944:
"Black 9", an Fw 190 A-8/R7 of 11./JG 3
"Black 13", an Fw 190 A-8/R7 flown by Werner Gerth of 11./JG 3 with unknown werknummer.
"White 7", an Fw 190 A-8/R2 flown by Hans Weik of 10./JG 3 with unknown werknummer.
"Double Chevron", an Fw 190 190A-8/R2 flown by Hptm. Willi Moritz of IV./JG 3.
The instructions provide a number of pertinent details for the modeler to accurately portray these unique aircraft. Tom Tullis provides the usual high quality of airbrush profiles while Jerry Crandall provides some historical perspective of the unit and their Sturm missions. Left, upper and lower profiles are included as well as detailed finishing notes for each Focke Wulf.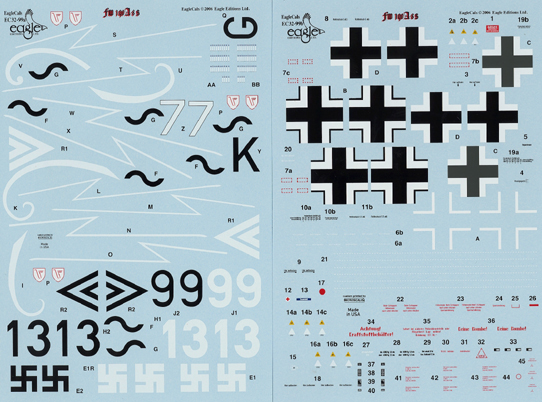 To correctly depict these aircraft requires the use of EP#57-32 reviewed elsewhere on LSP. Hasegawa currently doesn't provide a kit of this variant. Other items such as prop blades, drop tanks, wheels and gun cowls may also be purchased separately if required.
The decals are printed by Microscale. Unfortunately due to a printing error, only the left side crests for JG 3 are provided*. In fact, JG 3 crests are left and right handed. Right side crests will be printed soon and provided. Otherwise the decals look fine and I expect no difficulty using them.
These heavily armored Sturmbocks have always proved interesting modeling subjects in smaller scales. Now, thanks to Eagle Editions, modelers can accurately represent these aircraft in 1/32nd scale.
*As stated earlier in this review, Eagle Editions is now supplying corrected JG 3 crests to anyone that purchased this decal sheet. Please contact Eagle Editions for further details.
Review Sample Compliments of Eagle Editions.
© Mark Proulx 2006
This review was published on Saturday, July 02 2011; Last modified on Tuesday, May 30 2017