Eagle Editions | EP57-32: 1/32 Fw 190A Sturmbock Conversion Set
Reviewed by Mark Proulx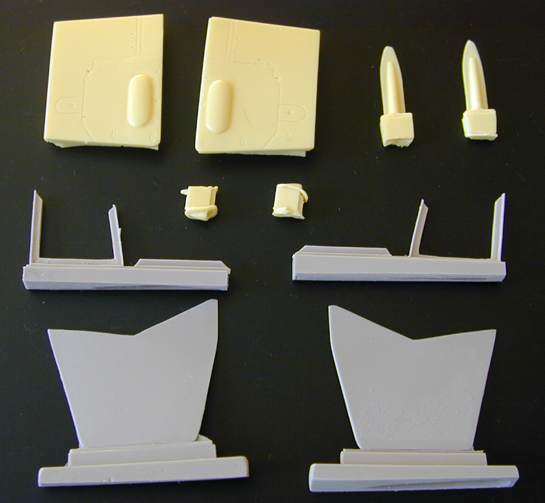 Eagle Editions has released a 1/32nd scale resin Sturmbock conversion set for use with the Hasegawa Fw 190 A. The set consists of 12 cream and gray resin parts and a comprehensive set of instructions.
The instructions begin by explaining the design concepts of these heavily armored aircraft and the modifications they incorporated. The various wing cannon configurations are all explained as they pertain to the different sub variants. Also included are close up photos of the cockpit section of Willi Ungers Fw 190 A-8/R2 Sturmbock.
The seven step instructions are complete with photos and plans showing the proper placement for the bolt-on cockpit side armor (Panzerbleche). The cockpit armor plating will require some modifications to be performed by the modeler. They are molded flat and void of any surface details. Edges need to be sanded to a 45 degree angle. Surface details need to be scribed as per the A-7 drawings included with the instructions. Once that is completed, the resin armor parts need to be heated under hot water while being cautiously curved to match the fuselage contours.
For those modelers needing to add MK 108 cannons (check references carefully), new underwing panels are provided. They will require the removal of large casting blocks to seat properly. Outboard cannon fairings are also provided. Modelers should be careful to note that they are left and right sided. The MK 108 blast tube is not included and aftermarket tubing will be needed. The shell ejection slot for the spent 300mm rounds will also need to be drilled out as indicated by the drawings. Many of these Sturmbocks had the fuselage 13mm gun troughs faired over. These fairings are provided in resin.
Another feature of these Sturmock conversions is the additional heavy, clear vision canopy blinkers or Scheuklappen. These components are provided for left and right canopy sides (again modelers should pay careful attention here). Clear plastic, not included with the set, is simply sandwiched between the two-piece framing. They are then attached to the kit canopy and the blinker framing is painted RLM 66. Please note that one of the blinkers detached from the casting block prior to photographing this review set. To represent the increased windshield framing, a simple paper template is provided.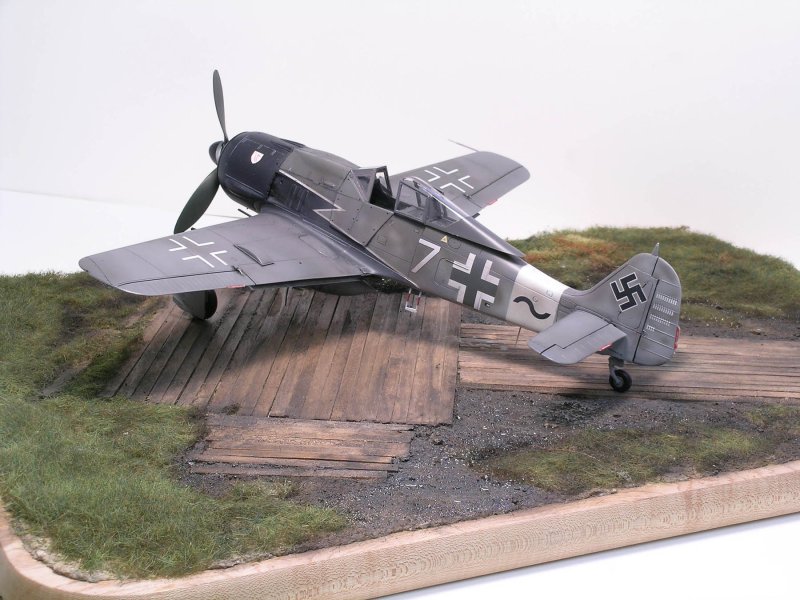 Decals are not included with this conversion, though markings are available from Eagle Editions (review) and Eagle Strike. Jerry Crandall's build, which accompanies this article, should also provide a good look at the finished conversion with EagleCals decals.
This conversion set will require some extra work to be performed by the modeler. However, anyone with resin experience should have very little trouble. Until Hasegawa sees fit to release a dedicated 1/32nd scale Fw 190 Sturmbock, I can recommend this set without hesitation.
Review sample compliments of Eagle Editions.
© Mark Proulx 2006
This product is available from the following LSP sponsors

This review was published on Saturday, July 02 2011; Last modified on Tuesday, May 30 2017