Eagle Editions | EC98: Ju 87 G Stuka Luftflotte 4, I./SG 2
Reviewed by Mark Proulx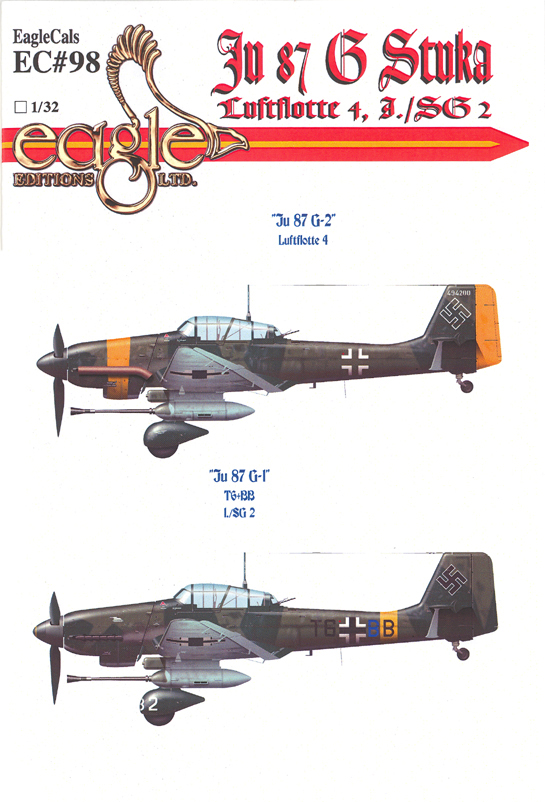 Eagle Editions has just released a pair of new decal sheets for the Ju 87G Stuka. These decals are perfectly timed with the release of the new kit from Hasegawa. This is a review of the second of two new 1/32nd scale decal sheets. EC#97 is reviewed elsewhere on LSP.
Markings are provided for two types of Ju 87 G's. The first is a G-2 from Luftflotte 4, W.Nr. 494200. This Stuka was extensively photographed at Pilsen, Czechoslovakia at the end of the war. The aircraft carried very simple markings with a yellow band around the nose and a yellow rudder providing some clues to its operational assignment. The only other markings are national insignia and werknummer in white. This aircraft was also fitted with flame dampers over the exhausts. Though this feature isn't currently available from Hasegawa, I am sure it will be in the near future in subsequent releases or from the aftermarket community.
The next choice is a Ju 87 G-1 from I./SG 2. It is nice to see Eagle provide markings for the G-1 as alternative wing tips are provided by Hasegawa for this variant.
Both aircraft are finished in a pattern of RLM 65/70/71. Each aircraft was fitted with 37mm underwing cannons, a late war Stuka trademark. The instructions provide complete painting details using Tom Tullis' superb color profiles as a background. This includes upper, lower and side views. Common stenciling information is also included. Further photographic references for the Stuka from Luftflotte 4 can be found in Wings of the Black Cross Number One, also available from Eagle Editions.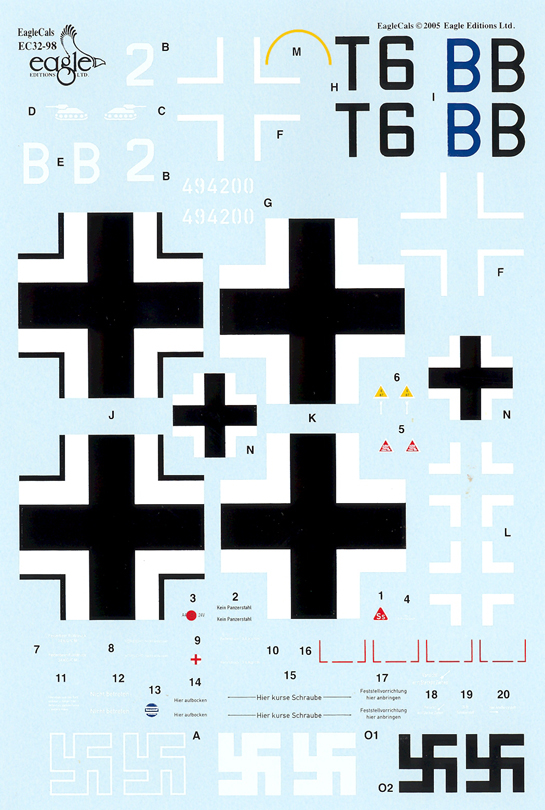 The decals are printed on a single page. They include stencils and national insignia for a single aircraft. I anticipate no problem when applying the decals.
Eagle Editions continue to provide well-researched and unique alternatives to kit supplied decals. I am sure these decals will become strong sellers and I recommend them without hesitation.
Review Sample Compliments of Eagle Editions.
© Mark Proulx 2006
This review was published on Saturday, July 02 2011; Last modified on Saturday, June 03 2017