Eagle Editions | EC91: Fw 190 F-8s Luftflotte 4, SG 2 & SG 10
Reviewed by Mark Proulx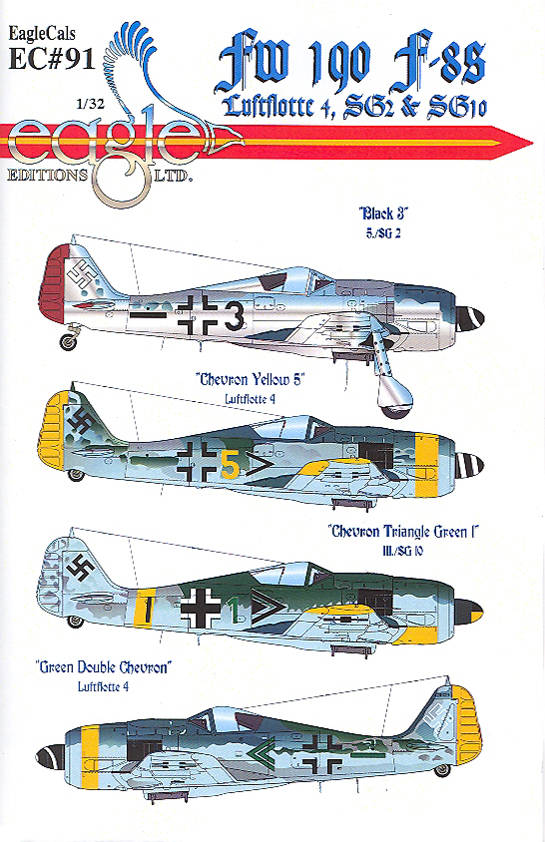 Eagle Editions brings us eight new 1/32nd scale Fw 190 F schemes over two new decal releases. This is a closer look at EC#91, while the review of EC#92 may be viewed here.
EC#91 provides four available options to the modeler. The title of the sheet claims each aircraft as an F-8, whereas one is actually an F-9. It is correctly identified as such in the text. This is only a minor point as no conversion work is required.
The first scheme is "Black 3" of 5./SG 2. Unfortunately the W.Nr. is unknown for this aircraft. The pilot, Eugen Lorcher, flew this aircraft to Aufhausen, Germany with his fiancée on board to escape from the Russians at the end of the war. Every year on this anniversary they return to the site and celebrate their escape with a champagne toast. The aircraft is finished in a very unusual scheme. The fuselage and lower surfaces are natural metal, RLM 74/75 wings with red oxide rudder and elevator.
Next is "Chevron Yellow 5" of Luftflotte 4. The W.Nr and pilot remain a mystery. The aircraft is finished in a pattern of RLM 74/75/76 with dense over painting of RLM 83. To add to this is the striking yellow cowl band, rudder, ailerons and wingtips.
The third option is "Chevron Triangle Green 1" of III./SG 10. This F-8 is more common in its pattern of RLM 75/76 and possibly RLM 83.The wingtips, lower cowling and forward portion of the spinner are painted yellow.
The final aircraft is an Fw 190F-9. "Green Double Chevron" is W.Nr. 428639 of Luftflotte 4. This aircraft was photographed at Neubiberg, Germany in 1945. This aircraft is unique in that it was fitted with a 12 blade cooling fan of the F-8. The BMW manual stipulates the use of a 14 blade fan an all Fw 190F-9s to increase cooling.
The instructions provide complete painting details and identify additional EagleParts that can be purchased to accurately finish your model. Text details the specific history and options fitted to each aircraft. Six photos are also included providing additional references for three of the aircraft.
Microscale prints the decals over two pages. The first supplies specific markings to each aircraft. The second provides the common markings such as stencils and national insignia. As usual, the decals are printed in perfect register with minimal carrier film.
The Fw 190F was the ground attack version of the Fw 190A and would display a number of very unique camouflage schemes. I am sure that these new decals will prove to be quite popular and I recommend them without hesitation.
Review Sample Compliments of Eagle Editions.
© Mark Proulx 2006
This review was published on Saturday, July 02 2011; Last modified on Tuesday, May 30 2017