Eagle Editions | EC82: Fw 190 A-5s JG 1, JG 2 & JG 54
Reviewed by Mark Proulx
Eagle Editions continues to expand their 1/32nd scale decal line with the release of EC#82-32. This decal sheet provides alternate markings for the FW 190 A-5 from Hasegawa.
Four schemes are included with this sheet. The first is the colorful Fw 190 A-5Y flown by Hptm. Dietrich Wickop of II./JG 1. "Black 1" displays a large seagull emblem and Tatzelwurm on both sides of the fuselage and is finished in a pattern of RLM 74/75/76.
The second Focke Wulf is "Yellow 2" from 9./JG 2 as flown by Oblt. Josef Wurmheller in June 1943. This aircraft is finished in the standard RLM 74/75/76 scheme with a yellow rudder and lower cowl. It also displays a black Adlerflugel design aft of the exhaust area.
The third aircraft is "double chevron 8" flown by the famous Second World War ace Gruppenkommandeur Walter Nowotny of I./JG 54. The aircraft is a pattern of RLM 74/75/76 oversprayed with RLM 70/71. This aircraft uses the late style solid main wheels available from Eagle Editions reviewed here.
The final aircraft is "White 7" of 1./JG 1 circa July 1943. Uffz. Walter Kohne flew the aircraft from Deelen, Holland. This Fw 190 A-5 is finished RLM 74/75/76.
Eagle Editions always supply comprehensive instructions for the modeler. These instructions include superb color profiles from Tom Tullis. All references are identified in case modelers want to read more about the subject. Notes are included describing small details of each aircraft. This includes W.Nr's, date and location where known. Propeller drawings are included showing the differences between the three types that were fitted to the Fw 190A-5. Top and bottom views identify the proper location and styles of national insignia.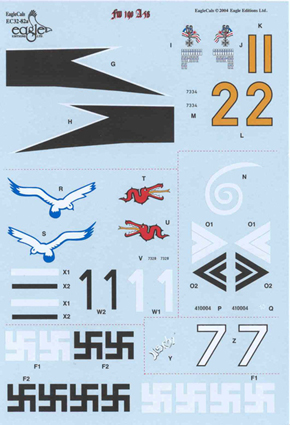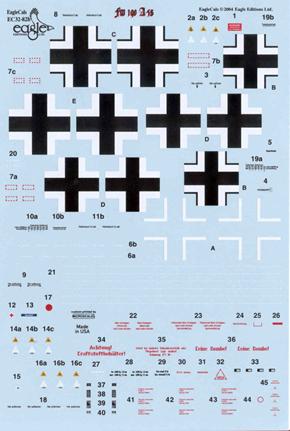 Microscale prints the decal over two pages. They are thin and in perfect register with minimal carrier film. Some stenciling is also provided.
New decals from Eagle Editions are always a welcome addition. They provide quality markings with accurate research data. I recommend them to anyone wishing to use alternative markings from the ones supplied by Hasegawa.
Review Sample Compliments of Eagle Editions.
© Mark Proulx 2005
This review was published on Saturday, July 02 2011; Last modified on Tuesday, May 30 2017