Eagle Editions | EC59: Yellow 10 and Friends
Reviewed by Mark Proulx
Eagle Editions continues to expand their extensive 1/32nd scale decal line. This is a review of some new markings for the Fw 190 Dora in 1/32nd scale. These markings should be suitable for the Revell and Hasegawa models.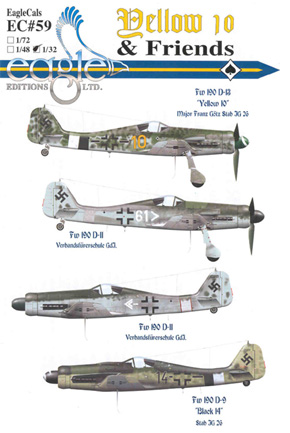 The modeler is supplied with markings for four aircraft. The first is "Yellow 10", W.Nr. 836017, a Fw 190 D-13/R11. This very well known aircraft of Stab JG 26 currently resides in the Champlin Fighter Museum in Mesa AZ. One of two known D-13's in service at wars end, this aircraft is finished in a complicated scheme of natural metal and RLM 76/75/82/83.
The next aircraft is "chevron 61", W.Nr. 220014, a Fw 190 D-11. Some of the mystery surrounding the identity of this aircraft is detailed in the instructions. It is finished in a natural metal andRLM 76/75/82/83. Note: Further reading about this aircraft can be found with the EagleFile book identified at the end of this review.
"Black 14" is another Stab JG 26 aircraft. This is a Fw 190D-9, W.Nr. 211018. This scheme was previously offered on EC#24-32, which is now sold out and reviewed here. However, less masking is involved with this decal sheet as the unique pattern around the exhaust is supplied as a complete decal. The aircraft is finished Blue-green, natural metal and RLM 82/83.
The final Dora on this sheet as a Fw 190D-11, "White double chevron -", W.Nr. 220009. It was assigned to Verbandsfuhrerschule GdJ. This Dora is painted similar as above except for the red brown primer along the edges of the rear fuselage plug.
Eagle Editions maintain their six-page fold out format for the instructions. The airbrushed profiles, accomplished by leading aviation illustrator Tom Tullis, are always impressive. A comprehensive set of notes is included identifying many of the differences between the D-9, D-11 and D-13. These notes are very helpful, as no set exists at the time of this review to convert the 1/32nd scale Dora 9 to later variants. Color side views of the four aircraft are included. However the top/bottom views are a blend of color and b&w profiles. Fortunately, the complex camouflage pattern of Yellow 10 is detailed in color and will be an invaluable aid to anyone wishing to attempt the scheme.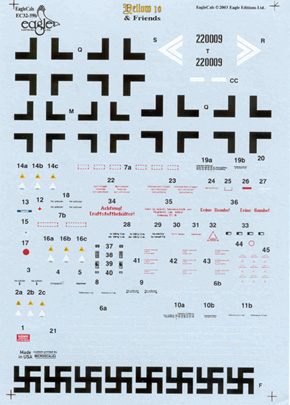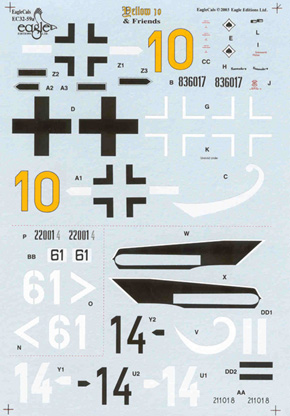 Microscale prints the decals, which is consistent with all EagleCals. They are printed over two pages with minimal carrier film. Stencils are also included. Color registration and saturation is excellent. I would expect no difficulty applying these markings, though I have not tried them myself.
Jerry Crandall has had a long history with "Yellow 10" and it clearly shows in this well-researched decal sheet. For those wishing to learn more, I would suggest further reading of Yellow 10: The story of the ultra rare Fw 190D-13 available from Eagle Editions and reviewed here. I am certain that the decals from Eagle Editions are among the best, most accurate markings currently available. I can recommend them without any reservations.
Review Sample Compliments of Eagle Editions.
© Mark Proulx 2003
This review was published on Saturday, July 02 2011; Last modified on Friday, June 02 2017