Twobobs Aviation Graphics | 32-001: 1/32 F-16C Fighting Fulcrums
Reviewed by Mark Proulx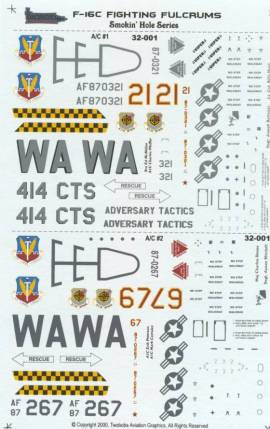 The first 1/32nd scale decal sheet released from Twobobs Aviation Graphics covers F-16C Aggressors. These decals are meant to be used in conjunction with the Hasegawa F-16C.
Twobobs supply enough markings to finish two complete aircraft. The first is for a F-16C/87-0321 painted in the brown "Flogger " scheme. The second is for a F-16C/87-0267 finished in the blue "Flanker "scheme. Note: These aircraft do not have the "Big Mouth" air intakes.
The decals are printed in perfect register. They appear to be very thin with very little visible carrier film. You should anticipate no problems when applying them to your model. All stencils and national insignia are included.
Twobobs supply excellent instructions with their decals. The front page shows both left and right side details printed in color on high quality glossy paper. This valuable reference will be very useful when determining how to paint your model. Some details applicable to these aircraft are shown on small, color photographs. The pictures of the AN/ALQ-188 Tactical Training Pod are helpful. No aftermarket Pod is available in 1/32nd scale as of this review and will require some scratchbuilding by the modeler. The top and bottom views of the aircraft, printed in color, are shown as you turn over the page. Stenciling information is also included. Model paint matches are given for Testors, Humbrol and Gunze Sangyo paints with notes about Aggressor Paint Schemes. Color paint chips, to FS595b standard, complete the instructions. Note: The front page of the instruction sheet has the serial numbers printed in error; the back page and decal sheet are correct. Additional photographs of these aircraft can be found on their web page.
Twobobs Aviation Graphics, owned by Bob Sanchez and Bob Guere, have supplied a well researched decal sheet for the 1/32nd scale modeler. Anybody interested in Aggressor paint schemes should consider this sheet!
© Mark Proulx
This review was published on Saturday, July 02 2011; Last modified on Wednesday, May 18 2016