Twobobs Aviation Graphics | 32-008 F-16 How's My Driving in 1/32nd scale
Reviewed by Mark Proulx
This is the first in a trio of new decal releases from Twobobs Aviation Graphics in 1/32nd scale. Bob Sanchez and Bob Guere have supplied the modeller with three very colourful F-16s. It is suggested to use this sheet in conjunction with the Hasegawa F-16C or the Revell F-16 in 1/32nd scale.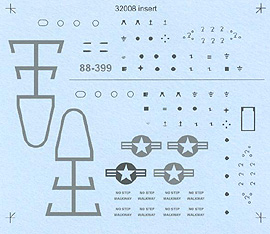 The first aircraft depicted is an F-16C Block 25 as seen in Air Force recruiting commercials. According to Twobobs, the aircraft was never actually painted in this manner. The markings were digitally inserted onto the vertical stabilizer. This aircraft is actually assigned to Edwards AFB at the Air Force Flight Test Center. Markings for this aircraft as it currently appears are also included. The decals for the second F-16C depict a Crimson Tide Block 30 Viper assigned to the 187th Fighter Wing in Montgomery Alabama with its large cobra motif on the tail.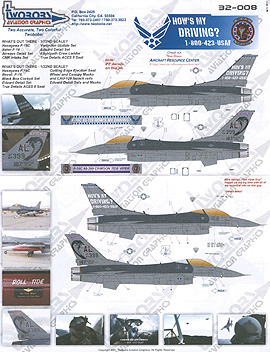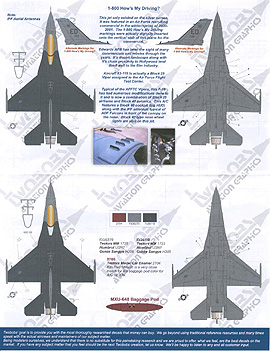 Twobobs always supplies superb instructions, and this package is no different. Left and right side profiles clearly show the paint schemes for both aircraft. Decal and stencil placement instructions aid the modeller with their correct location. A listing of some of the available aftermarket items in 1/32nd and 1/72nd scales is included for modellers looking to additional items to their completed model. Completing the front page are ten thumbnail photos of the subject jets.
Upon flipping over the instruction page, we find that Twobobs continues in their format of supplying top and bottom views for both aircraft. Additional thumbnails are included to assist the modeller with specific details that they may wish to add. Decal and stencil locations are also included in these views. Completing the instructions is FS 595b paint chips matched to Testors MM, Humbrol and Gunze Sanyo lines of paint.
It appears that there are enough decals supplied to complete two aircraft. Though I have not tried these decals yet, I anticipate no problems with them. Carrier film is kept to an absolute minimum and the registration is sharp. The decals are very thin and supplied on two pieces of paper. No mention is made of who was used in the printing process.
For those modellers that insist in absolute accuracy, lots of modifications will need to be undertaken to accurately depict these aircraft. Twobobs state that the AFFTC F-16 is a mix bag of Block 25 airframe and Block 40 avionics. This aircraft features a Block 40 cockpit and IFF antennas on the fuselage similar to ADF F-16's. Block 40 nose wheel lights complete the needed changes. The serial number for the Alabama F-16C makes this a Block 30 aircraft with the "Big Mouth " option. No kit or aftermarket conversion exists for this production block at the time of this review.
Twobobs Aviation Graphics continue to supply the modeller with well-researched, high quality decals. They are to be commended for the continual support they offer to the 1/32nd scale modeller. I highly recommend their decals to anyone interested in the Fighting Falcon. I am sure you won't be disappointed.
Review Sample Compliments of Twobobs Aviation Graphics.
© Mark Proulx 2002
This review was published on Saturday, July 02 2011; Last modified on Wednesday, May 18 2016