Revell | 04792: 1:32 F-104G Starfighter
Reviewed by Menelaos Skourtopoulos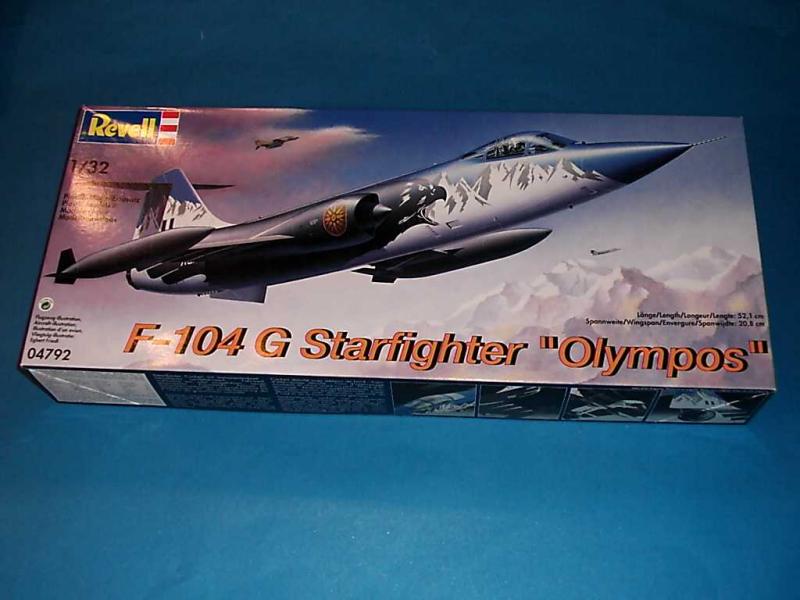 Olympos is not only the highest mountain in Greece, but also the Name of the 336 Sq. The 336 Sq. has a long tradition in the Hellenic Air Force to be the second greek Sq. that formed in North Africa after the German invasion in Greece 1941. The first airplane that flown was the Hawker Hurricane.
The 336 Sq. together with the 335 Sq. "Tigris" (Tiger) were the only Sq. to fly the legendary F-104G and TF-104G Starfighter in Greece from 1964 until 1993, a long period indeed. The 335 Sq. flown the "104" in the interception role, the 336 Sq. as a fighter-bomber. Although the HAF flown the Starfighter early enough (Germany until 1962) the high accident rate that the F-104 had is unknown in Greece. The 335Sq. flown the first 1000 hours without any accidents. Perhaps is the good Greek weather the answer for that performance.
I'm glad that Revell offers the Starfighter Kit once again, this time in anniversary colours. The Kit is old but is my favorite. The Hasegawa F-104 offers more details (not in the landing gear bay, there's Revell much better) but the surface details are too thin and you have to rescribe the whole model and the Revell kit is much cheaper. The surface details on the Revell kit are mixed and the modelling result after painting and wash/drybrush is more realistic.
The Revell kit has the also the short tail of the A/C-Version but the G-wheels, the main gear doors are of the A/C-Type (without the bulges) and the cockpit is also of the C-Type with the original C-2 seat. Here's a point that an extra detailing kit will help.
Two wing tip tanks are included together with a refuelling probe for the C-Type. For the front and main gear you have the also option of rubber tires, but be careful, they are for the C-Type wheels!
The Kit offers markings for the "Olympos" the last Starfighter that flown for the 336 Sq. as fairwell. These are the most accurate decals I ever seen for the "Olympos" at all scales. Only thing that is perhaps a bit thick is the white "7151" but it's not a big problem. The "Vergina Star" shown on both sides of the intakes is not a Mythology sign, but the crest of the ancient Greek Dynasty of King Philipp and his son Alexander the Great. That crest was found in Vergina (northern Greece) in King Philips tombstone.
Looking at the pics of the real plane (http://www.haf.gr/media/f-104_olimbos.jpg) I see that Revell produced a very accurate decal sheet. The shadows on the Vergina star, the Mountains, the eagle head and the feather of the eagle are absolutely identical with the real thing.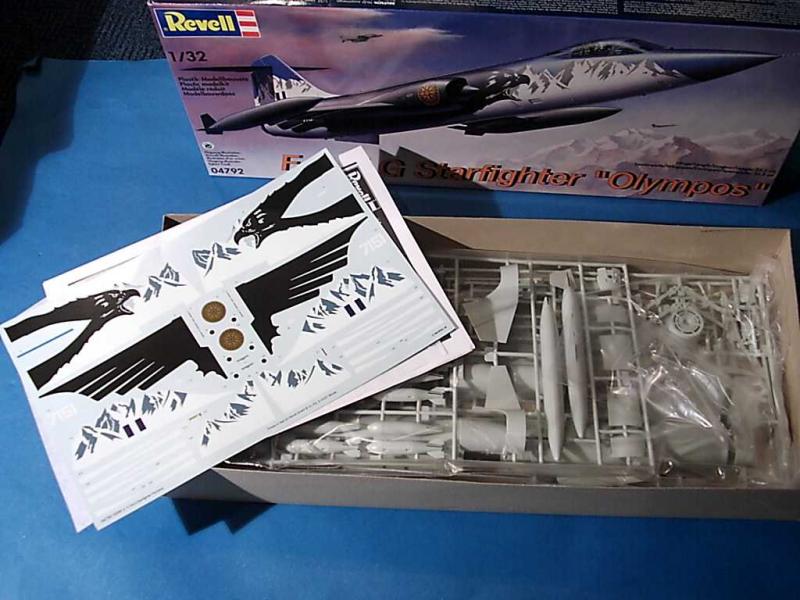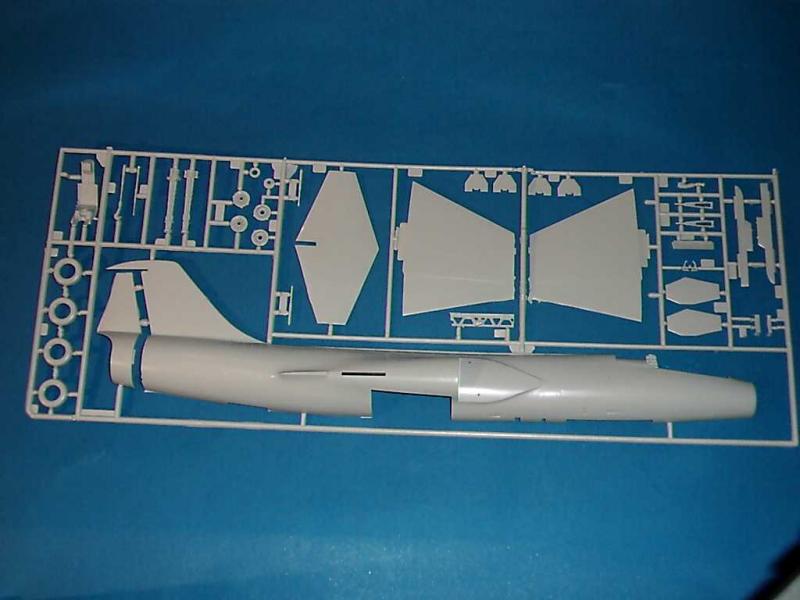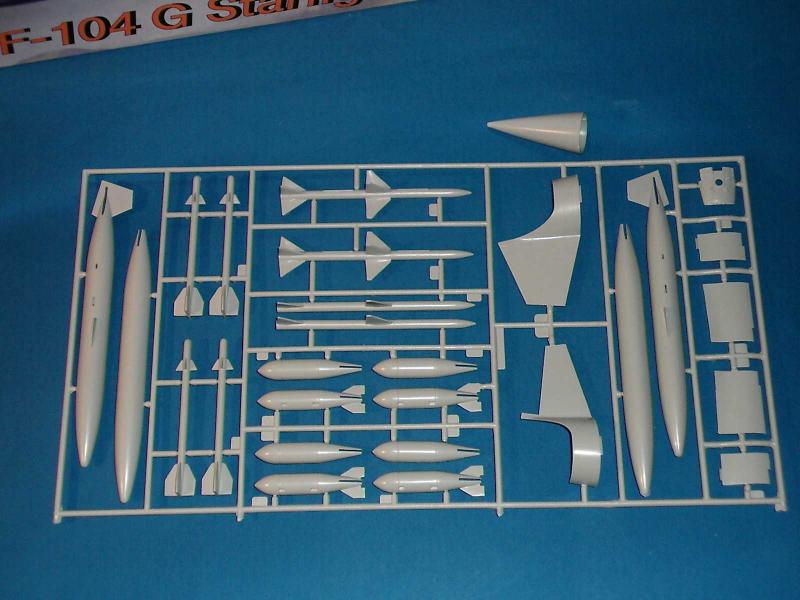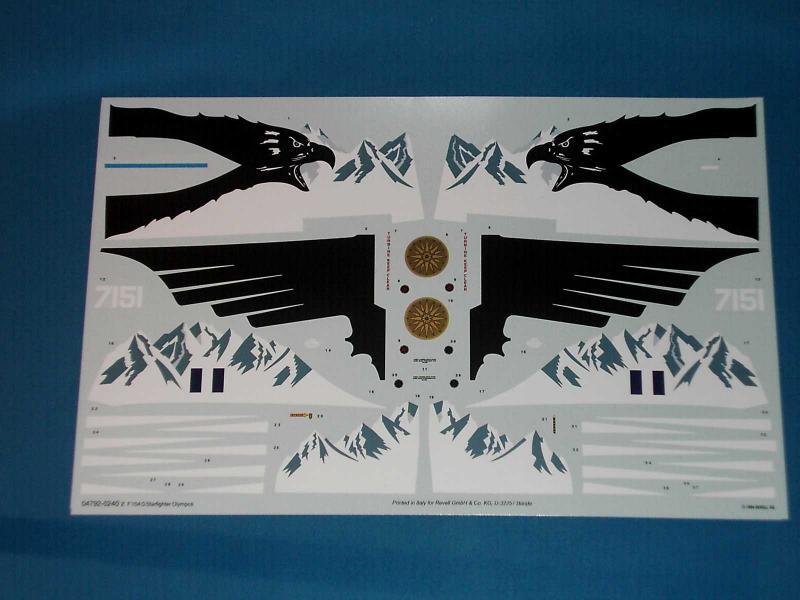 I paid 26 € for that Kit. Not a cheap one but highly recommended!
© Menelaos Skourtopoulos 2006
This review was published on Saturday, July 02 2011; Last modified on Wednesday, May 18 2016