Eagle Editions | EC58: FW 190D-9s JG 2, JG 4, JG 26, JG 51
Reviewed by Mark Proulx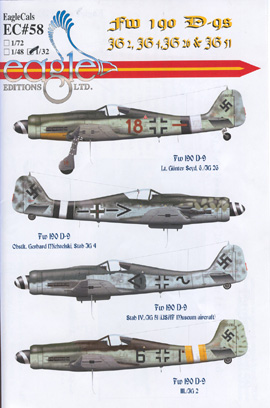 Eagle Editions has just released 1/32nd scale decal sheets to be used in conjunction with the Hasegawa Fw 190D-9. Four optional schemes are included.
The instruction sheet continues using the familiar EagleCals format. A combination of text, color profiles and photographs, extensively detail each aircraft. Color chips are not included that were seen on previous instruction sheets. Tom Tullis continues his superb color artwork including top and side profiles of each aircraft. A complete set of stencil location drawings complete the six-page foldout instructions.
The first scheme is a Fw 190D-9 of 7./JG 26 flown by Lt. Gunter Seyd. "Brown 18" is finished with RLM 82/83 upper surfaces. The underside is finished Blaugrun with the leading edge and gear doors finished RLM 75. The familiar Black/White RV bands of JG 26 are applied to the rear fuselage. The only known photo of this aircraft is included with the instructions giving modelers the opportunity to further study this aircraft.
The familiar Fw 190D-9 of Obslt. Gerhard Michaelski is the next scheme. This aircraft, assigned to Stab JG 4, is finished in a scheme of RLM 74/75/83 with unusual Blaugrun spotting on the engine cowl. Photos of this aircraft appear in a number of publications.
Most people will be familiar with the next scheme. It represents the NASM Dora as it appeared in May 1945. "< 1" was assigned to Stab IV./ JG 51. Unfortunately, the pilot is unknown. This is the most extensively detailed aircraft of the set. Six photos are included, taken in the mid 1960s. The aircraft is finished in RLM 74/75/76. This is documented by color photos and information supplied by USAF Museum restoration specialists.
The last aircraft is "Black 6" of III./ JG 2. This is a very unique variant as it is among the few to be known to be equipped with a Ta 152 metal tail. The upper surfaces are finished in a scheme of RLM 75/81/83. The underside is finished Blaugrun with RLM 75 leading edges and gear doors (provisional). Unfortunately, photos of this aircraft are not included with the instructions.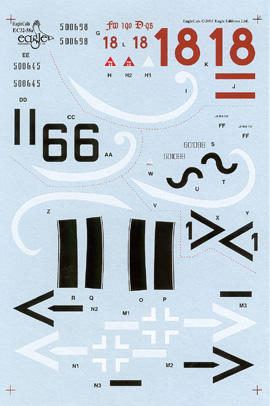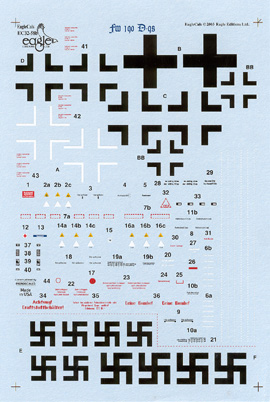 Microscale prints the decals over two sheets of paper. Stencils are included, with a small set of prop logos printed on a separate sheet (not shown in scans). As expected, the overall quality is very good with all markings printed in perfect register. I would anticipate no problems when applying these decals, though I have not tested them myself.
I am sure that we will see a number of new products available for Hasegawa's Fw 190D-9 in 1/32nd scale. I can easily recommend this decal sheet to anyone with an interest in this aircraft or late war German camouflage schemes in general.
Review Sample Compliments of Eagle Editions.
© Mark Proulx 2003
This review was published on Saturday, July 02 2011; Last modified on Friday, June 02 2017