Eagle Editions | EC83: Fw 190 A-5s JG 1, JG 2, JG 11 & JG 54
Reviewed by Mark Proulx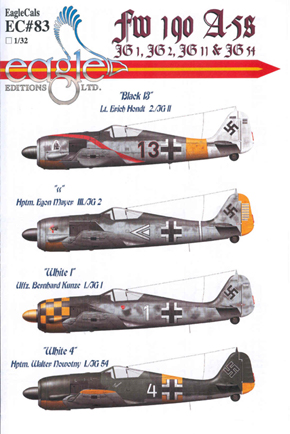 This is the second release from Eagle Editions supplying new markings for the 1/32nd scale Hasegawa Fw 190 A-5. Four exciting new schemes are supplied.
The first Fw 190 A-5 is the colorful Fw 190 A-5/U12 flown by Lt. Erich Hondt, Staffelkapitan of 2./JG 11. "Black 13" was equipped with outboard MG 151 20mm canon pods. It is finished in a standard pattern of RLM 74/75/76. The white tail identifies the aircraft as that of a Flight leader. The yellow band on the tail is speculative as stated with the instructions.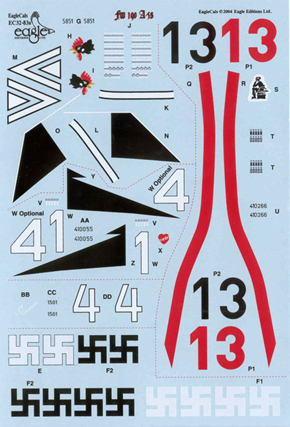 The next Fw 190 is "White <<", flown by Hptm. Egon Meyer when he was Gruppenkommandeur of III./JG 2. The aircraft in finished RLM 74/75/76 and displays a yellow rudder and lower cowling.
The third aircraft is identified as "White 1 or White 4". Uffz. Bernhard Kunze flew the aircraft while attached to 1./JG 1 in August 1943. The instructions state that there is plenty of speculation about the scheme applied to this aircraft. I spoke with Jerry Crandall about this and he provided me with additional information subsequent to the printing of these decals. Photos surfaced after these decals were printed confirming that the aircraft is indeed "White 1". The checker cowling is likely white and black. Otherwise, the aircraft is finished RLM 74/75/76.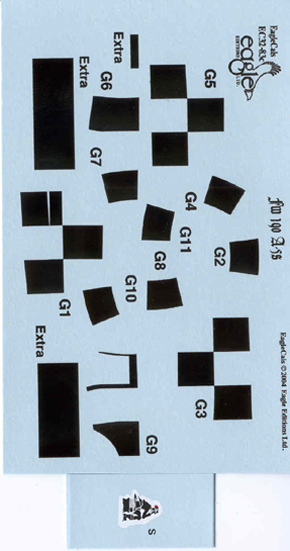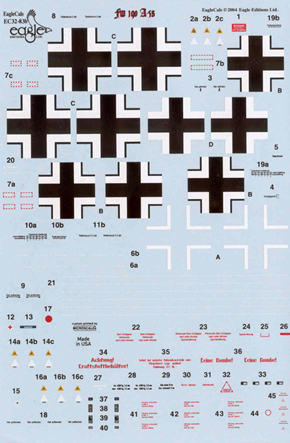 The final option is "White 4" of I./JG 54. Oblt. Walter Nowotny flew this aircraft during the campaign at the Eastern Front. It is finished RLM 70/71/76. The lower portion of the rudder, wingtips, cowling and fuselage band are yellow.
Microscale prints the extensive markings for these four aircraft. They are printed over two large and two small sheets. The markings are in perfect register and color density looks good.
Detailed instructions provide the modeler with assistance on how to complete each aircraft. (Note: a printing error caused the images to be too dark, however, this doesn't detract from the Tom Tullis artwork.) Propeller drawings are included which depict each of the various propeller typed that could be fitted. A comprehensive set of plans identifies the proper location for each stencil. Also included is a smaller set of instructions depicting the proper sequence for assembling the checker cowling.
Despite the problems with the instructions, this is a welcome addition from Eagle Editions. The schemes are very colorful and I am sure that they will catch the eye of many Luftwaffe modelers. I recommend these decals without hesitation.
Review Sample Compliments of Eagle Editions.
© Mark Proulx 2005
This review was published on Saturday, July 02 2011; Last modified on Tuesday, May 30 2017