Eagle Editions | EC79: Fw 190 A-8s in 1/32nd Scale JG 5, JG 300 & JG 301
Reviewed by Mark Proulx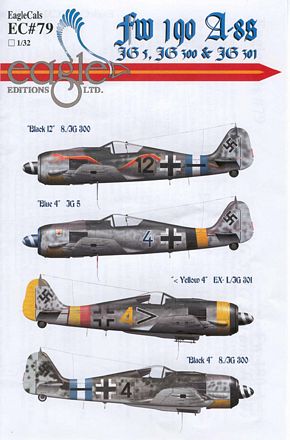 This is the fourth, and probably most colorful of the recent Fw 190 A-8 decal releases from Eagle Editions. Four schemes are included to be used with the new Hasegawa Fw 190 A-8.
The instructions follow the same format as the previous releases for the Fw 190 A-8. The highly detailed color side profiles are created by Tom Tullis.
Jerry Crandall further explains many of the specific details for each aircraft. This includes complete painting instructions. References are supplied from the soon to be released book Jagdeschwader JG 300 Wilde Sau a Chronicle of a Fighter Geschwader in the Battle for Germany.
The first Fw 190 A-8 is "Black 12" of JG 300. Many modelers will recognize the striking snake design from an earlier EagleCals sheet (EC#35). The snake design was a remnant of its earlier assignment to JGr. 10. When the unit was disbanded in the spring of 1945, their aircraft were turned over to other units. In this case, JG 300 operated the aircraft from Bayreuth-Bindlach, Germany. The camouflage pattern is standard RLM 74/75/76 with blue/white/blue home defense bands.
"Blue 4" was assigned to JG 5 in Norway. This aircraft wasn't fitted with an ETC rack. It was finished RLM 74/75/76 and displayed the black/yellow home defense bands of JG 5.
The third aircraft is "Yellow Chevron 4" of Luftflotte 4. The aircraft was pressed into service in the ground attack role at the Eastern Front. This led to the application of a yellow cowl band and rudder over the standard RLM 74/75/76 scheme. The aircraft also displays the red/yellow home defense bands indicative of its earlier assignment to I./JG 301. Modelers should note that the side profile shows a blown canopy. This is provisional as no canopy was fitted in the referenced photo.
The final aircraft is "Black 4". It is finished RLM 74/75/83 and displays the blue/white/blue defense band of JG 300 on the rear fuselage. A black cowl ring is visible as is a non-standard black starboard wingtip. This side profile depicts the aircraft with a blown canopy. This isn't supplied with the Hasegawa kit and may need to be scavenged from Hasegawa's Fw 190D-9.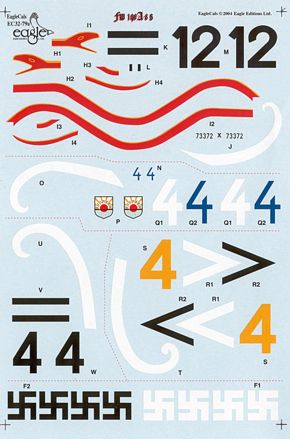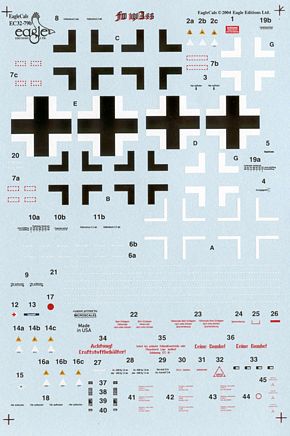 The decals are printed over two pages. The first carries markings specific to each aircraft. The second supplies national insignia and stencils. The decals are printed in perfect register with no visible carrier film.
These new decals from Eagle Editions are sure to please. Late war Fw 190As carried some very colorful schemes as evident by this release. Modelers can be assured that these markings are the most accurate possible relying on the latest information.
Review Sample Compliments of Eagle Editions.
© Mark Proulx 2004
This review was published on Saturday, July 02 2011; Last modified on Tuesday, May 30 2017