Eagle Editions | EC78: Fw 190 A-8s in 1/32nd Scale JG 5, JG 54 & JG 301
Reviewed by Mark Proulx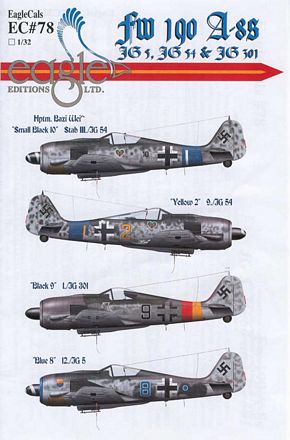 This is a review of the third of four new 1/32nd scale decal sheets for the Fw 190 A-8 from Eagle Editions. These markings are designed for use with the New Tool kit ST-21 from Hasegawa.
The instruction sheet follows the same format as the earlier 190 sheets. Tom Tullis supplies very realistic airbrushed side profiles. Top views and lower scrap views are provided showing proper decal placement and camouflage patterns. Stencil patterns are portrayed. Complete detailing instructions are also provided. For example, items such as gun installation and prop variant are addressed.
There are four schemes to choose from. The first is the aircraft of Knight's Cross holder Hptm. Robert "Bazi" Weib. "Small Black 10" is finished in the standard pattern of RLM 74/75/76. The aircraft displayed the prominent JG 54 home defense band on the rear fuselage.
"Yellow 2" was also assigned to JG 54 as noted by the blue home band on the rear fuselage. The aircraft was finished RLM 74/75/76 with the finish being very heavily chipped. Modelers should note that the correct cross to apply to the fuselage is "D" and "D-chip" not "G" as indicated.
"Black 9" was originally assigned to JG 11 and turned over to JG 301 in 1945. This transition led to an unusual home defense band on the rear fuselage. The existing yellow band of JG 11 was left in place and a red portion was added to the front. This left the band reversed from the normal combination. The aircraft was finished RLM 75/76/83. It was also fitted with a blown canopy, which isn't supplied with the Hasegawa Fw 190 A-8 model.
The last scheme is "Blue 8" of 12./JG 5. The aircraft has a blue cowl ring and is finished RLM 74/75/76. A small "8" is also featured on the landing gear doors.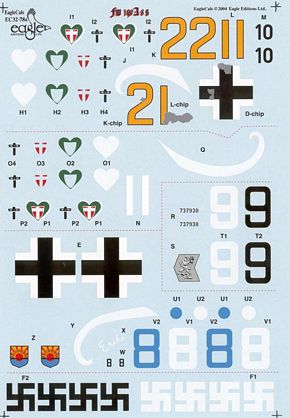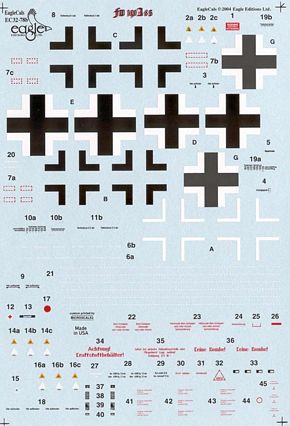 A number of references were used for the creation of this set of decals. They include:
Green Hearts. First in Combat with the Dora 9 (Eagle Editions)
2. Focke Wulf Jagdflugzeug Fw 190 A, Fw 190 Dora, Ta 152 H
3. James Crow photographs
The decals are printed by Microscale, common to other decal sheets from Eagle Editions. They are printed over two pages. The fuselage cross with grey center that is identified as "G" on this sheet is not applicable to any of the schemes. The excessive paint chipping found on "Yellow 2" is supplied as part of the decals. If you wish to apply alternate markings for this aircraft without the chips, the crosses marked "D" would be appropriate. Stencils are also included.
This is another colorful decal sheet from Eagle Editions. I am sure that they will prove to be popular given the quality of the Hasegawa kit.
Review Sample Compliments of Eagle Editions.
© Mark Proulx 2004
This review was published on Saturday, July 02 2011; Last modified on Tuesday, May 30 2017