Eagle Editions | EC77: Fw 190A-8s in 1/32nd Scale JG 300 and JG 301
Reviewed by Mark Proulx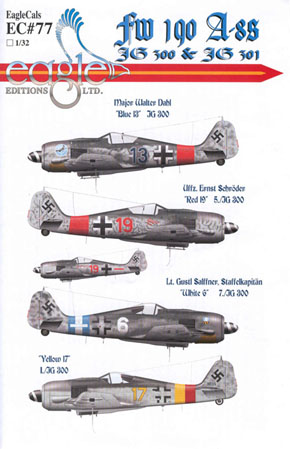 This is the second of four new decal sheets designed for use with the new tool Hasegawa Fw 190 in 1/32nd scale. The decal sheet supplies markings for five different schemes. This is a departure from previous decal sheets and I will expand upon this later.
Similar to EC#76 previously reviewed, Tom Tullis provides his unique style to these airbrushed profiles. The instructions are well thought out and provide plenty of material for any Luftwaffe enthusiast. They are printed in a two-page fold out with colorful side, upper and lower profiles. No photos of the aircraft are included. The references for these aircraft come from the book Jagdgeschwader JG 300 Wilde Sau, a Chronicle of a Fighter Geshwader in the Battle for Germany. At the time of this review, the book had not gone to press. Stencil diagrams for the Fw 190A complete the instructions. Modelers should note that the last two aircraft requires that a blown canopy be fitted. This isn't available with the model, but does come with the Hasegawa Dora 9 kit.
The first Fw 190 is "Blue 13" of Major Walter Dahl. He flew this aircraft as the Kommodore of JG 300 in November 1944. The aircraft is finished in the standard scheme of RLM 74/75/76.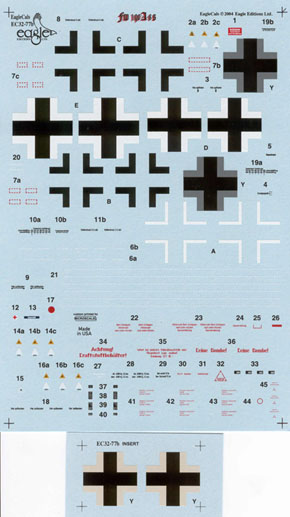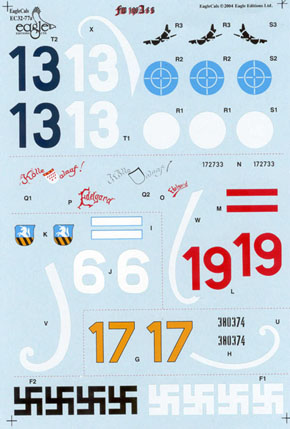 The next Fw 190A is "Red19" flown by Uffz. Ernst Schroder. Schroder was attached to 5./JG 300 in 1944 at Lobnitz, Germany. It is with this scheme that two choices are supplied thus giving the modeler five complete choices. Both options are finished RLM 74/75/76. Earlier this aircraft the aircraft was fitted a II Gruppen bar and no JG 300 band. The name Edelgard was applied to the right side. Subsequently, the aircraft would see a JG 300 band painted over the bar and an updated version to the name Edelgard. Additional mottles were also added.
The third Fw 190 is "White 6" of 7./JG 300. The pilot was Lt. Gustl Salfner. The aircraft was finished RLM 74/75/76 or possibly RLM 75/76/83. The aircraft displayed a very colorful blue/white/blue Reich band.
The last option is "Yellow 17" of I./JG 301. The scheme is the same as that applied to "White 6" The aircraft displays an unusual port fuselage cross due to a replaced access panel.
The decals are printed on two pages. The first includes all appropriate markings for each individual aircraft. With Dahl's aircraft, starboard depiction is speculative and the modeler is supplied with a choice of decals. The second page includes all national insignia and stencils. A small sheet includes new fuselage crosses for "Red 19", due to an error in printing.
These new decals from Eagle Editions are sure to please. The schemes selected are very colorful with a wide variety of options to choose from. I am confident that these decals are among the most accurate Fw 190A-8 decals currently available.
Review sample Compliments of Eagle Editions.
© Mark Proulx 2004
This review was published on Saturday, July 02 2011; Last modified on Tuesday, May 30 2017