Eagle Editions | EC76; Fw 190 A-8s in 1/32nd Scale JG 54 & JG 301
Reviewed by Mark Proulx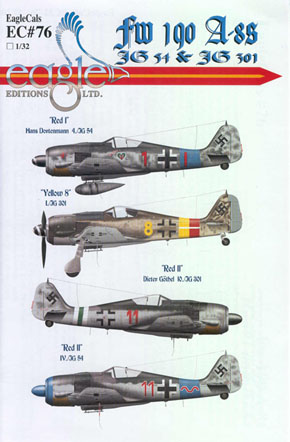 Eagle Editions has released a series of new items for the Fw 190 A, among them are a number of new decal sheets. This is the first of four reviews examining the markings for Fw 190 A-8s. This sheet supplies marking for four aircraft from JG 54 and JG 301.
The first thing you notice when receiving each of these new decal sheets is the stunning airbrush artwork of Tom Tullis. His artwork alone makes these instructions a valuable reference source.
Jerry Crandall supplies highly detailed painting instructions for each aircraft as well as a description of various features unique to each aircraft. When known, items such as date, location, W. Nr, unit and pilot are enclosed. As different kinds of props were fitted to the Fw 190 A-8, Jerry also supplies information as to which type to fit to your model. These resin props are available from Eagle Editions. The instructions provide complete stencil data. Upper and lower color views are also provided for each aircraft. However, no photos are included as has been seen in other decals from EagleCals.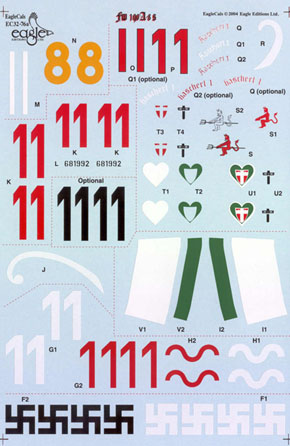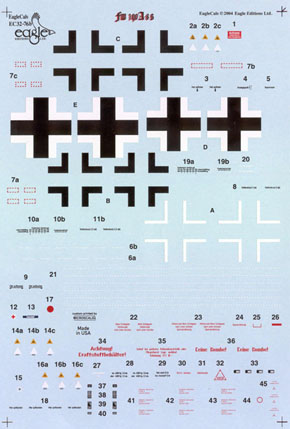 Four aircraft options are available to the modeler. The first is the colorful Fw 190 A-8 of Lt. Hans Dortenmann. He flew "Red 1" when attached to 4./JG 54. It was finished in a pattern of RLM 74/75/76. A quick search on the Internet reveals a number of photos of this aircraft for modelers to refer too.
Next is "Yellow 8" of I./JG 301. Those modelers fortunate enough to have Luftwaffe at War Vol. 6 Defeat in the West will find an amazing color photo of this aircraft credited to the late Jeff Ethell. A color profile is also available in Fw 190 Part 1 Colortech #1 by Tom Tullis. The aircraft is a mix of numerous colors, well beyond the scope of this review.
"Red 11" was flown by Uffz. Dieter Gothel of 10./JG 301. Like Dortenmann's aircraft, this Fw 190 is finished in a pattern of RLM 74/75/76. However this aircraft displays experimental white/green/white fuselage bands.
The last option is also identified as "Red 11". This is not to be confused with the earlier aircraft. It was assigned to
IV./JG 54 in March 1945 at Sachsen, Germany. This aircraft is finished in a pattern of RLM 74/75/76.
Microscale prints the decals over two pages. The first page includes markings particular to each aircraft. The second includes national insignia and stencils. Carrier film is at a minimum and I expect no difficulty in applying the decals. Registration is perfect. Multiple decals are used to create a single image where applicable to ensure proper registration.
I am always impressed by the quality of decals from Eagle Editions. The magnitude of information given to the modeler should ensure that an accurate aircraft results if the instructions are followed. I recommend these decals to modelers/historians alike.
Review Sample Compliments of Eagle Editions.
© Mark Proulx 2004
This review was published on Saturday, July 02 2011; Last modified on Tuesday, May 30 2017