Eagle Editions | EC58: 1/32 Fw 190D-9s JG 2, JG 4, JG 26, JG 51
Reviewed by Tony Oliver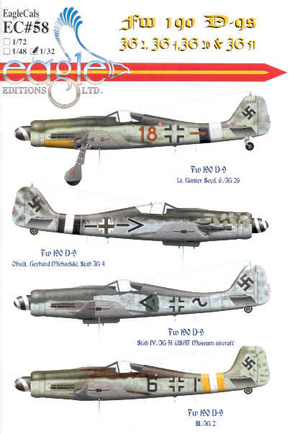 Another release from Eagle Editions covering the Hasegawa 190D-9 and four options for what are very individual machines. It's true to say that by the closing months of WWII, Luftwaffe aircraft seemed to have lost any cohesive camouflage structure, individual units seemingly applying camouflage colours randomly to suit tactical and local situations. Whether this was a vain attempt to increase the survivability of the aircraft both in the air and on the ground is a point discussed many times before.
It's also something which is possibly the root of why so many modellers choose to build so many 109s and 190s, a point well illustrated by Eagle Editions decal products.
The set has two sheets of A5 size decals; sheet 'a' carrying the specific aircraft markings and sheet 'b', the generic national markings and data stencils for the Dora. The carrier film around the individual decal is really at the absolute minimum and the decals are so thin that the surface texture of the carrier paper shows through when held up to the light. My sheet 'a' was slightly out of register judging by the bottom right marks, but on a sheet that only has three colour separations and all of these (black, white and brown) are separate from each other, this was of no consequence.
The tri-fold info sheet, which accompanies these decals, is probably worth the money (yes I bought this set, it wasn't a review sample) alone. Printed on quality glossy paper stock, it includes nearly everything necessary to use these decals without going any further.
A synopsis of each machine, its unit and history where known is included, with a short breakdown of the probable colours used, the position of markings and links to references. Three view line drawings are included to apply the stencils and as throughout the sheet, the user is advised that the information is representational. This isn't a cop out but essential advice when dealing with Luftwaffe markings. Supporting the text are two pages of reproduced photos of the machines in question. And although these images are available elsewhere in print, they are a valuable one-point reference.
Finally there are the colour profiles, and although the artist doesn't get a mention (joke!) it's the artwork which mark these sheets out as being a bit special. The application of colour and interpretation by the artist of the available references make the job of using these decals so much easier!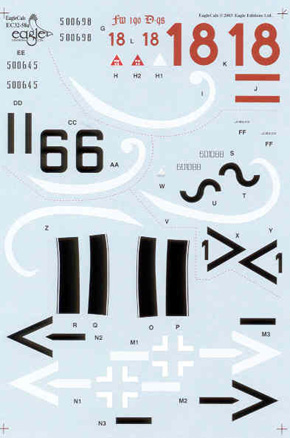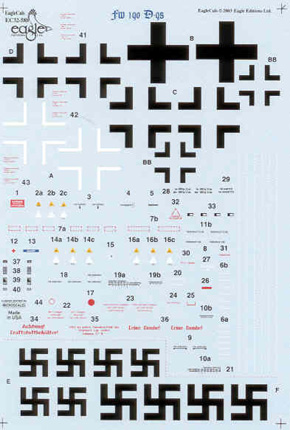 I've two reservations about this set and the main one is that there are insufficient stencil data to model all of the aircraft schemes. This is a disappointment and bearing in mind the effort that has been put into these decals to provide a first class product, I feel that one set of data is a let down. Based on price alone, I'm sure most modellers won't just build one Dora from this sheet, and to have to source a second or third set of stencils is annoying.
The second issue again lets the side down slightly in that whilst the pictorial support is first class, it lacks photo evidence for the fourth subject, Black 6 of JG2 and the star of the sheet In view of it being a rareTa152 tailed beast it seems a bit of a let down to not have photographic support for this aircraft when the text states that there is a published image available.
Further to this the text doesn't elaborate on where the image can be found. I can only assume that the reasons are that reproduction rights for the image don't lie with Eagle Editions or that there is something preventing its publication in the decal set. Either way this was a major disappointment and I could live without the reproduction of the well-known image of Brown 18 if the pic of the big tail black 6 was included.
I like this product, not because of the obvious subject matter, but because it is an 'everyman'. Included is enough stuff to produce a first class rendition of a chosen aircraft based solely on the information provided, without spending time and financial resources going any further. But it is also more, it's an involved piece of reference work, which even after the decals are used can be added to and incorporated into a wider knowledge of this complex and fascinating subject.
This recent decal release from Eagle Editions is probably just the tip of a Dora decal iceberg, and with so much colourful subject matter available in references yet to make it onto the commercial decal market; 190D fans are guaranteed to be spoiled for choice for a long time to come.
A first class item only let down by inconsistencies and a must have for 'doraphiles' everywhere.
© Tony Oliver 2004
This review was published on Saturday, July 02 2011; Last modified on Friday, June 02 2017