Aviaeology | 240072: Early Hurricane Collection: Battle of Britain and Beyond Vital Storm Pt 1 & 2
Reviewed by Mark Proulx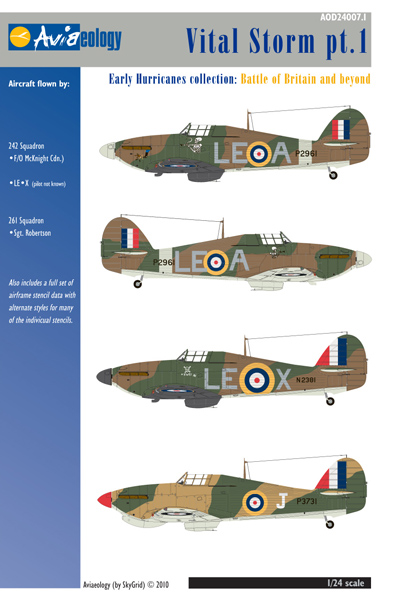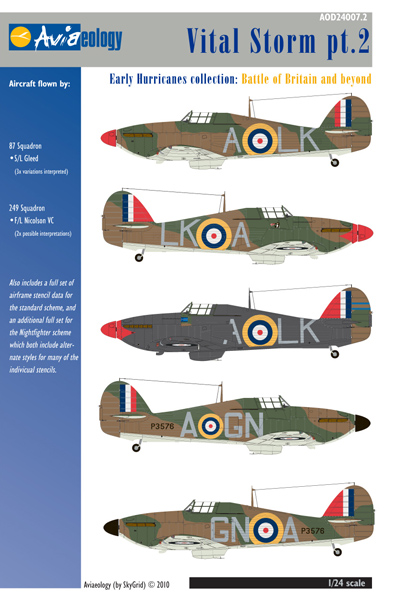 Aviaeology has now released their new 1/24th scale decals for the Hawker Hurricane. This review explores these new decals.
These decals are scaled up markings from the Zotz 1/32nd scale decal sheet released in 2010. Of course, due to the size of the decals, the number of choices is reduced.
In Vital Storm Part 1 there are colorful markings for three different aircraft:
Hurricane Mk 1 s/n P2961 LE-A 242 Squadron Pilot: F/O W. McKnight
Hurricane Mk 1 s/n N2381 LE-X 242 Squadron Pilot: Unknown
Hurricane Mk 1 (Trop) s/n P3731 J 261 Squadron Pilot: Sgt. Robertson
Vital Storm Part 2 provides markings for four different Hurricanes flown by two pilots:
Hurricane Mk 1 s/n P2798 LK-A 87 Squadron Pilot: S/L I. Gleed
Hurricane Mk 1 s/n P3576 GN-A 249 Squadron Pilot: F/L Nicholson VC
One has come to expect extensive instructions from Aviaeology, and thankfully this format is continued here. As they arrive in the package, the instructions are printed in black and white over both sides of a 2-page foldout. The purchaser is subsequently directed via e-mail to a link where they can download full color copies.
Modelers should be advised that some of these schemes, or portions thereof, are based on best available assumptions. This is due to the fact that no known photos exist of the subject aircraft. However, all this is revealed in the instructions educating the builder for the rationale behind the markings.
Upper plan views for "A" and "B" patterns in temperate and desert schemes are depicted. Aviaeology also provide left and right profile views of each aircraft. Notes are also included clarifying mirror styles, propeller variant and paint schemes. A complete stencil placement guide is also included for the Hurricane.
The silkscreen decals are printed over four pages, two large and two small. They include national insignia with two different shades of red and complete stencils. Optional shades of red are included arising from controversy over the exact shade used. A recent revelation has seen to the inclusion of a right side "giving Hitler the boot" insignia for McKnight´s 242 Squadron aircraft. This was discussed in the book RAF & RCAF Aircraft Nose Art in WW II (Simonsen, Hikoki 2001).
The decals display a minimum of carrier film and the printing is performed in perfect register. I anticipate no difficulties with their application. The markings are thin with very good color density.
It appears that these decals can be used on the Airfix or Trumpeter kits. Both have their pros and cons. However, one item that is common to both models is potential difficulties with kit decals. The Airfix kit is now getting rather old and decals included may be faded and cracked. Trumpeter provides markings that are completely incorrect in color, and consequently useless to those interesting in building an accurate Hurricane.
Given the problems I have identified with kit decals I recommend these markings to anyone interesting in building a 1/24th scale Hurricane Mk 1. All indications are that these decals are selling extremely well. Given the limited production numbers they may only be available for a short period of time before stock sells out.
© Mark Proulx 2001
This review was published on Saturday, July 02 2011; Last modified on Wednesday, May 18 2016