Twobobs Aviation Graphics | USAFE Big Mouth Vipers in 1/32nd Scale 32-032
Reviewed by Mark Proulx
Twobobs Aviation Graphics continues with new releases for the 1/32nd scale F-16C. The latest is for Aviano and Spangdahlem based F-16C's.
Twobobs supply markings for three aircraft. The instructions identify each aircraft as Block 50 production versions. However, they are Block 40 versions as confirmed for me in an e-mail from Twobobs.
The first F-16 is A/C 89-2049 from the 31st Fighter Wing based at Aviano, Italy. This is a USAFE CC aircraft circa summer, 2004.
The second F-16 is another 31st Fighter Wing aircraft based at Aviano. The aircraft is identified as the Ops Group CC aircraft. Similar to the previous aircraft, 89-2137 is depicted as it appeared in the summer of 2004.
The third aircraft is 91-0416. This is a CCIP jet based at Spangdahlem in the summer of 2004 while attached to the 52nd Fighter Wing.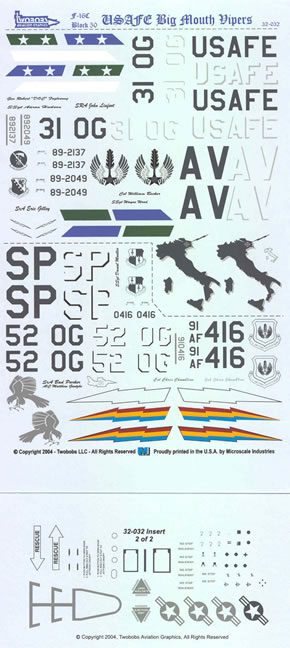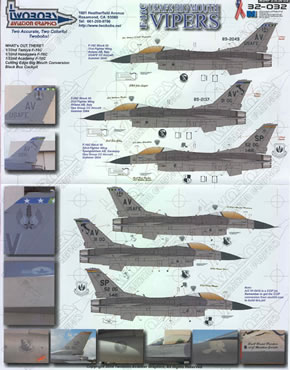 The instructions provide side views of each of the three aircraft. General top and bottom views are included as they are the same for each subject. There are ten thumbnail photos and one large picture included as additional references. My initial reaction was that the decals are printed to dark. I e-mailed Twobobs with my concern and received a reply that the decals are correct and if a problem exists it is that the instructions are printed too light. They also state that a CCIP conversion set is needed for one of the aircraft and it is available as an aftermarket item. I e-mailed shull24.com as indicated on the instructions and I was told that the only conversion set they offer is in 1/48th scale. At the time of this review I can't comment on the need for the CCIP modification as I have not seen what comes with the Tamiya or Academy releases.
Painting Instructions with chips are included with references made to Testors, Gunze Sangyo, Xtracolor and Xtracrylics. In addition there are notes provided explaining the CCIP modification.
The decals are printed on two pages. They are printed by Microscale and registration is perfect. Carrier film is hardly visible. The decals are very thin and I anticipate no problem when applying them. There are enough stencils and national insignia supplied to complete one aircraft.
These decals are a welcome addition to any modeler that prefers not to use kit decals. Twobobs Aviation Graphics always supply accurate and colorful decals. I am sure these decals will sell fast given the popularity of the F-16 and I recommend them without hesitation.
Review sample compliments of Twobobs Aviation Graphics.
© Mark Proulx 2005
This review was published on Saturday, July 02 2011; Last modified on Wednesday, May 18 2016