Twobobs Aviation Graphics | Big Mouth Big Mouths' F-16C Block 40 Part 3 32-031
Reviewed by Mark Proulx
Twobobs Aviation Graphics continues with their newest 1/32nd scale release for the new F-16 kits. This is a review of their markings for Block 40 F-16Cs. Sheet 32-031 provides markings for two aircraft from the 8Th FW based at Kunsan, South Korea. The Wolfpack as they are known, is comprised of the 35th and 80th FS.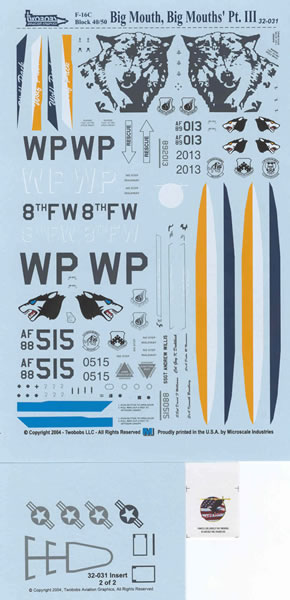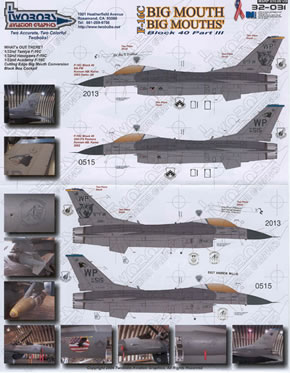 The first subject is the 8th FW Demo Jet as is appeared in 2002. A/C 89-2013 aircraft displays a large subdued wolf head on the vertical stabilizer indicative of their name.
The next F-16 is A/C 88-0515, a Block 40 assigned to the 35th FS Pantons circa 2002. This aircraft displays a smaller wolf head insignia on its vertical surfaces.
The first page of the instructions depicts left and right side views of each aircraft. Complete stencil placement instructions are included along with ten thumbnail photos.
Flip over the instructions and the modeler sees top and bottom views of the F-16C complete with color chips. Paints are cross-referenced to Testors, Gunze Sangyo, Xtracolor and Xtracrylics paint companies. A large photo shows A/C 89-2013 at rest in its hardened shelter. A brief history is also included of Kunsan's Wolfpack.
One large and one small page of decals are included printed by Microscale Industries. A smaller decal of the "Lets Roll" artwork is also included printed by Archer Fine Transfer. The printing appears to be crisp and the decals are thin with minimal carrier film. Where applicable, multiple decals make up a single marking ensure better registration. Minimal stencils are included and appear sufficient for one aircraft.
These new markings can be used on the older Hasegawa kit with Cutting Edge conversion. They will also fit the new Tamiya kit and future Academy release. Twobobs Aviation Graphics was provided with assistance from Capt. Alan Nolan of the 8th FW and I am confident the markings are accurate. I recommend them to anyone with an interest in the F-16 or modern jet aircraft.
Review sample compliments of Twobobs Aviation Graphics.
© Mark Proulx 2005
This review was published on Saturday, July 02 2011; Last modified on Wednesday, May 18 2016