Twobobs Aviation Graphics | Big Mouth Big Mouths' F-16C Block 50 Part 1 32-029
Reviewed by Mark Proulx
Twobobs Aviation Graphics has just released 1/32nd scale decals for the new F-16C kits. They are to be used with the Tamiya or Academy kits, though the later has not been released at the time of this review.
The instructions depict three aircraft. The first is an F-16C Block 50 of the 79th FS Tigers during Operation Southern Watch in the spring of 2002. This aircraft is decorated with a large subdued tiger head on the tail.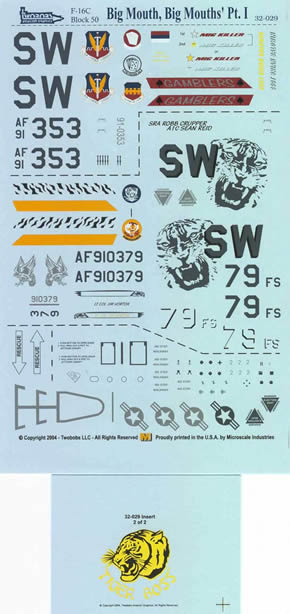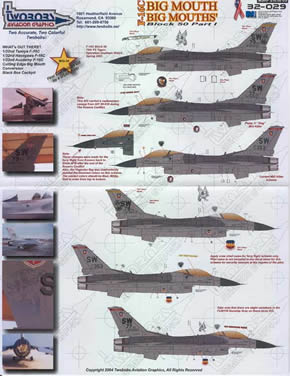 The next scheme depicts "Puma 11", an F-16CJ credited with the first air-to-air kill of the Kosovo war. With the pilot identified only as "Dog", "Puma 11" was assigned to the 78th Expeditionary Fighter Squadron. During a SEAD and CAP on May 4th, 1999 a Yugoslav MiG-29 was shot down with an AIM-120B AMRAAM. An alternative scheme is also identified for this aircraft depicting it as it appeared for a ferry flight from Kosovo to Shaw AFB at the end of the campaign.
The final scheme depicts the same aircraft as above as it appears today after transfer to the 77th Fighter Squadron. It is now the Squadron Commanders mount.
The instructions show left and right color side views for each aircraft with standard upper and lower views. Modelers should pay very careful attention to the instructions. "Puma 11" is shown as the middle profile with the left side views but it is shown as the last profile of the right side views. This mixing of profiles could lead to some confusion when painting and applying decals. Eight thumbnail photos and color chips are included. There is also a comprehensive description of the May 4th encounter and a detailed listing of the loadout for "Puma 11".
The markings are printed over two pages. Unfortunately, this is where this decal sheet fails to deliver. The fin flash, canopy markings, MiG kill marking and s/n for "Puma 11" have not been included. No errata sheet is planned at this time, which means that the F-16CJ, "Puma 11" can't be completed with these decals. This is unfortunate given the historical nature surrounding this aircraft. The other two sets of markings are very colorful and Twobobs even went so far as to include the exhaust cover for the Commanders aircraft from the 77th FS. Stencils and national insignia are included for one aircraft.
To date, Twobobs has released some of the best markings available for modern aircraft. While many will still find these decals useful I am disappointed with the lack of complete markings for "Puma 11". I am sure dedicated F-16 fans will still like this decal sheet despite its shortcoming.
Review sample compliments of Twobobs Aviation Graphics.
© Mark Proulx 2005
This review was published on Saturday, July 02 2011; Last modified on Wednesday, May 18 2016