Fightertown Decals | FTD32004: VF-84: Desert Storm Nose Art
Reviewed by Randy Bumgardner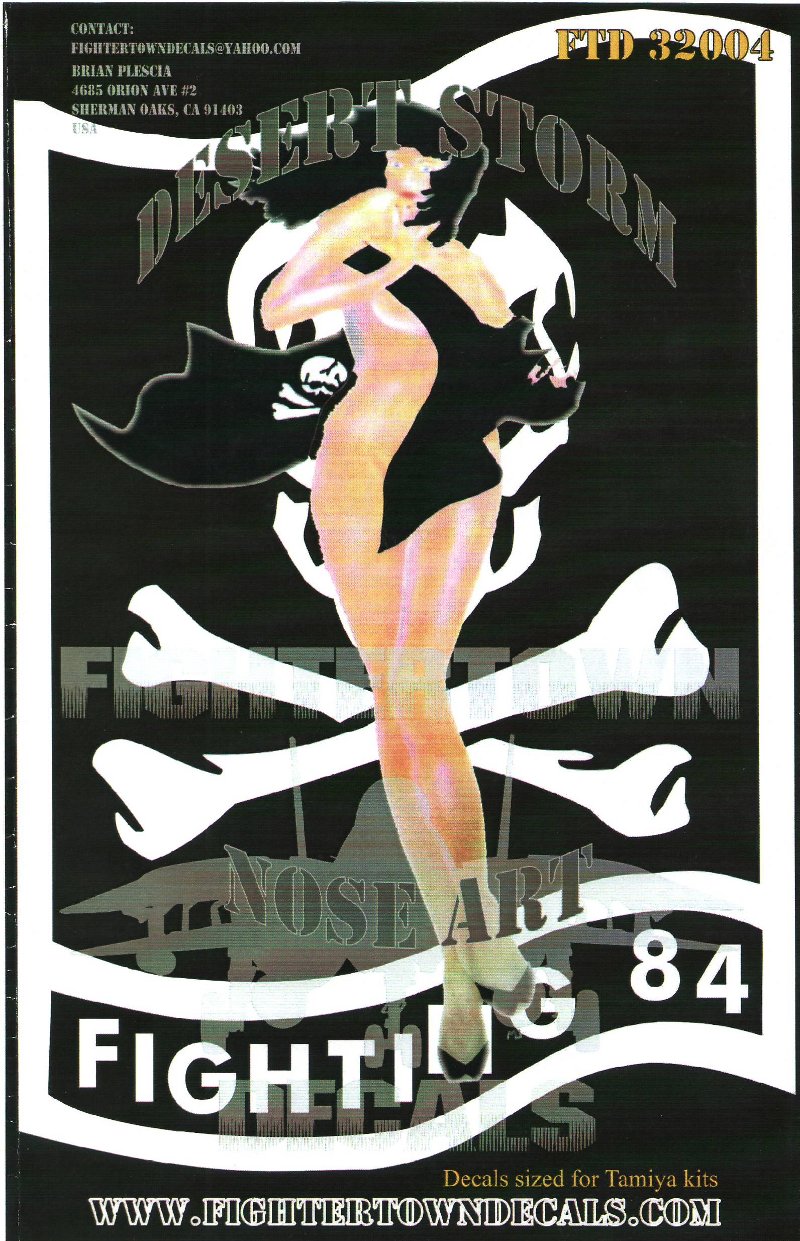 Fightertown Decals... if you like modern USN jets, then you probably have heard of them. Their specialty is producing decals for modern naval aircraft - especially the F-14. Here's a set that depicts two F-14As of VF-84 in different schemes before and during Operation Desert Storm. Of these two schemes, F-14A, BuNo. 162682, is depicted carrying some noseart on the starboard side. Apparently, this was applied late in the war under the authorization of the CAG. However, it was only to be applied to one aircraft in each squadron. For the rest of the story, you'll have to read the liner notes yourself...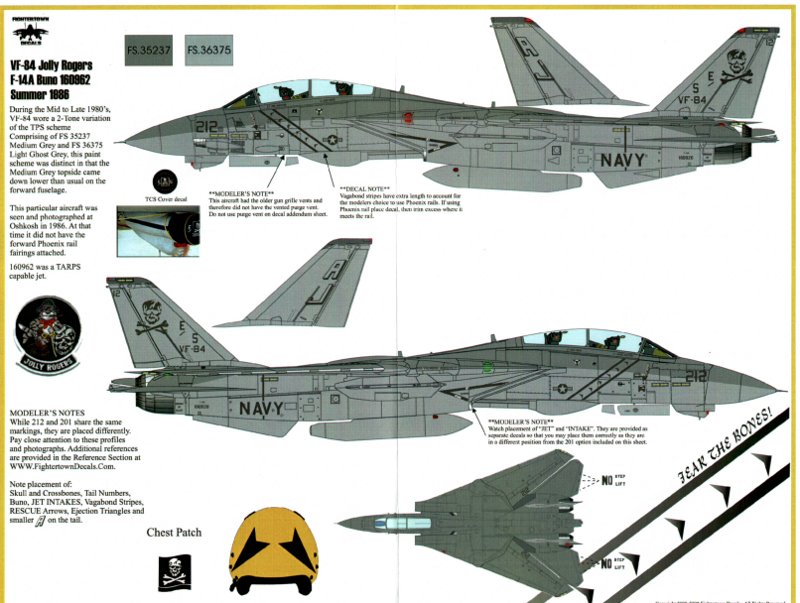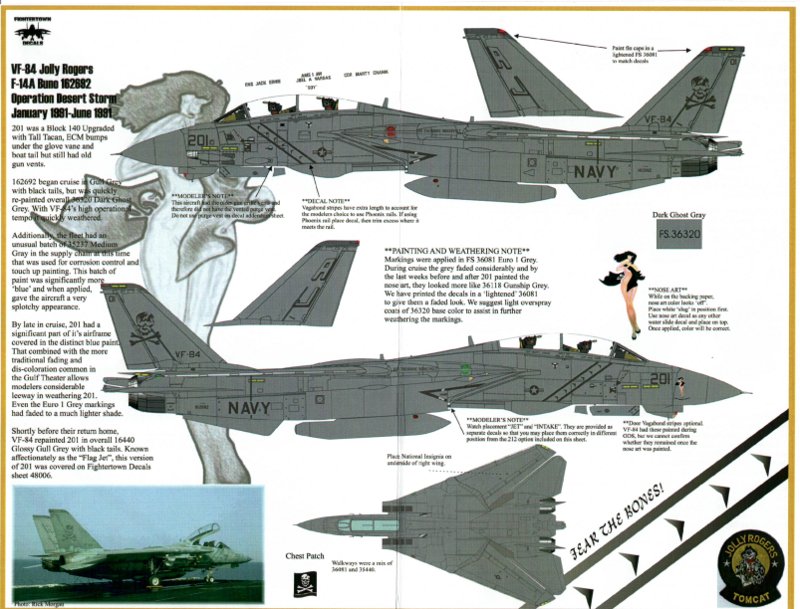 There are two schemes present in this set:
F-14A, BuNo. 162682, "201", VF-84 "Jolly Rogers", U.S.S. Theodore Roosevelt, Operation Desert Storm, January 1991 - June 1991
F-14A, BuNo. 160962, "212", VF-84 "Jolly Rogers", U.S.S. Theodore Roosevelt, Summer 1986
Aircraft 212, BuNo. 160962, carries the two tone version of the TPS scheme used in the mid to late 1980's of FS 35237 (Medium Gray) over FS 36375 (Light Ghost Gray). The scheme notes indicate a warning to the modeler. Both 201 and 212 share the same markings, so the modeler needs to be aware of differences in placement of the markings and pay particular attention to the provided profiles and any photographic references the modeler uses.
Microscale printed the decals in the set, and the decals are very thin with a minimum of carrier film surrounding them. The colors are well done and match up nicely with their appropriate scheme. The decals also include the major stencils that are on the airframe. There are a few of small stencils, especially those for the landing gear and the ejection seat - which are great additions to this set. So be patient and be careful.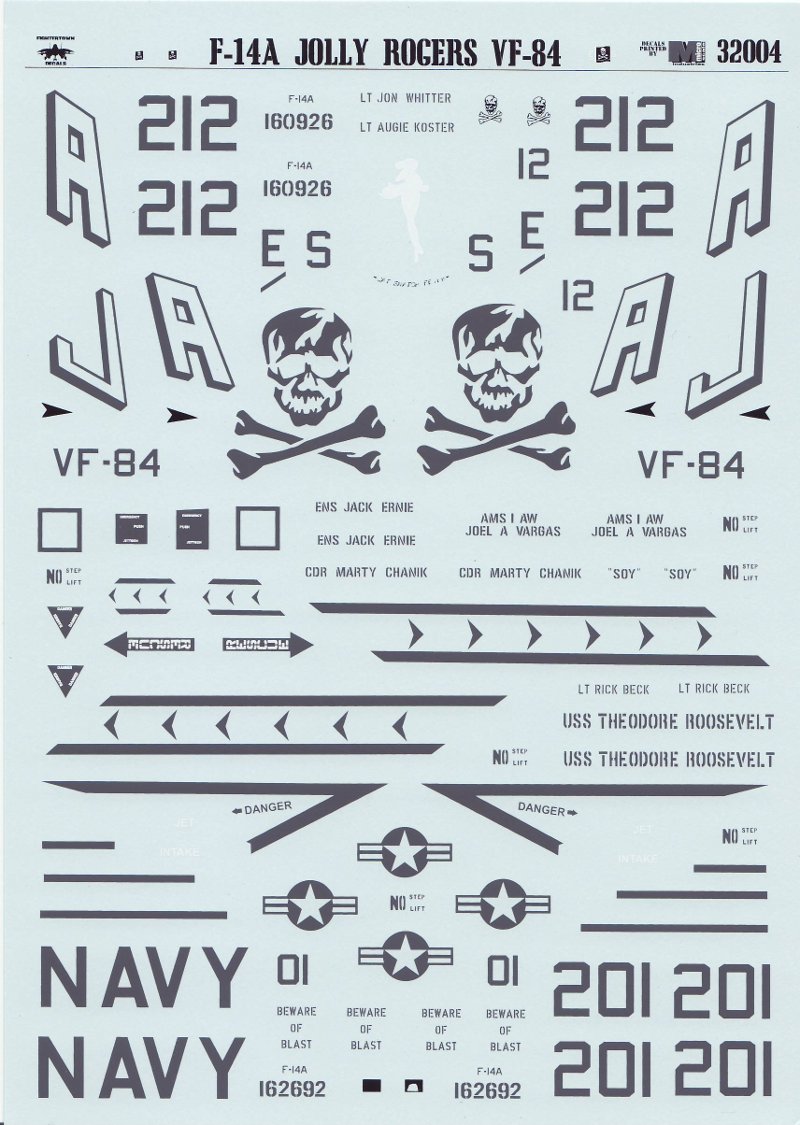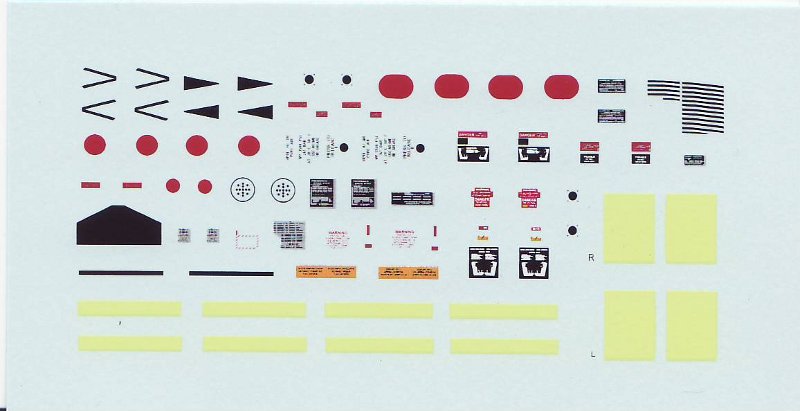 The nose art decal was printed my Archer Transfers especially for Fightertown Decals. The colors may look not quite right on the sheet. However, the notes state that once the white backing is in place and the decal has settled down over it, things will be just fine.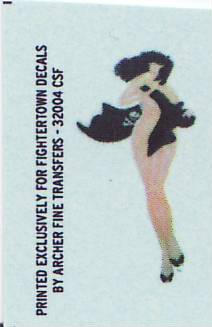 The full color marking and painting guide provides the modeler with clear color callouts and decal placement. The modeler really has to work hard to screw up the paint job with these instructions. Also included are little nuggets of information alerting the modeler to weathering tips, or specific mission loads. Be sure to read the scheme diagrams closely and carefully - they contain quite a bit of useful and interesting information.
The schemes covered by these decals are a very nice addition for the large scale modern jet modeler.
A big "Thank You!" to Fightertown Decals for the review samples.
Fightertown Decals are available for purchase on their website.
© Randy Bumgardner 2009
This product is available from the following LSP sponsors

This review was published on Saturday, July 02 2011; Last modified on Wednesday, May 18 2016