Fightertown Decals | FTD32003: Adversary Bad Cats
Reviewed by Randy Bumgardner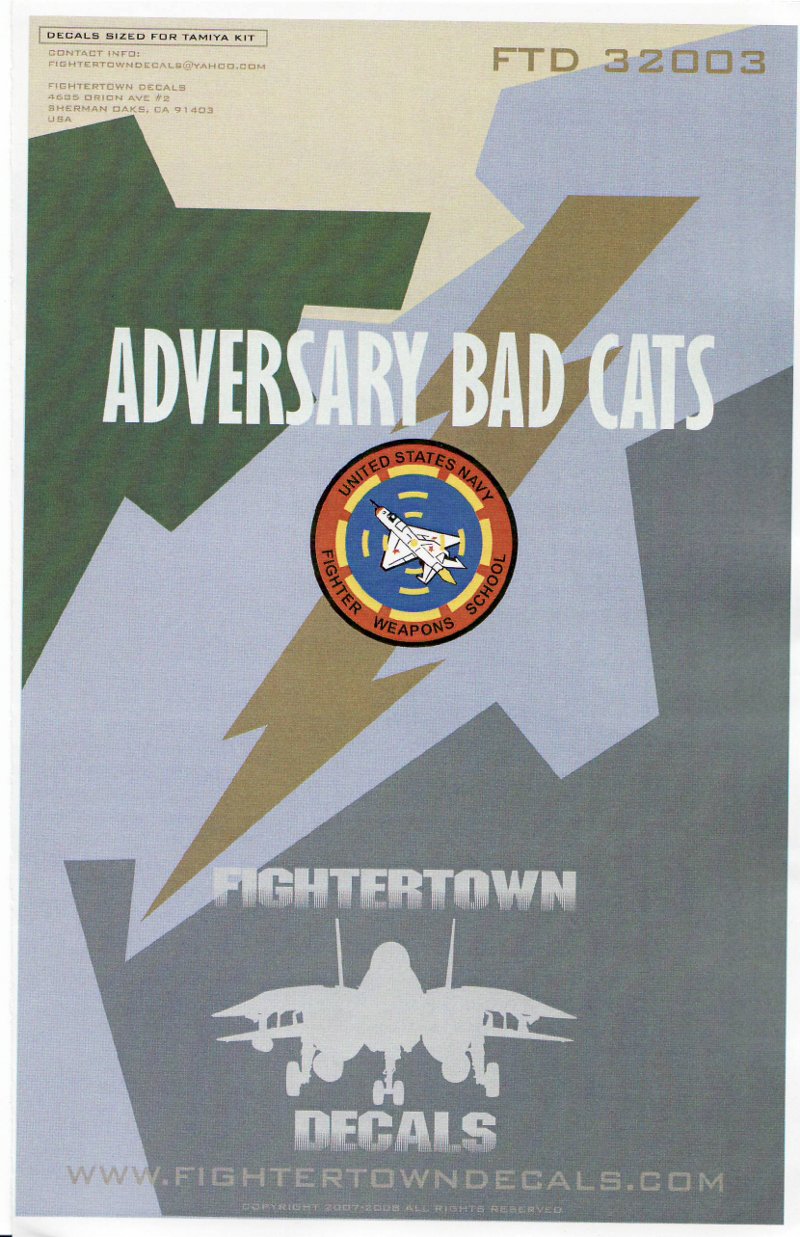 Fightertown Decals...if you like modern USN jets, then you probably have heard of them. Their specialty is producing decals for modern naval aircraft - especially the F-14. This set focuses on two aircraft that played the adversary role at the Naval Fighter Weapons School (TOPGUN), later known as the Naval Strike and Air Warfare Center. I particularly like adversary schemes, because they are schemes that are "out of the norm".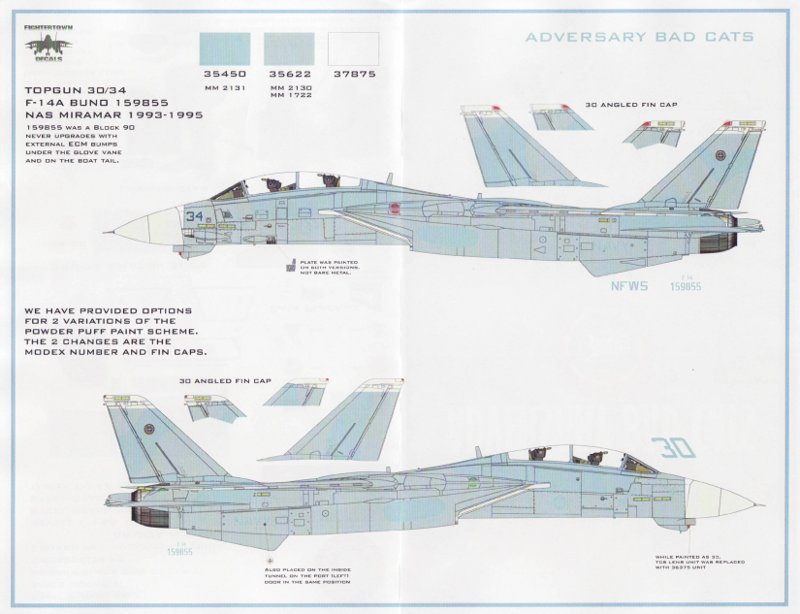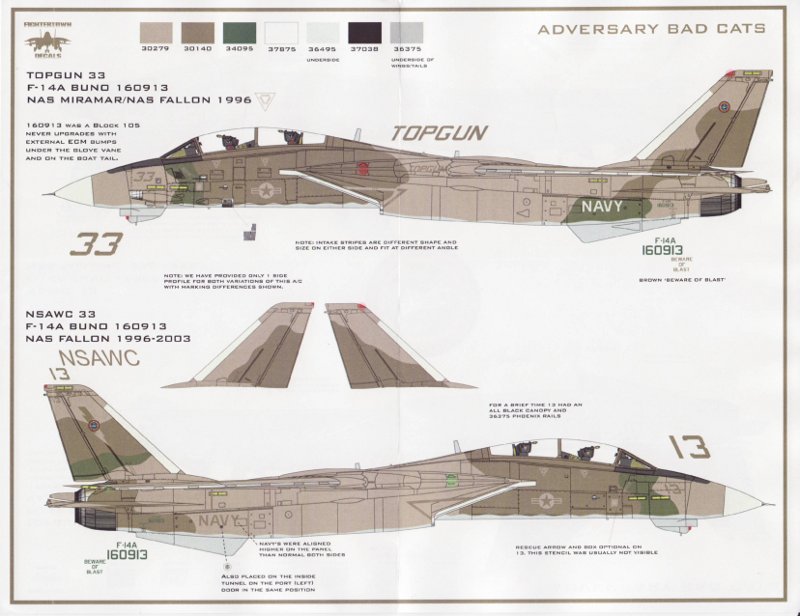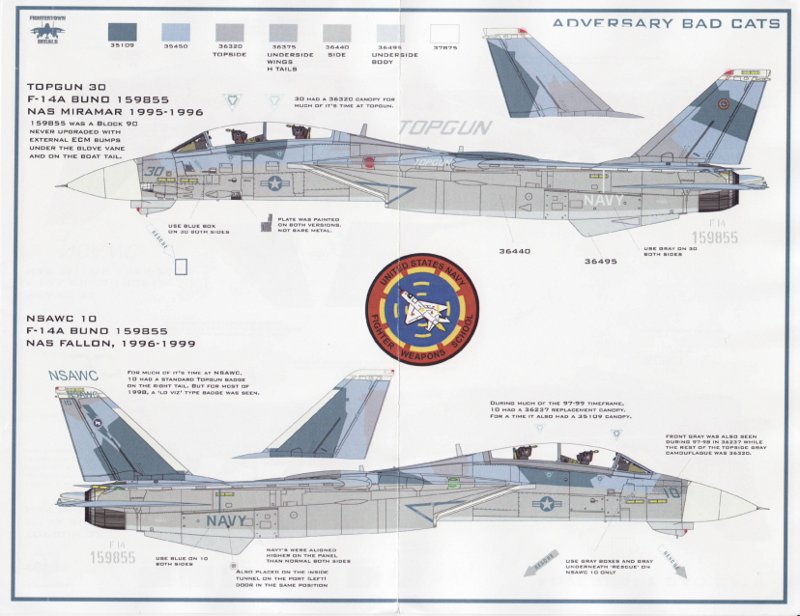 There are a total of six possible schemes the modeler can choose from. Two schemes in the "Powder Puff" scheme, two in the brown adversary scheme, and the last two in the later blue/gray scheme. The six schemes cover the two aircraft while they were TOPGUN aircraft (pre-July 1996), and while they were NSAWC aircraft. The various schemes covered are:
TOPGUN 30/34, F-14A, BuNo. 159855, NAS Miramar, 1993-1995
TOPGUN 30, F-14A, BuNo. 159855, NAS Miramar, 1995-1996
NSAWC 10, F-14A, BuNo. 159855, NAS Fallon, 1996-1999
TOPGUN 33, F-14A, BuNo. 160913, NAS Miramar/NAS Fallon, 1996
NSAWC 13, F-14A, BuNo. 160913, NAS Fallon, 1996-2003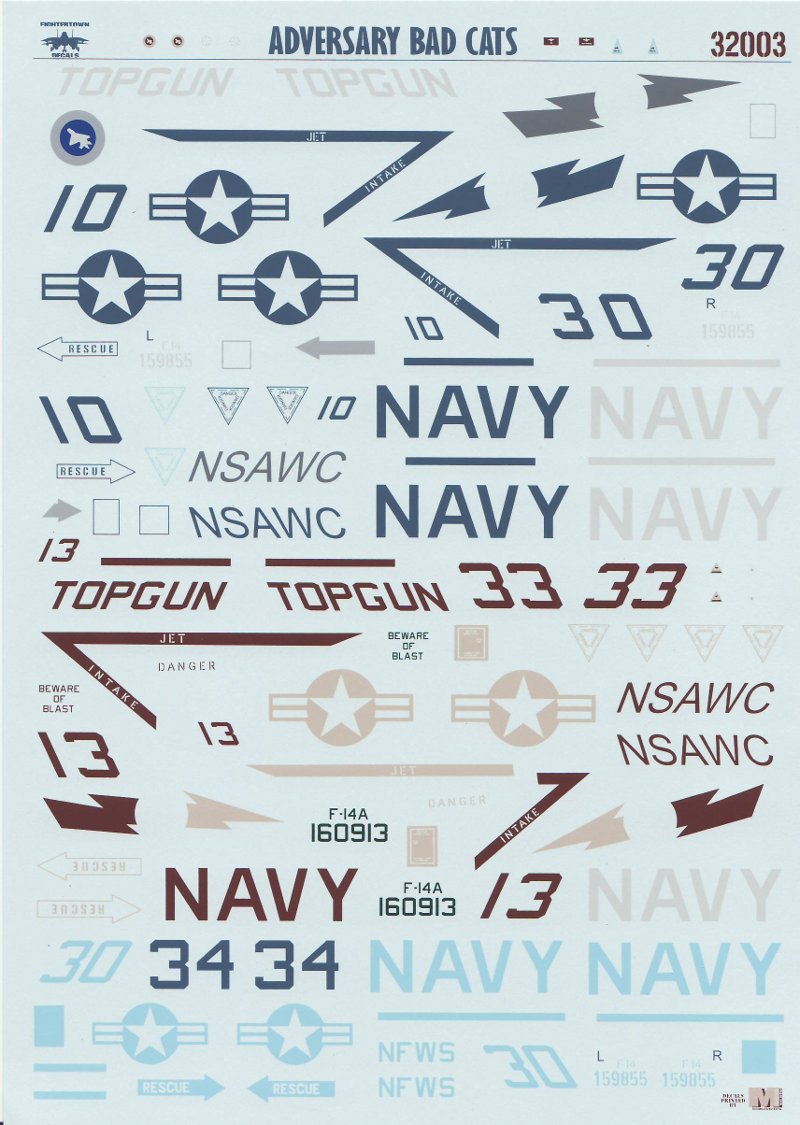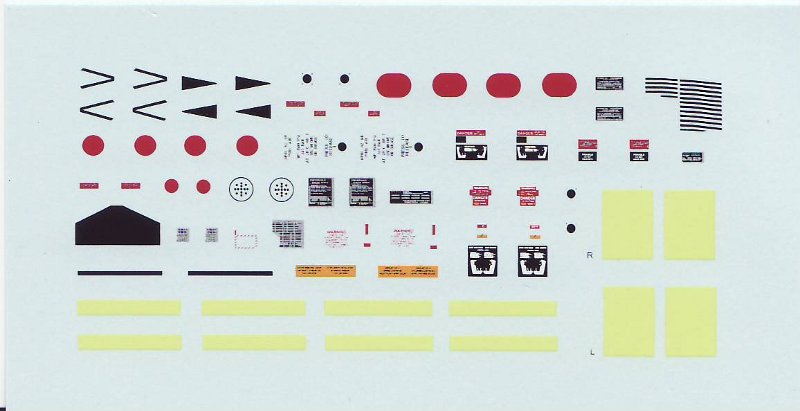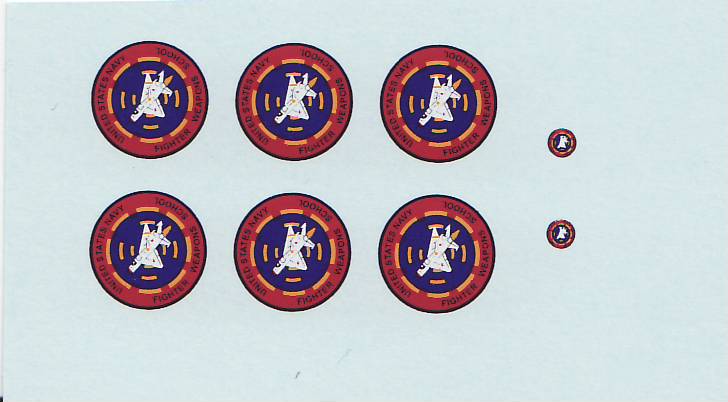 The decals are very thin with a minimum of carrier film surrounding them. The colors are well done and match up nicely with their appropriate scheme. The decals also include the major stencils that are on the airframe. There are a few of small stencils, especially those for the landing gear and the ejection seat - which are great additions to this set. So be patient and be careful. The full color marking and painting guide provides the modeler with a clear color callouts and decal placement. The modeler really has to work hard to screw up the paint job with these instructions. My apologies for the poor colors in the scan, my scanner was not cooperative at all.
The schemes covered by these decals are a very nice addition for the large scale modern jet modeler.
A big "Thank You!" to Fightertown Decals for the review samples.
Fightertown Decals are available for purchase on their website.
© Randy Bumgardner 2009
This review was published on Saturday, July 02 2011; Last modified on Wednesday, May 18 2016