Eagle Editions | EC94: Fokker Dr. 1 Part 2
Reviewed by Mark Proulx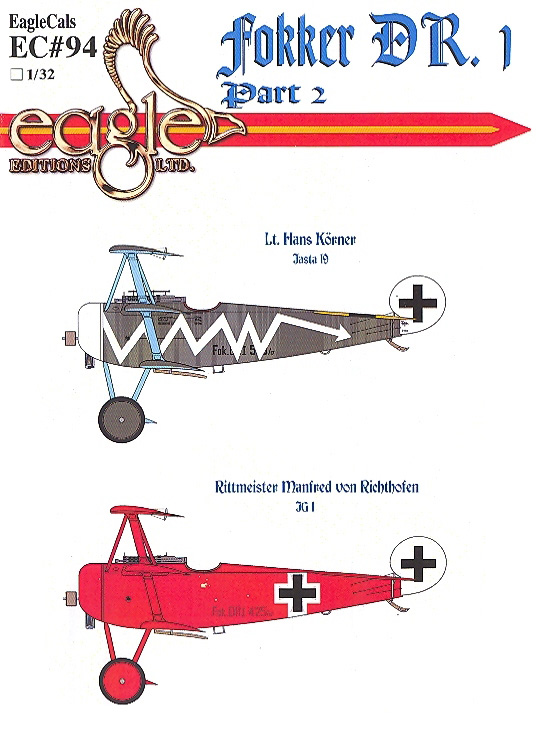 In this, the latest decal release from Eagle Editions, we review their new markings for the Fokker Triplane in 1/32nd scale. This is Part 2 of a two-part release. The review for Part 1 can be viewed here.
These decals are designed for use on the new Roden Fokker Dr. 1 in 1/32nd scale. Part 2 provides markings for two aircraft.
The first Triplane, 503/17 W.Nr 2130, is the striking aircraft of Lt. Hans Korner. This aircraft is light blue, streaked green, yellow and black. The cowling, zigzag fuselage striping and rudder are white.
No series of decal sheets for the Fokker Triplane would be complete without the colorful and controversial markings of Rittmeister Manfred Von Richthofen. Eagle Editions has opted to provide markings for his Dr.1 425/17. This was his final aircraft and the one in which he lose his life on April 21st, 1918. The colors are overall scarlet.
The instructions provide profiles, historical text and a complete reference listing. Minor stenciling detail is provided, though many of these were overpainted on the actual aircraft.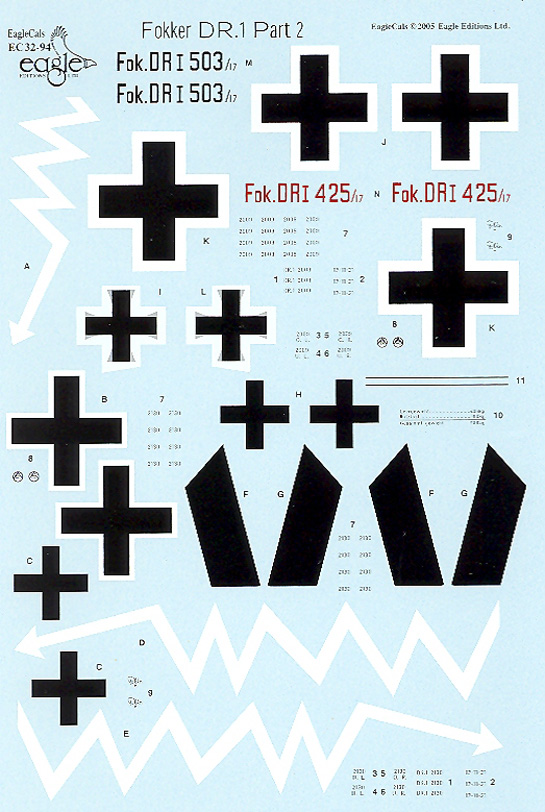 The decals are extensive and printed over a single page. They compare favorably to other decal sheets from Eagle Editions and they should pose no problems when applying them.
By all reports, the Roden Fokker Dr. 1 Triplane is an excellent kit and these decals provide great alternative schemes. Controversy still rages to this day over the final flight of The Red Baron. Given his historical importance I am sure these decals will prove to be very popular. I recommend them without hesitation.
Review Sample Compliments of Eagle Editions.
© Mark Proulx 2006
This review was published on Saturday, July 02 2011; Last modified on Wednesday, May 18 2016