Daco Publications | Uncovering the Lockheed Martin F-16 A/B/C/D
Reviewed by Mark Proulx
Daco Publications
Uncovering the Lockheed Martin F-16 A/B/C/D
Soft Cover 8" X 9"
148 Pages
ISBN 90-806747-1-0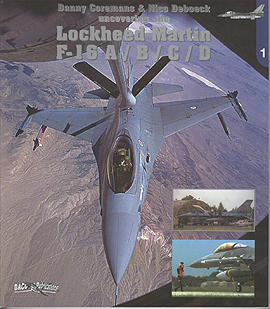 Daco Publications recently released a new book about the Lockheed Martin F-16. The F-16 has gone through a number of changes. At the time of this review Lockheed Martin is producing Block 60 aircraft. This book should clarify some of the mysteries involved with many of these production block changes.
In a word, this book is absolutely superb. Two modellers, Danny Coremans and Nico Deboeck, co-authored it. They state that the goal of this book is to show the differences between the A, B, C, and D versions of the F-16 up to the Block 52 production variant. Given the number of changes that the F-16 has gone through, it is quite a task to undertake. I think they have achieved that aim and more!
The text is printed on thick, high quality gloss paper. Hundreds of clear colour photos are included, making up the bulk of this book. The impressive photography of various F-16's shows the interior structure and exterior surfaces. A small amount of text is used to provide further details about each picture. The book is broken down into the aircraft's subcomponents; the photographs clearly show the differences between each F-16 type. For example, there are twelve photographs of F-16 exhaust assemblies showing the differences between the F-16A and C.
Twenty pages of this book are dedicated to the vast number of external stores that the F-16 can carry. This includes air to air, air to ground, external pods and fuel tanks just to name a few. Closing out that chapter is a complete summary of all missiles, external pods and weapons that can be mounted on the F-16. Colour side views of each individual item end the chapter.
Completing the book are two large sets of fold out plans. Danny Coremans, a former F-16 Crew-Chief in the Belgian Air Force, drafted them. The plans fold out into five-page lengths. With these plans the modeller will find cockpit views for each type of F-16 with instruments clearly identified. Fold over the page and you will find ten pages of 1/48th scale plans for the F-16A MLU, F-16B and F-16C. This includes left and right views as well as plans for the top and bottom. Inset plans are also supplied for the drop tanks and various pylons. The last five pages are plans drawn in 1/72nd scale.
I highly recommend this book to anyone interested in the F-16. I would go so far to say that this is probably the best book published to date on that topic. As no late production block F-16 currently exists in 1/32nd scale, this book is invaluable to those wishing to modify the Revell or Hasegawa kits.
© Mark Proulx 2002
This review was published on Saturday, July 02 2011; Last modified on Wednesday, May 18 2016