Squadron/Signal | P-40 Warhawk In Action No. 205
Reviewed by Brad Hagen
Soft Cover
60 Pages
Landscape format
ISBN: 0-89747-537-2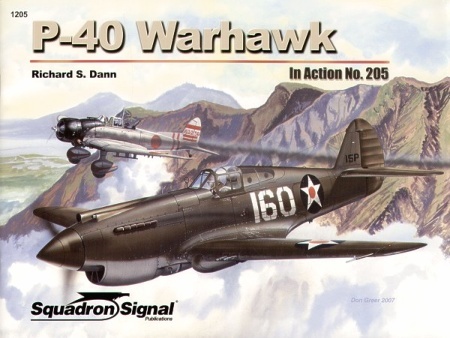 The P-40 has become popular with the modeling companies again lately with a number of new variants in different scales being produced. The old P-40 In Action was OK, but there were some inaccuracies and some of the photos really leave something to be desired.
Rich Dann has written a number of the In Action books and this book follows the typical format with a Don Greer painting on each cover, these are some of the best paintings I have seen from him in quite a while. The book is 60 pages long, one deviation from the older series is there are four pages of color profiles.
There are concise histories of each variant covering their history and use, also covering some of the variants that didn't appear in the original book under each variant, he also gives some information on the different countries that flew particular variants. Rich also has a little coverage of the TP-40N trainer which is quite forgotten in most books. The coverage of the XP-40Q is better than the original book.
I didn't examine the original and new book side by side, but I didn't recognize any of the photos as being the same. Virtually all of the photos are very clear which is a large step up over the original book in which a lot of them looked faded or cloudy.
Rich did all of the line drawings and color profiles for the inside of the book, I was in contact with him for part of the time he was writing the book, so I know how much effort he put into making sure the color profiles would be correct. By using four pages for the color profiles, he has put them lengthwise on the book, three to a page, making them larger and easier to discern some of the detail for the markings. The profiles will be a real blessing to modelers looking for a different scheme than what usually comes with the kits.
So, if you have the original book, is this one worth getting. I would definitely have to say yes. I had literally worn my original book out and it was falling apart and I was going to replace it when I heard this book was being made. Virtually all new photos as well as the photos being so much clearer than the original and the excellent variety of color profiles makes this book worth having in your reference library.
© Brad Hagen 2008
This review was published on Saturday, July 02 2011; Last modified on Monday, December 19 2016