Reid Air Publications | Viper Story Part I - F-16s of the Air National Guard
Reviewed by Randy Bumgardner
The Viper Story, Part1:
F-16s of the Air National Guard
ISBN: 978-0-9795064-0-6
Wow! That's my review in a nutshell. Jake Melampy and Reid Air Publications have produced a fantastic tome of reference material for every Air National Guard unit in service today. Every image is a beautiful color photograph with documented serial numbers and locations. A lot of thorough work went into this offering and it shows. This is a reference any fan of the Viper shouldn't be without.
Weighing in at 247 pages, the book is 8.5 x 11 inches - a nice sized reference volume. It's divided into 36 chapters, each devoted to a specific Fighter Wing or Group, arranged alphabetically by state. The introduction provides the reader with a brief history of the ANG and the F-16's role in it, including an brief rundown of the implications of the BRAC (Base Realignment and Closures) committee. The first page of each chapter gives the reader a history lesson of each particular ANG unit - when it was formed, what it flew, where it's based. The index of the book is organized by serial number - every photograph is catalogued and referenced by aircraft's serial number.
And then there are the images...Jake Melampy contributed many of them from his own collection, and various other contributors lent a hand as well. Every page is covered with fabulous full color photographs from each of the ANG units. Each photo is captioned with serial number, location and a minor blurb about the aircraft in question - where is it now, or where did it come from. You'll have to forgive my scan below, it doesn't do justice to the photograph in the book.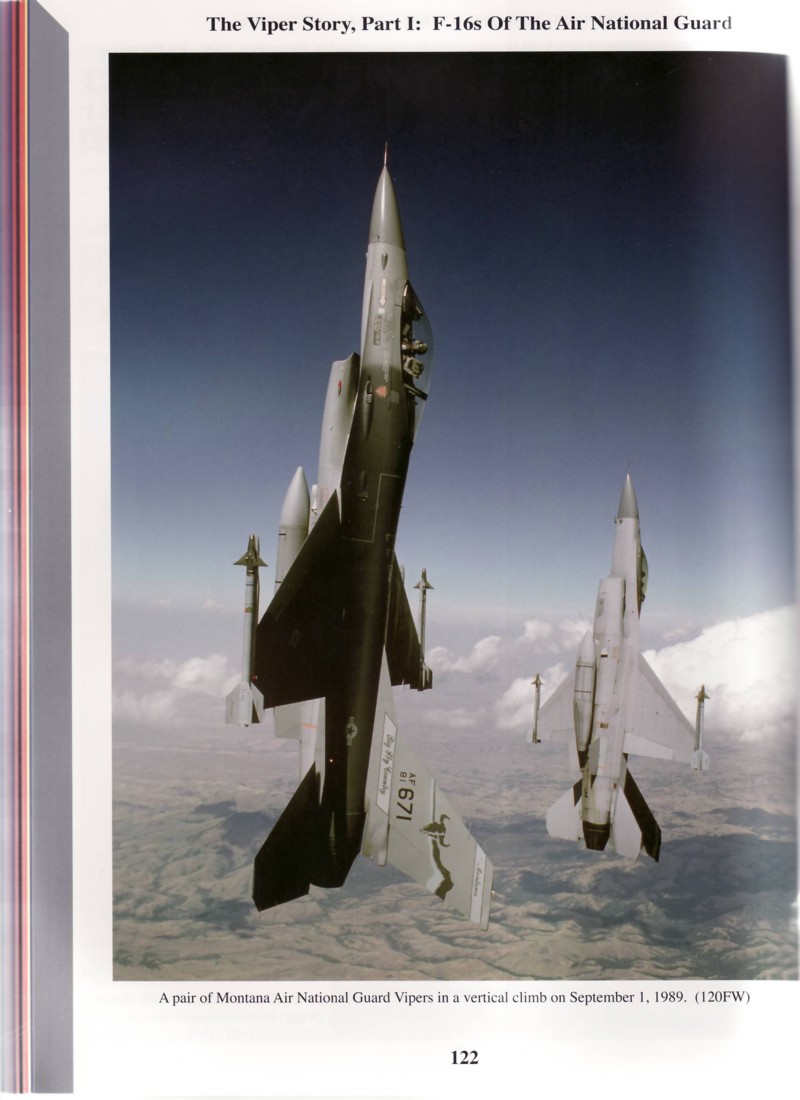 The only drawback is either 1) the book isn't larger, or 2) I don't have Part 2 yet. I'll go with #2. All kidding aside, this is a great reference for anybody interested in the F-16.
Review sample courtesy of Jake Melampy.
© Randy Bumgardner 2007
This review was published on Saturday, July 02 2011; Last modified on Wednesday, May 18 2016