Kagero | Fw 190 Volume 1
Reviewed by Matt Gannon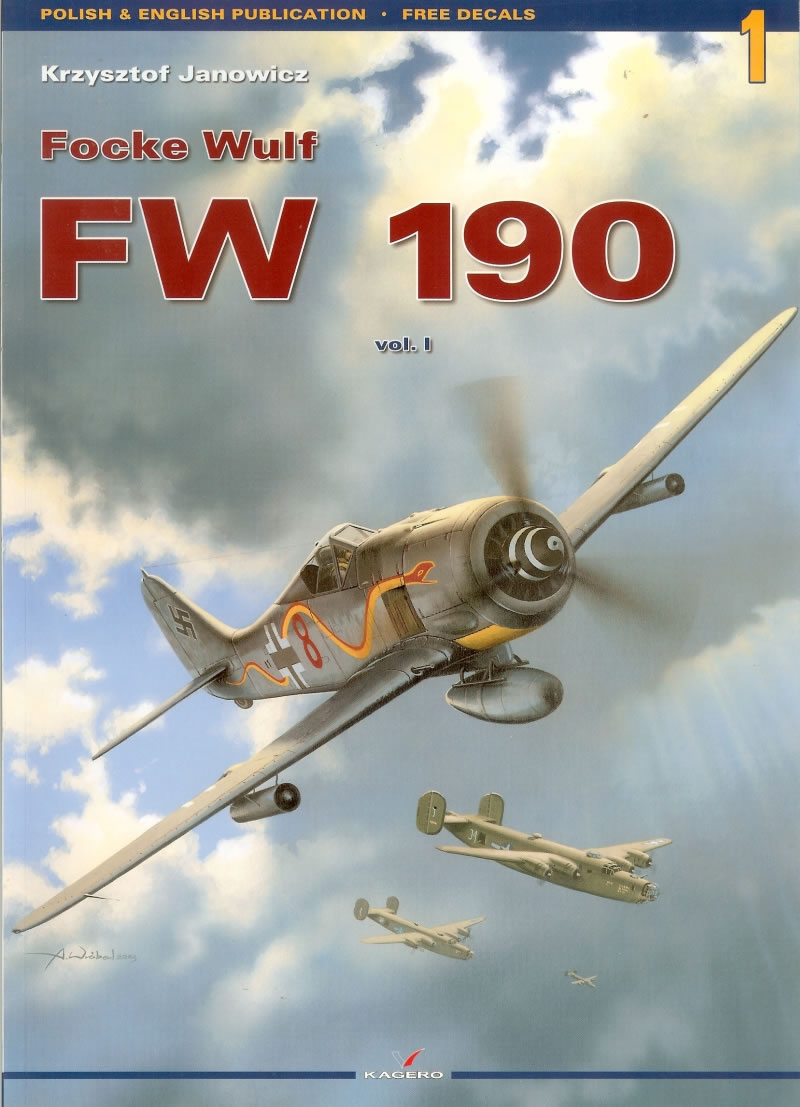 Series / Publisher : Kagero Monographs
Author : Krzysztof Janowicz
ISBN : 83-89088-11-8
Tech specs
A4 Glossy sheets (99 pages)
Polish/English text (Yes)
Black and white photos (90)
Drawings 24 pages (some fold out)
Tables of technical specification (3)
Colour profiles (22)
Free Decals (X 1 in 1/72 and 1/48 scale)
As this book was first released in 2003 it is by no means a new book. However, I thought it might be worth a 'in the box' type review to let those interested in data on the Fw 190 and shopping for reference books know what's inside.
In keeping with Kagero fashion the book begins with an evocative story about Kurt Tank deriving his inspiration for the Fw 190 from watching Howard Hughes's H1 racer break a world speed record. Kurt Tank like Howard Hughes was also no stranger to innovative designs. It was that period in history where the performance potential of a plane with a powerful radial engine and low or mid-wing monoplane design was being recognized the world over.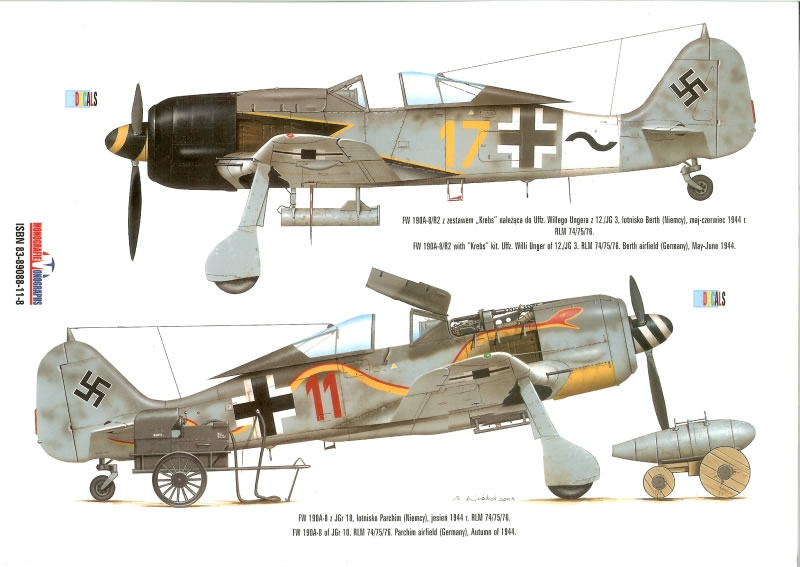 Following the introduction is a description of the development of the Fw 190 interspersed between some absolutely gloriously clear black and white photos. You will see aircraft in various states of construction and the tools and equipment associated with working on them. This is an absolute gold mine of modeling detail information. Throughout this book, in both these photos, scale drawings and profiles there is also excellent data for the Fw 190 diorama modeller.
The book then progressively discusses the various Fw 190 models, from A-1 through to A-9, F-1 through to F-8, G-1 through to G-8 and of course the various Fw 190S trainer versions. Each of these sections describes the major features of each variant clearly and with a good selection of photos to illustrate certain features of the model variants. Even though this is a relatively brief section, its clarity and succinctness is likely to ensure this book is an often reached for reference book.
Continuing on from the section on the Fw 190S versions there is an entire section on the standards for painting and marking of Fw 190 aircraft. This section has a lot of general information that will make it a handy and fast reference. Fw 190 markings from prototype through to the various fighters and ground attack versions are discussed. General camouflage schemes, their nature and time frame they were implemented are described. There is also more specific unit information and detail on individual aircraft. The information is easy to read, not terribly technical and therefore will be easy for the novice to absorb and retain the information.
From this point on the paragraphs of text disappear and more handy reference material is presented in the form of well constructed tables and stunning line drawings. There is a table describing the relevant field modifications made to Fw 190s and another describing the various marques of Fw 190 by serial number batch against where and when they were constructed. After the 24 pages of technical line drawings there is another table to Fw 190 specifications for each model and Rutsatze.
The line drawings in Volume 1 of 4 Fw 190 books from Kagero deserve special mention. Most of them are in 1/48 scale and generally encompass key aspects of Fw 190s from the Fw 190A-1 through to the Fw 190G-8. A lot of the drawings offer a full fuselage profile, a wing and fuselage view and a cropped frontal view. In some cases where there were variants or changes to the standard model shape you get several views of the changed part under scrutiny. It's almost as though Kagero had the modeler in mind when creating these line drawings. They would be very useful in conveying a 3-D appreciation of notable parts. Indeed, a nice bonus is for some of those detail parts to be drawn in LSP scale…1/24scale.
For example, on some Fw 190 versions where cowls and air intakes were modified you are provided with good information and additional 1/24 drawings. In the case of nightfighters you are provided with information for A6/R11 and the A-8/R11 Neptune Radar equipped versions sufficient to allow you to construct both types of different radar aerials. The W.Gr.21 Rocket launchers under the wings are drawn so that the correct tube size, angle and mounting points can be determined. There are also 1/24 line drawings of internal fuselage details, engine piping, cockpit and fuselage cross sectional information all of which will greatly assist a detailer.
A feature I really like about Kagero's books is the graphic format of shading external changes to a basic Fw 190 shape to highlight the various models differences. These line drawings are in 1/72 scale so it means about 6 fuselage line drawings per page. Detail extends to Rustatze versions, tails, cowls, control surfaces and drop tank types and mountings.
The book is completed by 19 colour profiles. Some are full page and all angles in 1/48 scale and others take up two pages being 1/32 scale. They are accompanied with Squadron information and in some cases paint chips to as a guide. Other profiles, such as those for JG1, show the variations on the cowl art and badges that distinguished the various squadrons.
Again, as with a lot of Kagero books this volume comes with some great looking decals. Unfortunately, in this volume they aren't in a LSP scale. A scan is provided (the decals are still sealed in their plastic bag) so that you can see what is included.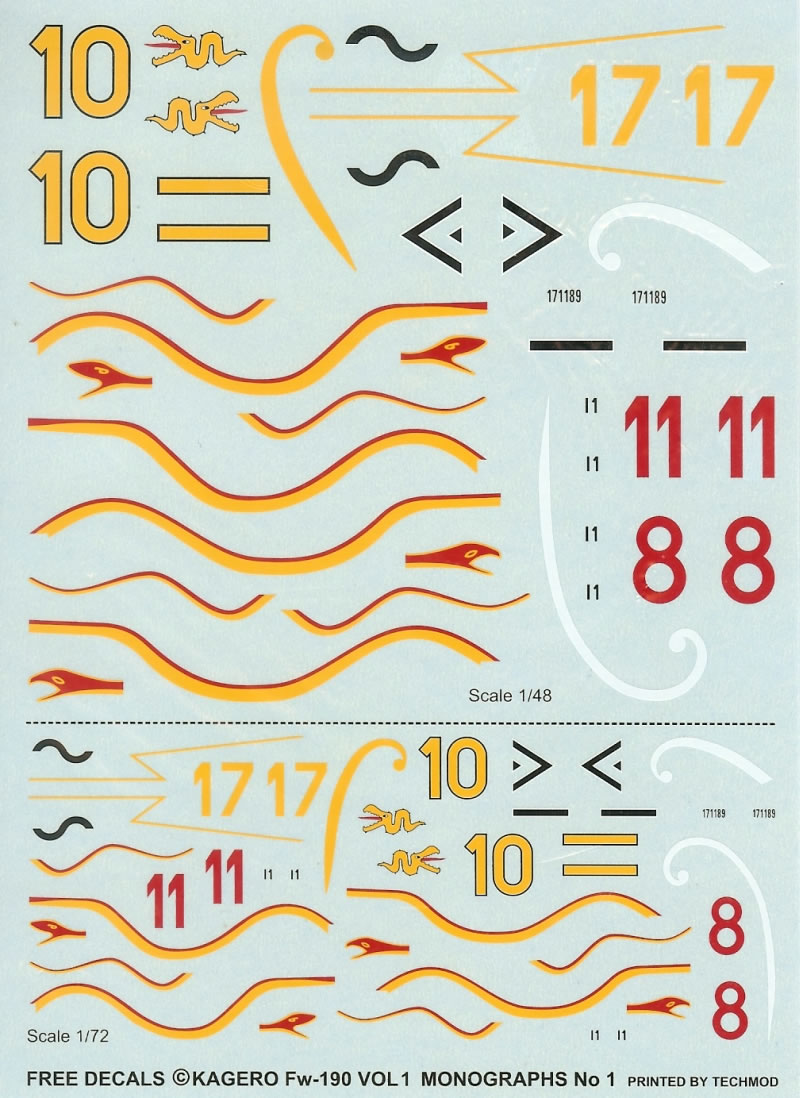 This first of four volumes on the Fw 190 is an excellent book. It clearly and succinctly communicates a depth of material on the development of the Fw 190 and its various models of fighters, ground attack and trainers that entered production during WW2. It does this in a fashion that leaves the reader able to absorb the information in a leisurely fashion. As a first buy for your Fw 190 reference collection I'd recommend it very highly.
Many thanks again to Ian McPherson of Janterpol books for the chance to review this sample.
© Matt Gannon 2007
This product is available from the following LSP sponsors

This review was published on Saturday, July 02 2011; Last modified on Tuesday, May 30 2017