AJPress | Aircraft Monograph No 20 F6F Hellcat
Reviewed by Matt Gannon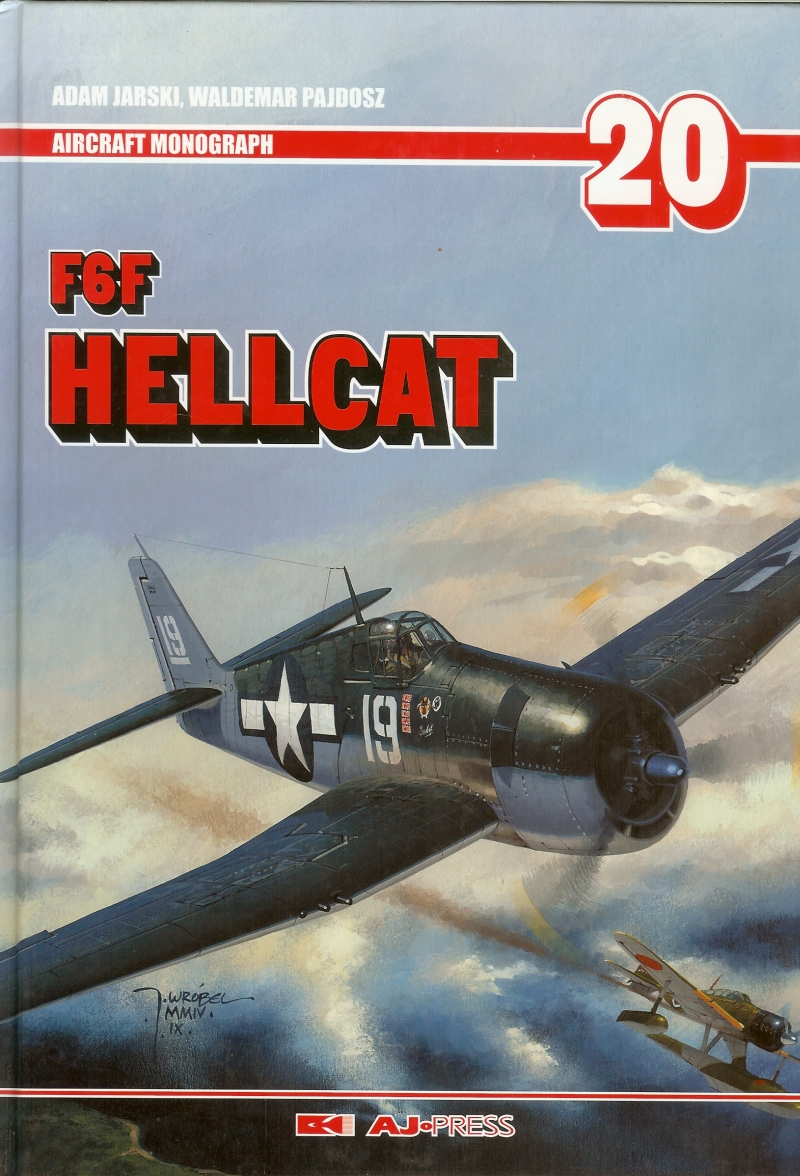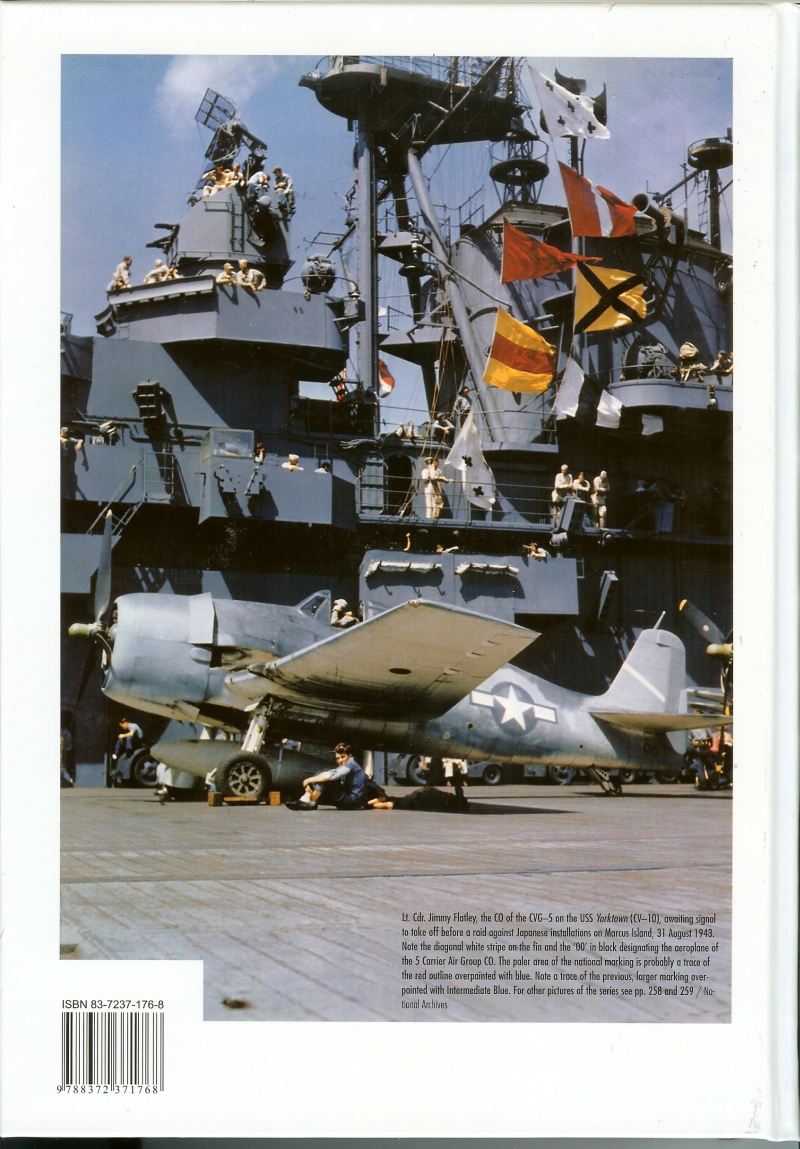 The F6F Hellcat must be one of the most easily recognized planes of WW2 associated with the Pacific war against the Japanese. It was built in huge numbers and was the backbone of the US Navy fighter force. This latest book by AJpress will provide you with an excellent source of information in an easy to access format. The book is ideal for the military reference book collector but especially great for those interested in modeling the F6F Hellcat. With the excitement of a 1/32 F6F from Trumpeter to be released in the near future, this book should prove indispensable.
It consists of a number of chapters over 296 pages which are logically broken for modelers. As is the case with most reference books the start begins with the genesis of the plane. There is information on the development of the Hellcat and some scale plans that will prove entertaining and interesting to most. Following 54 pages worth of discussion on development, types and variations in the use of the Hellcat there is a large section devoted solely to camouflage and markings.
Many times in the forums I have seen discussion as to the US national insignia markings, when they changed and why. That and other information on ready identification markings specific to their parent carriers, are at your finger tips. All of it succinctly discussed and clarified. Of course,given that the Hellcat was also exported, many markings other than USN are covered in a significant amount of detail. This is a boon to FleetAir Arm modelers or to those keen on the French Navy Hellcats. What I especially liked was the sensible selection of photos that illustrate a point in the text. Colour descriptions are given and correlated with relevant FS codes which should make picking the right colours for your Hellcat a breeze.
Thereafter follows a comprehensive expose of the operational service of the Hellcat. It covers Hellcat service throughout the Pacific in such a way that the modeler has all the ideal information to appropriately weather their aircraft according to the time frame or campaign that has been chosen. The book nicely covers the use of Hellcats in Europe, the Philippines, as night fighters and in post war service to mention but a few. Whilst these sections are quite interesting, I personally found them less of the entertainment based type of reading that might lead you towards day dreaming of flying and more of the type that is of practical help building kits. I certainly didn't have to scour pages for the information I would want as it was all there at my fingertips. I especially liked the quality of the photographs. The are displayed to their best effect on the glossy paper. No doubt the quality of the images must have a lot to do with the high quality of photography and facilities available to the press on USN and other Aircraft carriers. From a modeling perspective even the briefest analysis will yield information on prominence of rivet detail, areas of common staining, theatre modifications and details for dioramas and accessories of the carrier deck. Even though the plane is covered exceedingly well, there are also plenty of thoroughly interesting photos showing the human face of Hellcat service. Obviously, some great characters that are shown to great effect in these photos. I was pretty impressed by the book at this stage. Given that I was reading the book from front to back and not leafing through, I was astounded when I opened the section called 'technical section'.
This technical section is simply mind blowing in terms of its detail. It is logically laid out and jam packed with all the information required to make even a modeler with AMS put their hands up say 'enough'! Cockpit details for the various models, radar panel information, landing gear details, wing fold, tail plane and elevator cut-aways, arrestor hook detail, tail wheel detail, engine and exhaust detail...the list goes on forever. Perhaps it would be easier to say whats not there. To me it appears like nothing has been left out and its a credit to AJ press and the authors as the modeler really couldn't ask for that much more.
The last section of the book wraps up with many colour photos and plates which will also be of use. For instance, a perfectly focused colour picture on page 260 shows a group of pilots standing around in what looks like an impromptu briefing. Its ideal for painting your pilots in the right colours, with all their kit. On following pages even the deck crew are in camera shot, so researching the specific colours of their clothing and head wear is suddenly a joy and no longer a chore. Its all in one place, nice and easy to find. Thinking it couldn't get any better, I was then assaulted with page after page of colour profiles as plates in 1/48 scale complete with weathering, unit detail, campaign and history info and the BuNo's of the aircraft. Later, colour plates in 1/72 deal with the various carrier quick identification markings.
Overall, I think this is an excellent book for the researcher but especially for the modeler. I can't comment on the accuracy of the plans because any rational and reasonable assessment as to their credibility must occur with those that perform museum level research and have established credentials. As a modeler though, I really liked the information presented this way, and can see a need for it be done in this format more often. I highly recommend this book.
Many thanks to Ian McPherson of Janterpol booksfor the chance to review this sample. If you are in Australia and would like to try and obtain a copy you could try these locations.
© Matt Gannon 2007
This review was published on Saturday, July 02 2011; Last modified on Wednesday, May 18 2016