Laminar Flow Design | LFD32-001: 1/32 Spitfire XIVe Conversion
Reviewed by Kevin Futter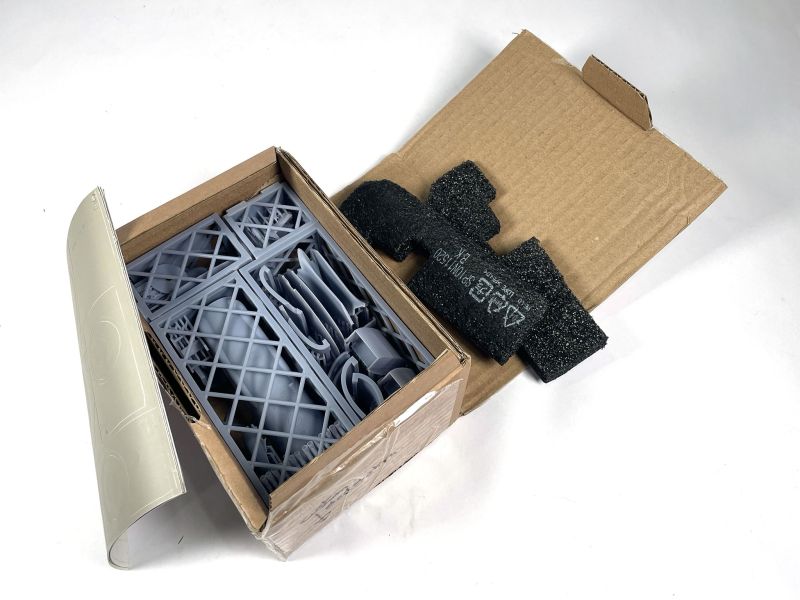 Laminar Flow Design is a relatively new company from Belgium, whose first product is a 3D-printed 1/32 Spitfire XIVe conversion set, designed for the Tamiya Spitfire XVIe "low back" kit. Our review sample is a pre-production set, but represents the production set in every way except for the lack of printed instructions (these were subsequently provided as a PDF file).
The conversion arrived in a surprisingly small, but very well-packed box: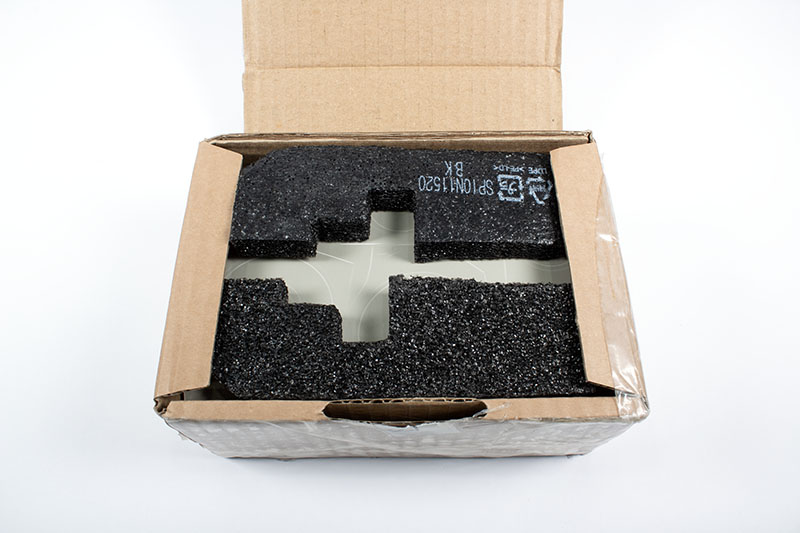 Opening the box revealed the reason for its smaller-than-expected size: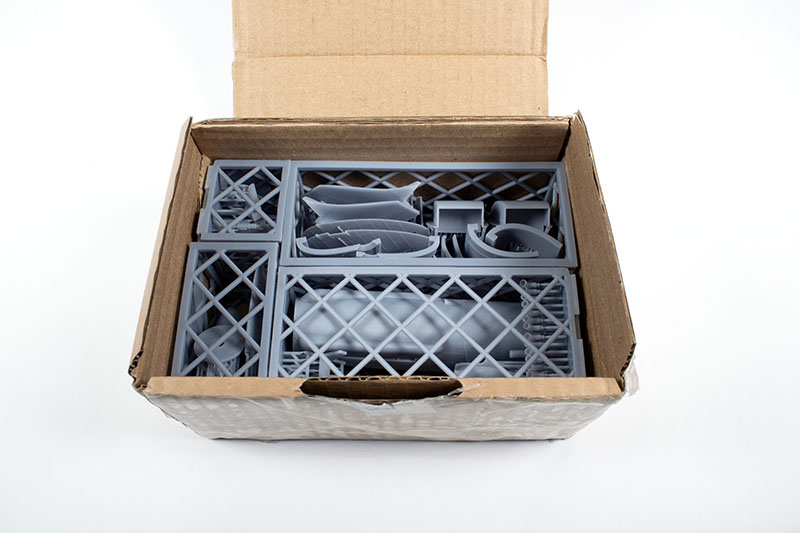 It's crammed full with a series of cages that contain and protect all the conversion parts.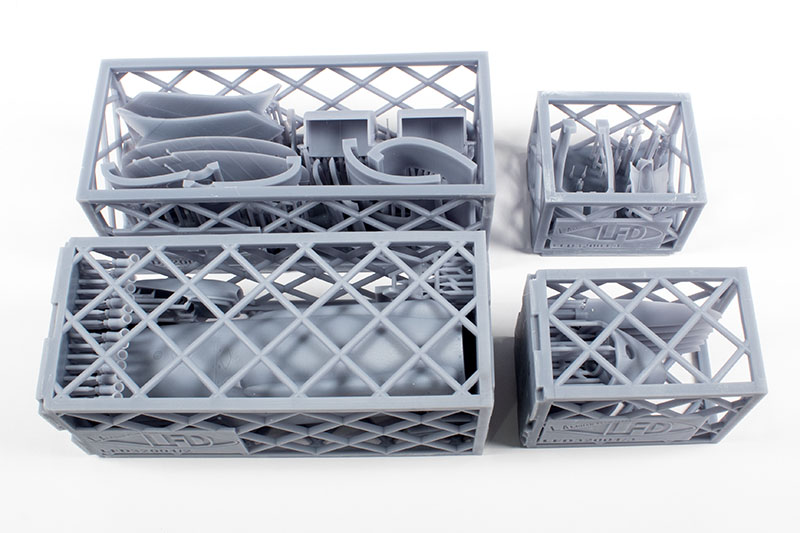 This single feature extols the virtues of 3D printing for aftermarket production more than anything I've seen so far, and is something that would be completely impossible with traditional resin casting—or any other production medium, for that matter. And it's hardly a trivial feature, either, as there are some rather delicate parts in this set, and there's practically no possibility of any of them getting damaged in transit under normal conditions. The downside of course is that more work is required to free the parts from their protective cages, but I'd contend that, for many parts, it's still easier than removing large resin casting blocks, as the parts themselves are attached via the small, easily-removable supports used in the 3D printing process.
That said, I did have a single part detach from its supports at some point during its journey to me, though it was otherwise completely undamaged: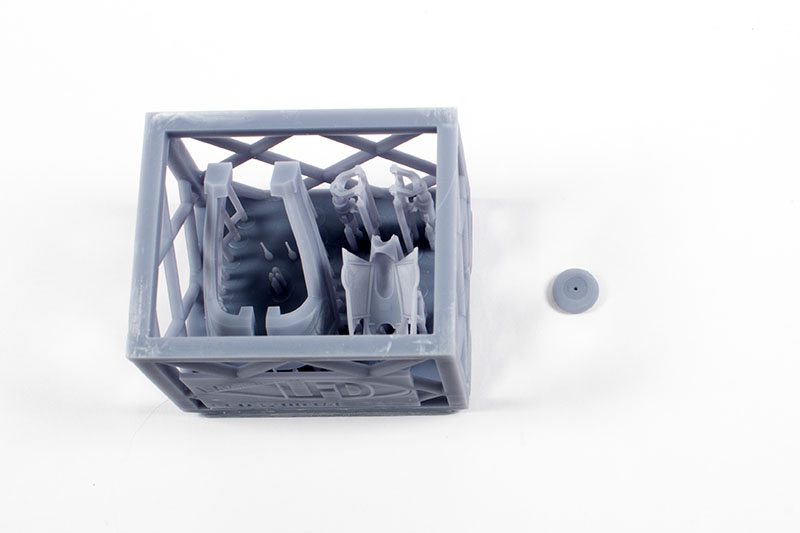 Also included in this conversion is a set of paint masks for the markings, which feature a full set of national insignia, and markings for two machines (3R•O/TZ154 and "Violet Dorothy III"/MV348). These markings are not addressed in the draft instructions at all, but Mathieu from Laminar Flow Design assures me that the final version of the instructions will contain a painting and markings guide. A line drawing of the masks themselves would help clarify what all the markings are, however, as the cut lines are difficult to see in places.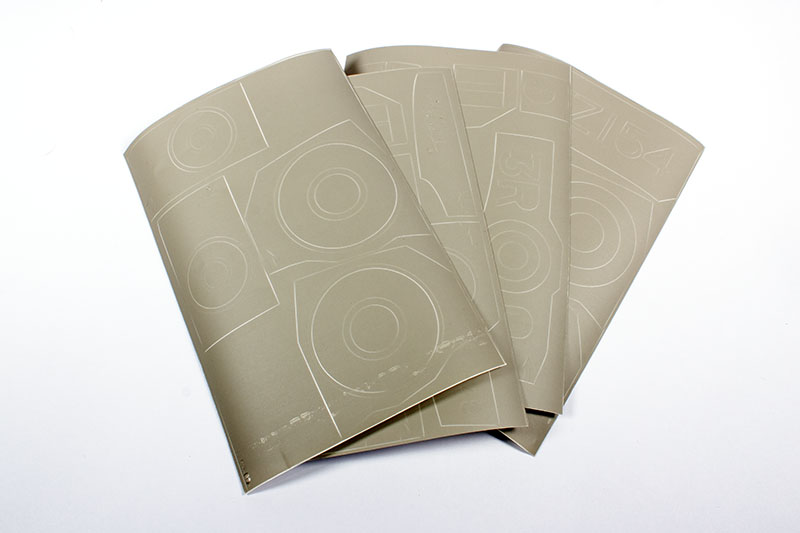 Making a full assessment of the parts in this set is difficult while they're still inside their cages, but I elected not to remove them for this review, so as to not risk losing or damaging any of them prior to my intended full build. But even safely ensconced in their protective prisons, I think the outstanding quality of these parts is in full evidence.
---
As we expect from high-quality resin 3D printing today, the parts are crisp, being devoid of any visible layer lines, and exquisitely detailed. Surface detail is also impressive, and easily the equal of anything we might find on the Tamiya base kit for which this conversion is intended.
It's worth noting that not all the supplied parts are for the conversion itself, as some are in fact templates for scribing the new hatches required for the Mk XIVe F and FR variants, and also for modifying the tail wheel opening to accommodate the retractable tail wheel. This is a fantastic aid for the modeller that takes all the guesswork out of the process, and ensures that the new parts will fit where they're supposed to with the minimum of fuss.
Two rudders are supplied, with one being the broad chord variety, but also two fins, which is not addressed in the draft instructions. Mathieu has confirmed that the two fins are in fact different, and mate with their respective rudders. This will be clarified in the final version of the instructions.
The loose part I mentioned earlier turned out to be the tail wheel, and I did have some concerns about it potentially being undersized, as it's comparable in size to the tail wheel on a 1/48 Fw 190D-9 I had on the workbench at the time. It is of course possible that the Dora tail wheel is overscale, so I pulled out the Tamiya XVI kit to compare the two, and they turned out to be practically identical in size: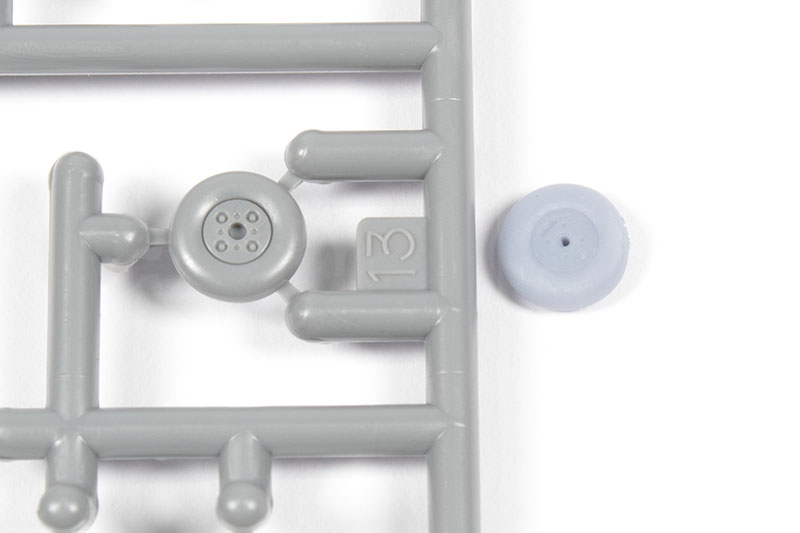 Phew! I will say, though, that the kit part does appear to be better detailed that its replacement, so it's not clear why it has been included.
The Instructions
As noted earlier, my set didn't arrive with any printed instructions, and Mathieu informs me that my PDF version is not yet finalised, with changes still being made. They consist of seven A4 pages, featuring a step-by-step description of the conversion process, accompanied by annotated photos and CAD drawings to illustrate.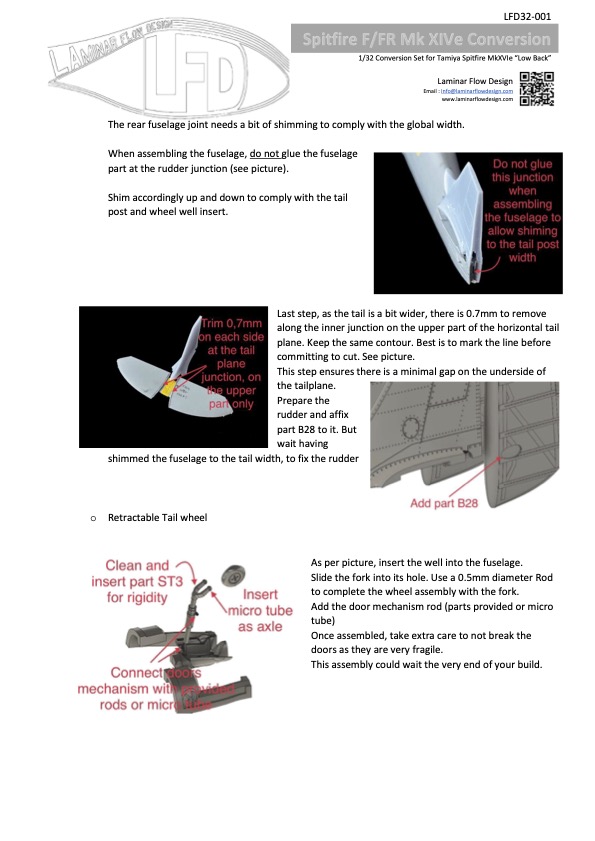 They start with some detailed instructions for preparing the 3D printed parts for use, before quickly moving into guiding you through the conversion. There are plenty of notes along the way about where adjustments need to be made to either the conversion parts or the kit parts, which is great for pre-empting any potential fit issues. They also address the fact that the modeller needs to fabricate some parts themselves—the camera hatch window covers, for example, for which they advise cutting some clear acetate sheet.
On the downside, my version has no parts diagram to help you identify any of the components, and as mentioned earlier, no markings diagrams to assist with using the supplied paint masks. I believe the latter will be included in the final, production version, which is good to know.
Conclusion
While it's difficult to fully assess this conversion with its component parts are still trapped within their protective cages, I can say with some certainty that the quality of those parts is outstanding. The design and engineering of this set have both been executed with the modeller in mind, to ensure that you not only receive all the parts undamaged, but that they're also as easy to use as possible. There's certainly some work to do to remove all the supports and protective material, but this will be more straightforward than dealing with what would otherwise have been an extensive set of resin casting blocks.
The only shortcoming I can see so far is the lack of a painting and markings guide in the instructions to accompany the supplied paint masks—though the masks themselves are a very welcome addition, given that many conversions come with no markings assistance at all.
Of course, a review such as this can't answer the two most burning questions that most modellers will have: is it accurate, and does it fit well. I have no reason to doubt its accuracy, and I plan to add this project to my build queue for later this year, so we'll see how well it goes together then. But given the overall quality of the parts themselves, I fully expect that any problems I encounter while using them will be self-inflicted.
Overall, I'm very impressed with this set, from its thoughtful and clever packaging, to the level of detail evident in all the parts, and the comprehensive instructions designed to help you get it right. Many years ago, RB Productions released a Mk XIV conversion for the PCM Mk IXc kit, and as good as that set was, this set takes it up another notch or two, and uses the far superior Tamiya Mk XVI kit as a base. It's a terrific combination, and currently the best way to build a Spitfire Mk XIVe in 1/32 scale.
Review sample courtesy of Laminar Flow Design (website | Facebook page).
© Kevin Futter 2023
This review was published on Tuesday, June 20 2023; Last modified on Tuesday, June 20 2023