Mortons Books Ltd | RAF Second World War Fighters in Profile
Reviewed by Kevin Williams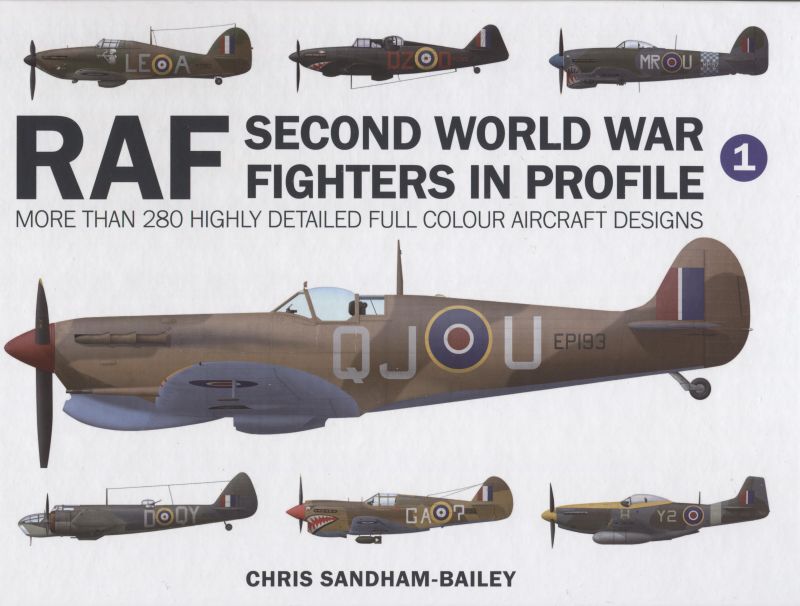 Publisher: Mortons Books Ltd
Author: Chris Sandham-Bailey
Publishing Date: 2021
ISBN: 978-1-911658-06-1 (Hardcover)
Pages: 296
This particular book is obviously dedicated to color profiles of RAF fighter aircraft of WWII, and there are just a ton of them (book weighs a little over 3-1/2 lbs.), covering all of the types enumerated below. Lots of ideas here for the modeler, that's for certain. There are also plan, elevation and inverse plan drawings (black & white) of all types referenced in the index, as well as one color plan/inverse plan per type, a nice touch, I'd say.
World War II RAF aircraft types have long been favorites of many aviation enthusiasts, and will no doubt remain so for the foreseeable future.
Aircraft covered in this volume (not mentioning sub-types): Gloster Gladiator, Bristol Blenheim, Hawker Hurricane, Supermarine Spitfire (Merlin & Griffin powered), Boulton-Paul Defiant, Bell Airacobra, Westland Whirlwind, Curtiss Tomahawk & Kittyhawk, Bristol Beaufighter, Hawker Typhoon, North American P-51 Mustang, De Havilland Mosquito and Hawker Tempest.
Typical Photo/Illustration Quality to be Found Throughout
---
To me, the high point of this volume, is the overall appeal of the subject matter, combined with numerous interesting facts and anecdotes about the aircraft, all packaged in a smooth, attractive presentation on good quality gloss stock.
I'll have to say that, to me, this book is very good value, given the overall content.
If you're a World War II RAF aircraft fan (as I most certainly am), you may well wish to add this title to your collection.
My review copy compliments of Casemate Publishers. Many thanks to Casemate, it's truly first-rate stuff, and a volume that will no doubt sate the desires of many an RAF WWII aircraft fan.
© Kevin Williams 2022
This review was published on Wednesday, October 26 2022; Last modified on Thursday, October 27 2022