Kagero | Albatros D.III/D.V
Reviewed by Kevin Williams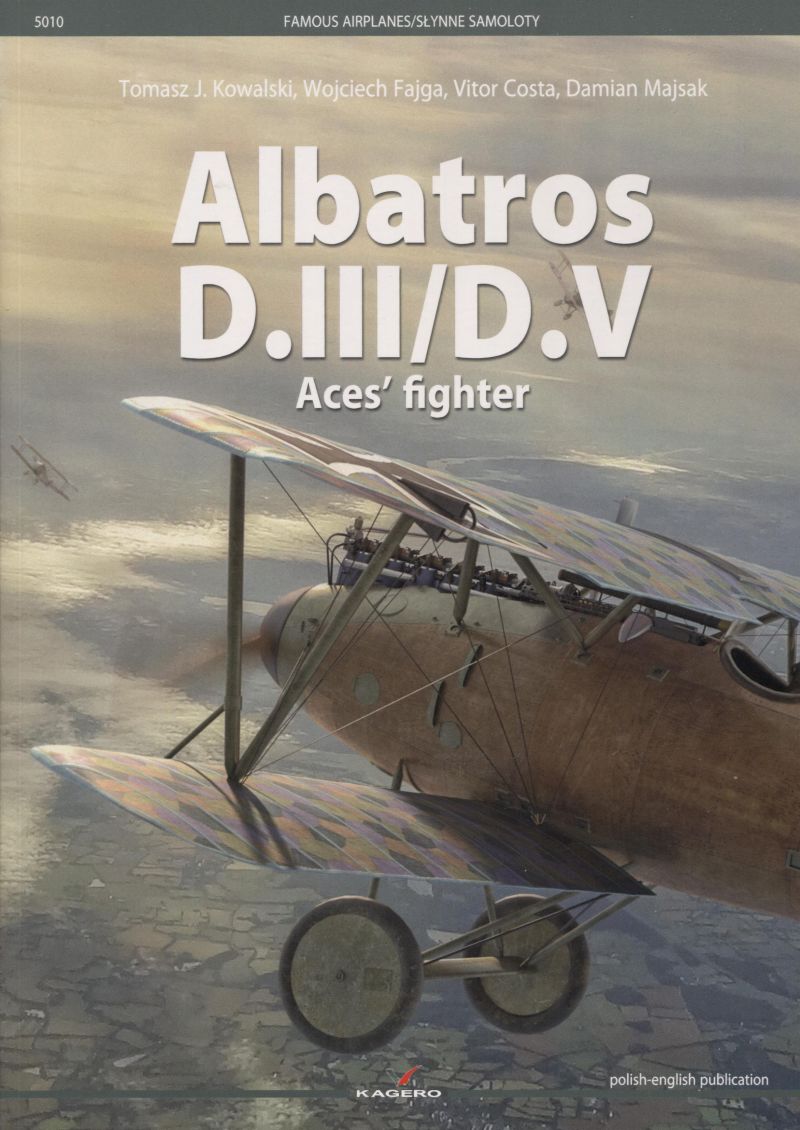 Publisher: Kagero
Author(s): Tomasz J. Kowalski, Wojciech Fajga, Vitor Costa, Damian Majsak
Publishing date: 2018
ISBN: 978-83-65437-95-2
Pages: 92
Presented here, in book number 5010 of the "Famous Airplanes" series, a series generally devoted to specific aircraft, is this volume dedicated to the rather iconic German Albatros fighter plane, specifically the D.III & D.V.
There are four basic sections to this volume; an overview of the type (very minor section), and three model projects in different scales; one in 1:48 and two in 1:32, and taking up quite a large section of the book, and various color illustrations.
While I own several of the Kagero Famous Airplane books (the older, smaller format series), I currently have but three from this newer series. Assuming the reader has a "thing" for gobs of models vs the actual aircraft itself, this book may well be for you. If not, as is the case with me, I would not recommend it.
Photos/Drawings/Profiles/Models
---
For the most part, I'll just let the pictures do the talking here. I've offered up a general overview of the photo, drawing types and models that you can expect to encounter.
(Note: Perhaps I'm just spoiled by certain other Kagero publications, but I'm rather sad to see no decals in this book (rather common for the new Famous Airplanes series to not include them, at least from what I've seen so far), whereas I've grown to consider the inclusion of such decals (the early Famous Airplanes series most certainly had them) as a hallmark of this and several other Kagero offerings, making those titles quite desirable as a consequence.
Summation
For those that may prefer several really nice models presented in a sort of step-by-step manner, to actual references on the aircraft themselves, this book certainly has that. While there certainly does seem to be a viable market for "how I did this and how I did that" books and magazines (I see them everywhere these days), it's never really been my thing, but that's just me.
On a scale of 1 to 10, I'd still rate this book as a 10, given the overall apparently high quality of the paper stock, the included nice drawings, build and photo quality of the models themselves, and again, based on the assumption the reader is more interested in models than the actual aircraft itself.
My review copy compliments of Casemate Publishers. Thanks a ton to Casemate.
© Kevin Williams 2022
This review was published on Tuesday, August 02 2022; Last modified on Sunday, August 07 2022