Pen & Sword | The Red Baron: A History in Pictures
Reviewed by Kevin Williams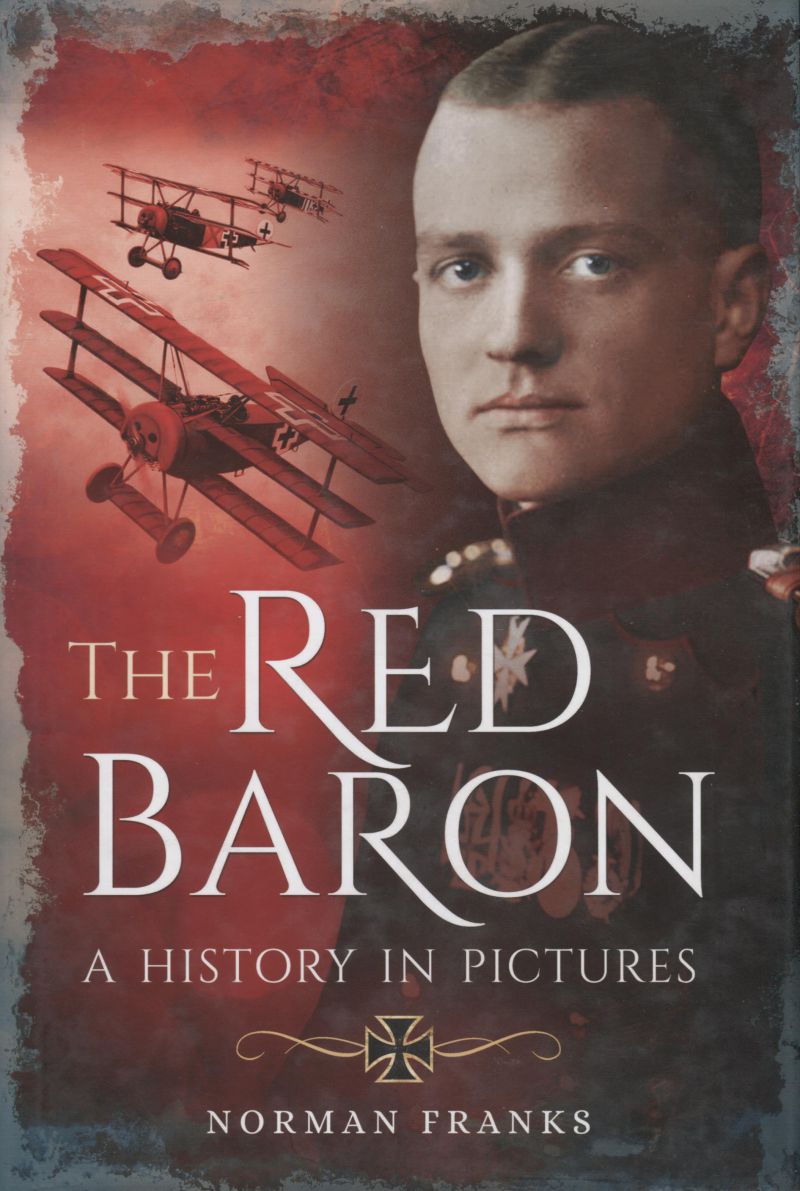 Publisher: Pen & Sword
Author: Norman Franks
Publishing Date: 2016, 2022
ISBN: 978-1-47386-122-0 (Hardcover)
Pages: 192
This choice of subject has been done many times before, as much has already been written about the Baron and his exploits during WWI. While much familiar ground is covered again, this volume presents a chronology of the life of the man, from his early, but brief, cavalry days, through his quick rise in fame, his participation and exploits in Jasta 11, Jagdgeschwader Nr.I, then on to his ultimate demise in 1918, and I'm hoping it still may find a happy audience, as the story is truly a fascinating one.
The Baron (and his mates), a figure that history still recalls very vividly, was encouraged by the high command to place some emphasis on flamboyant schemes, mostly for easy identification purposes in the air, but also had the interesting, and perhaps not expected consequence, of creating a certain amount of anxiety in opposing forces. After all, quite a few members of Nr.I, were known to be recipients of the prestigious Pour le Mérite ("Blue Max"), and that undoubtedly lent a certain intimidation factor during their appearance over the battlefield.
The book itself is presented in a handsome hardbound package, using good quality paper for great photo reproduction, and a thoughtful, well organized overview from the beginning to the twilight days of this iconic airman. As to the photos, given the overall limitations of film and cameras of the era, photos are frequently a bit blurry or fuzzy, but that's more than understandable, at least to me.
1:32 kits are readily available of several of the aircraft that the Baron flew in his time in the service; Albatros D.III, D.V and the vaunted Fokker Triplane, obviously, as this is frequently the aircraft most closely associated with MvR, and the machine he was flying on the last day of his life.
Sadly, souvenir hunters quickly stripped the downed Dr.I of many items, some of which survive to this day, but the air-frame itself, or what remained of it, was completely destroyed during the allied bombings of Germany during WWII, a loss that I personally see as quite a shame.
One thing I did find rather perplexing; there are no color profiles at all in this book, not one. I see this as a rather glaring omission, as the Baron obviously flew several aircraft during his career. Given the very nature of this publication though (a history in pictures), perhaps I was just expecting too much.
Typical Photos to be Found Throughout
---
All in all, this volume is pretty much a "one stop shop" of data as regards von Richthofen, as the story itself is actually quite interesting, despite having been done many times before.
On a scale of 1 to 10, I'd rate this book as an 8, mostly due to the complete lack of illustrations depicting any of the aircraft MvR flew during the war.
My review copy compliments of Casemate Publishers. Many thanks to Casemate, it's a good presentation, offering as it does, a sort of step-by-step of the exploits, actions and ultimate demise of the vaunted Red Baron, a character that will be remembered by historians for years to come.
© Kevin Williams 2022
This review was published on Sunday, June 26 2022; Last modified on Thursday, June 30 2022