Kagero | Focke-Wulf Fw 190, Vol. IV
Reviewed by Kevin Williams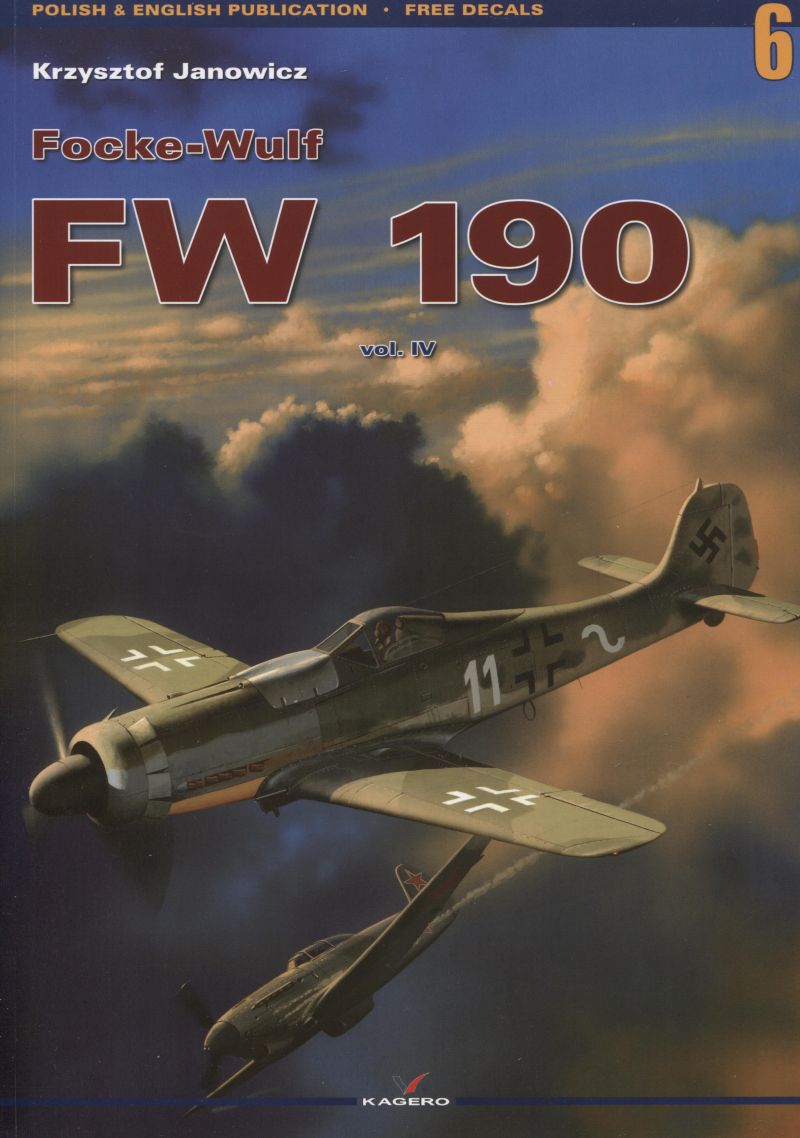 Publisher: Kagero
Author(s): Krzysztof Janowicz
Publishing Date: 2022 (reprint)
ISBN: 978-83-89088-32-0 (softcover)
Pages: 200
This volume from Kagero (typical of the entire Monograph series), is predominantly photos of the venerable Fw 190, specifically the D-9 model, but also some references to the Ta 152, showing various aspects of day to day operations, weaponry and maintenance scenes. While certainly not a walk around type reference, nonetheless an excellent choice for those that may be interested in adding some nice Focke-Wulf reference to the ol' book collection, as I most certainly will be doing. Text is in both Polish and English.
Also included in every book, are several marvelous (color) profile illustrations of chosen and representative subjects, and this book is certainly no exception.
Volume IV, naturally enough, follows on the heels of Vol.I thru Vol.III, all excellent books in their own right, however this seems to be nothing more than a reprint of the same volume published in 2004. The 2004 volume may or may not have had decals included, but this version does (a nice touch), and they're offered in two scales; 1:72 and 1:48. No mention is made of the decal printer, but decals look quite usable, as-is.
This volume also contains two folded sets of drawings, with black and while profiles, plan and inverse plan views, with miscellaneous details as well; great for those with the room to appropriately display them.
The Fw 190, the "Butcher Bird", was considered to be an excellent fighter aircraft for its day, and was well respected by the opponents that flew against it.
The artwork that is provided, covers the whole gambit; color profiles, black & white views of different types, and a spattering of details as well, all of which are appreciated by this author.
Obviously, kits are available in our scale, of various D-9s, so building a representative one, as seen in this book, should prove very doable.
Photo/Illustration Samples
---
As is clearly evident, many of the photos are quite superb.
For any and all fans of the venerable Fw 190 (and who isn't), this book (and its companion volumes) are just bound to please.
Summation
On a scale of 1 to 10, I'd rate this book as a solid 10, no question about it. Topping out at 200 pages of iconic Focke-Wulf coverage, it is highly recommended.
My review copies compliments of Casemate Publishers. Thanks a ton to Casemate, it's a truly awesome pieces of reference work (as are the majority of the Monograph series), and a book that will surely fill the bill for any WWII aviation enthusiast/modeler that has a passion for the venerable Fw 190, and it's impact on air combat capabilities during the WWII time-frame.
© Kevin Williams 2022
This review was published on Wednesday, June 01 2022; Last modified on Saturday, June 04 2022