ICM | 32035 DH.82A Tiger Moth
Reviewed by Iain Ogilvie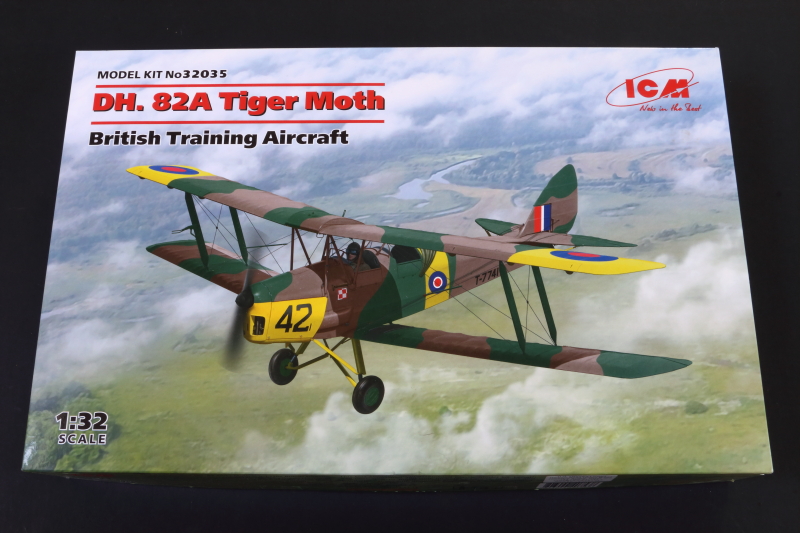 History
From Wikipedia: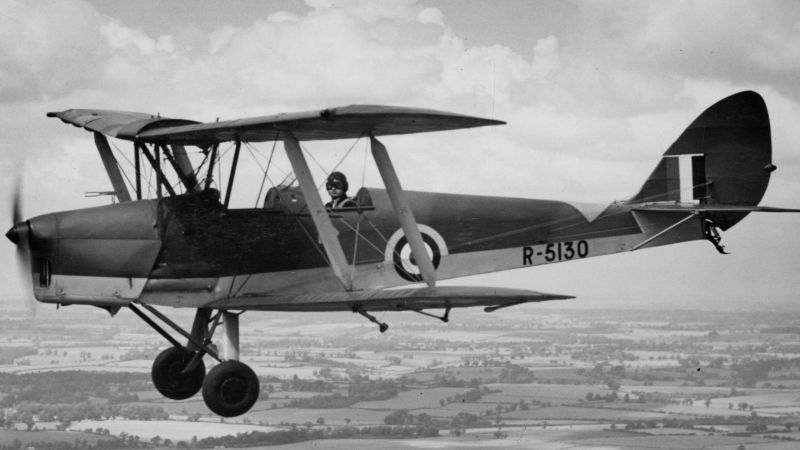 The de Havilland DH.82 Tiger Moth is a 1930s British biplane designed by Geoffrey de Havilland and built by the de Havilland Aircraft Company. It was operated by the Royal Air Force (RAF) and other operators as a primary trainer aircraft. In addition to the type's principal use for ab initio training, the Second World War had RAF Tiger Moths operating in other capacities, including maritime surveillance and defensive anti-invasion preparations; some aircraft were even outfitted to function as armed light bombers.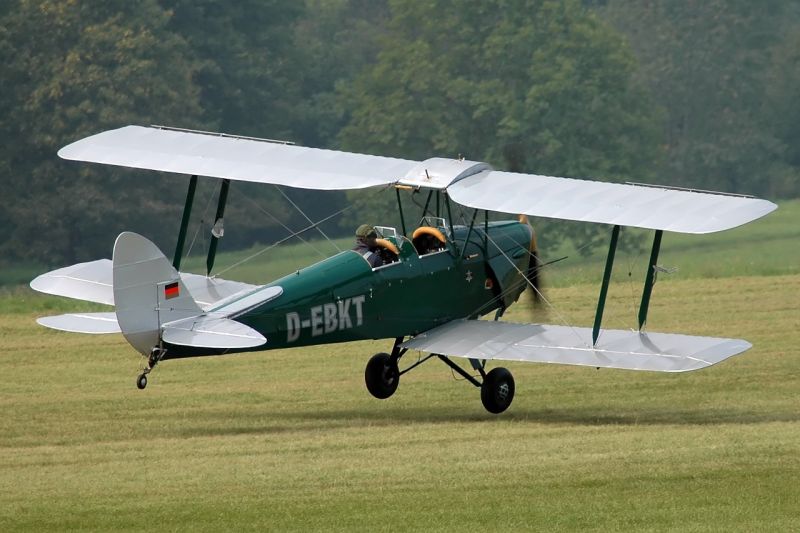 The Tiger Moth remained in service with the RAF until it was replaced by the de Havilland Chipmunk during the early 1950s. Many of the military surplus aircraft subsequently entered into civilian operation. Many nations have used the Tiger Moth in both military and civilian applications, and it remains in widespread use as a recreational aircraft. It is still occasionally used as a primary training aircraft, particularly for those pilots wanting to gain experience before moving on to other tailwheel aircraft. Many Tiger Moths are now employed by companies offering trial lesson experience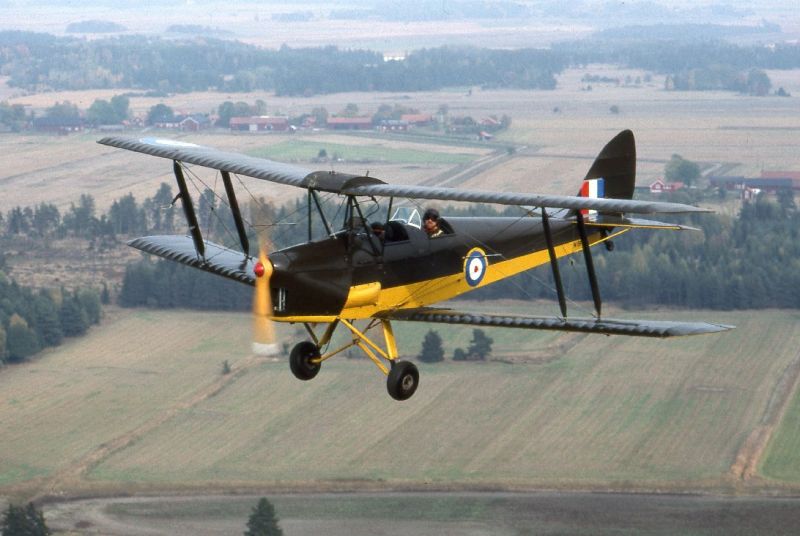 The ICM kit was released last year but, it appears, we hadn't published a review of it yet!
I'll start by saying that it's a major step forward on the venerable Matchbox kit (later released by Revell) that dates back to the late 1970's.
The Kit
As with previous ICM kits, the packaging is superb: a lift off top cover, with nice box art, and a more solid corrugated card box with integrated lid below. If only all manufacturers could go down this route!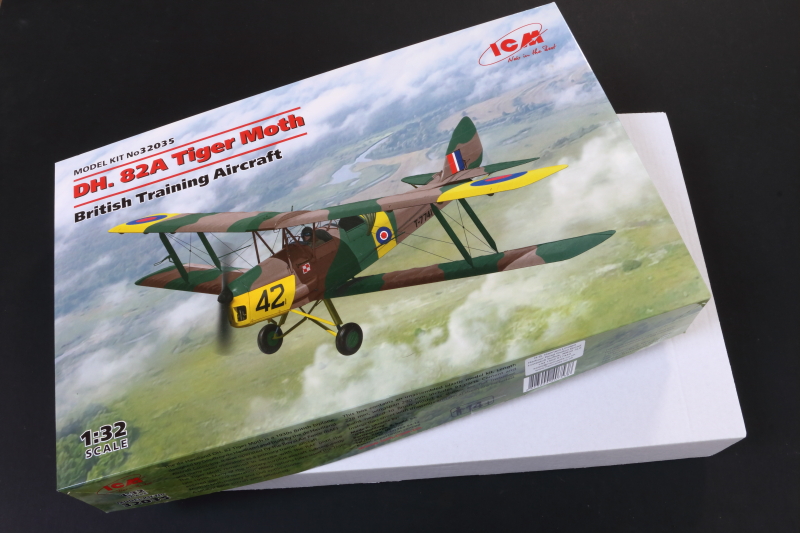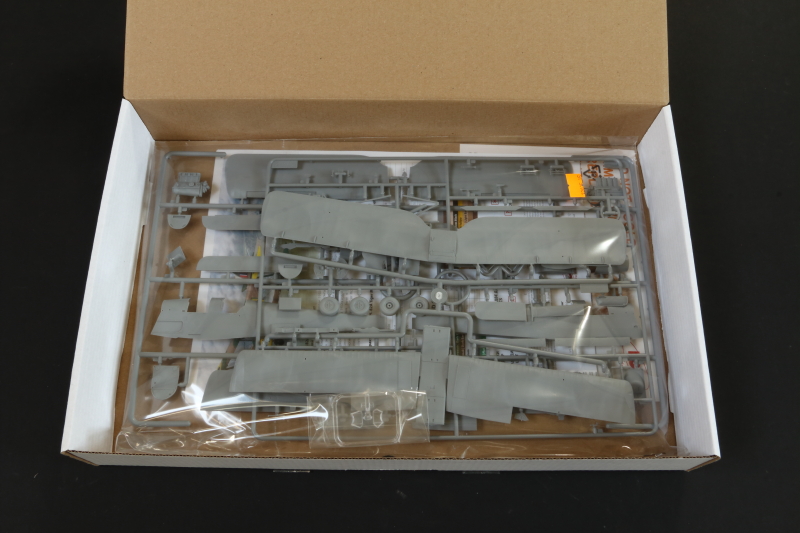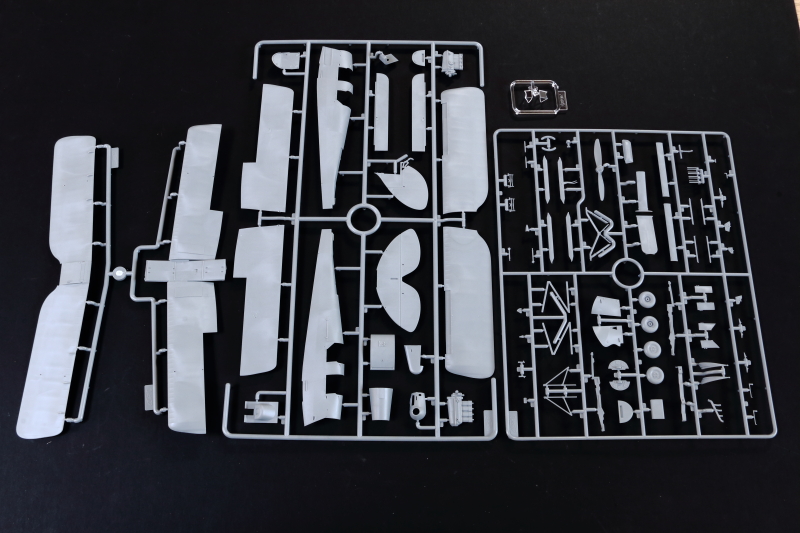 Great packaging - Revell, please note!
Sprue 'A'
Moulded in medium grey plastic. Detail is very sharp and surfaces have a slight matt sheen to them. The shapes look spot on and, to my eyes at least, the fabric surface effect looks spot on in this scale.
A feature of the full size airframe is the ribbing on the upper wing fuel tank - the instructions show this on the side of the moulded tank - but, in the kit, the sides are flush. An aftermarket resin replacement from CMK is now available and well be reviewing that separately.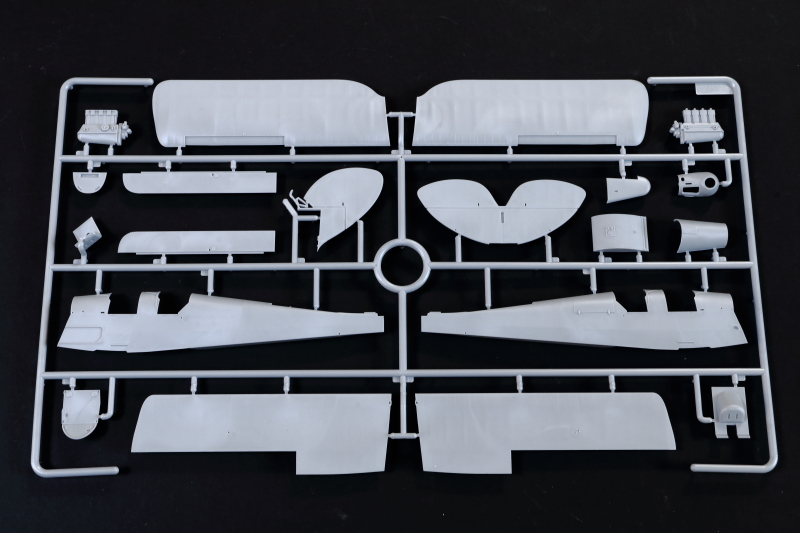 ---
Sprue 'B' and 'C'
Again - shapes look pretty good and fabric surfaces nicely rendered.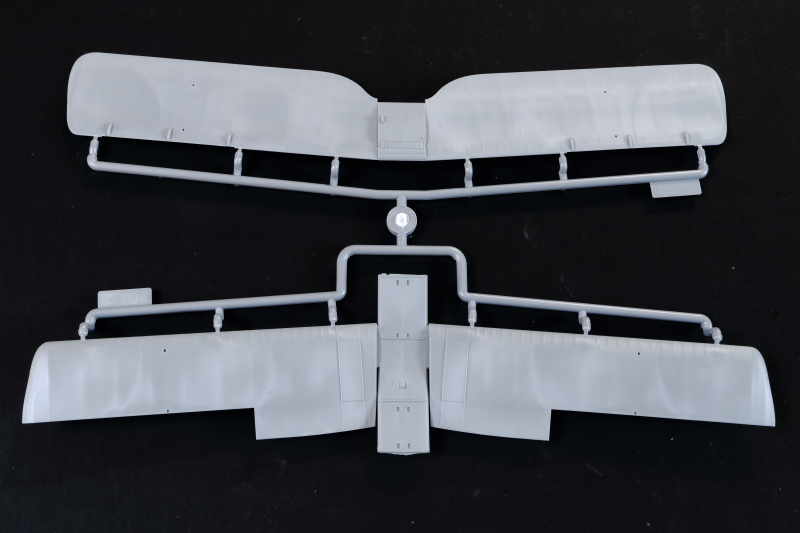 ---
Details Sprue 'D'
Again, cleanly moulded. Includes alternative spin strake sections, separate cockpit doors and cowling panels - so there's lot's of opprtunity to open things up. A separate 'blind flying' hood is included.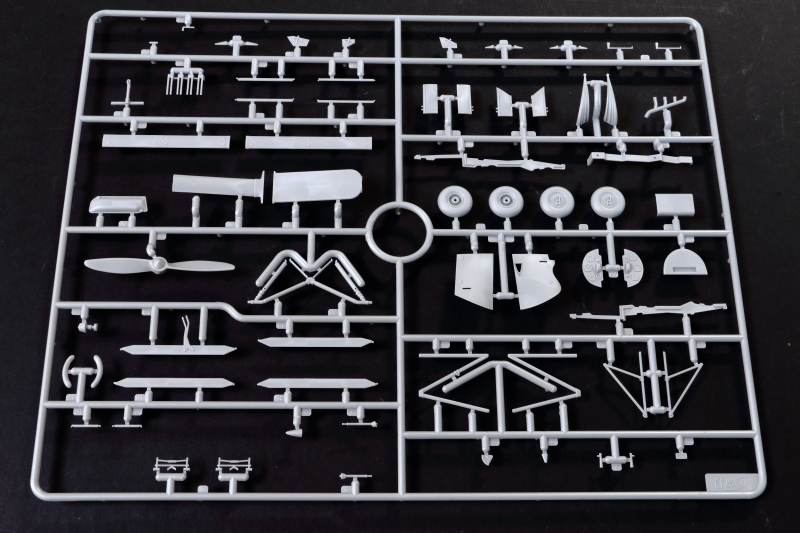 ---
Transparencies
Beautifully clear and distotion free.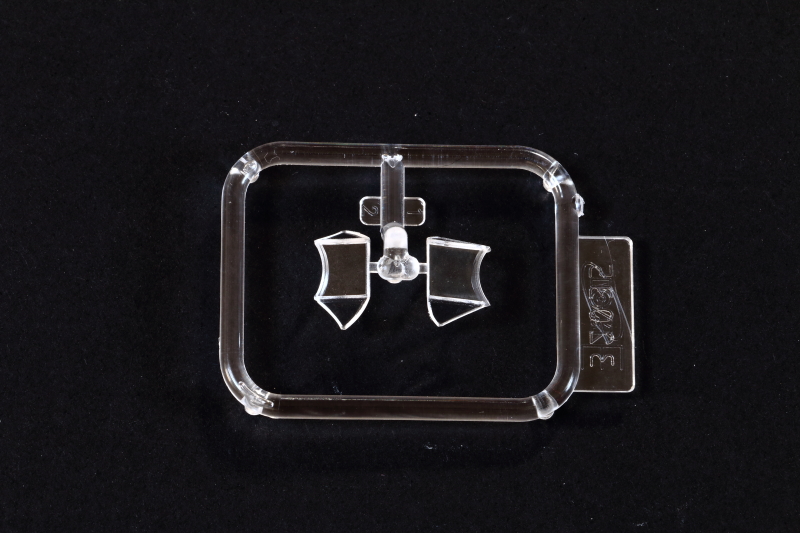 ---
Decals
A single, well printed, decal sheet is provided offering markings for two subjects. Colour and density look good, register is good and they look nice an thin. Good looking instrument dials are included on the sheet.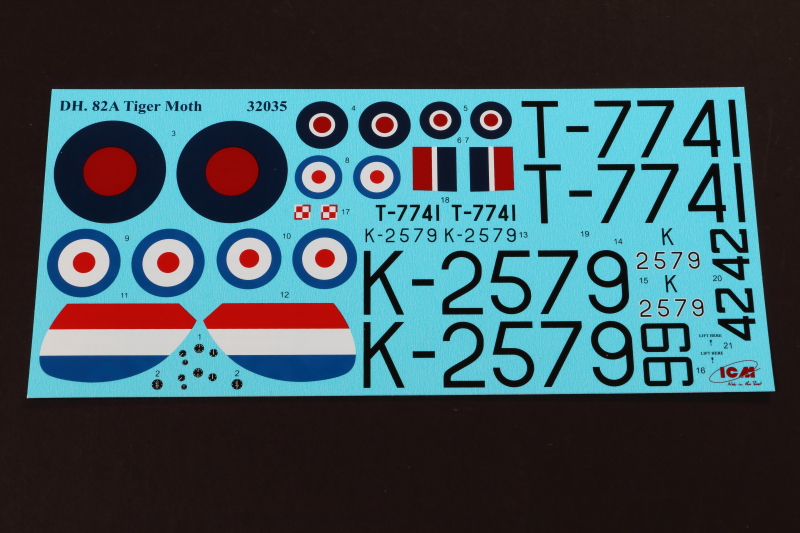 ---
Markings are provided for 2 options:
DH.82A of No.3 Flying Training School, RAF Grantham in 1938 - overall silver scheme.
DH.82A of No.25 (Polish) Elementary Flying Training School in the summer of 1944 - camouflaged with yellow underside.
Instructions
The instructions look clear and sufficiently detailed. Colour call outs refer to Revell and Tamiya paints.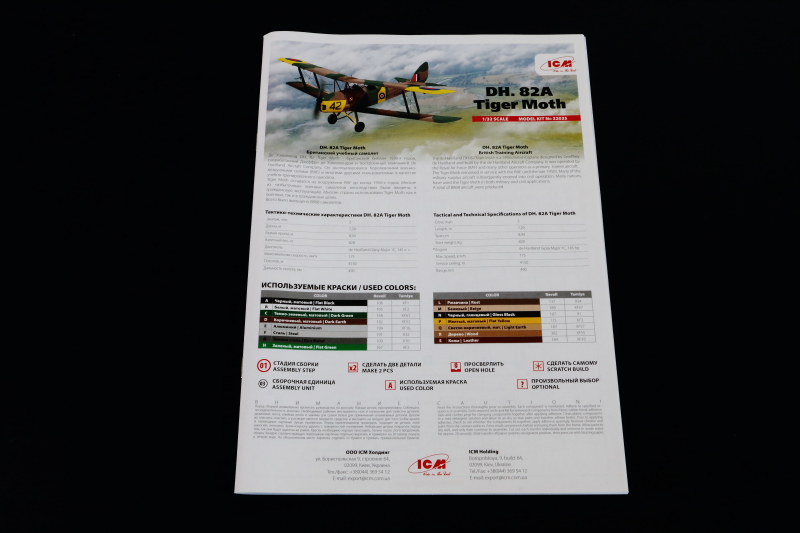 ---
Instructions also include a useful rigging guide and instructions on drilling the relevant anchor holes, as well as the shapes for cutting canopy masks.
Conclusion
Overall a superb new release from ICM although, as we mentioned in other reviews, it would have been nice to have had some seat straps included, as they will be a necessary (and very obvious) on the finished model. We'll take a look at a solution to this from Eduard, in their 'Space' range, in a forthcoming review.
Whilst this review is purely an 'in-box' exercise, Max Williams has done a superb job of directly comparing available 1:32 Tiger Moth kits from Matchbox (Revell), Silver Wings and ICM.
ICM have rapidly become one of my favourite manufacturers: for subject choices, simplicy of approach and shear value for money. This is yet another new kit from ICM that carries the very highly recommended label!
We wish the ICM team, along with family and friends, all the best given the current awful situation in their country - we very much hope they all stay safe and well.>
Review courtesy of my wallet.
© Iain Ogilvie 2022
This review was published on Sunday, March 27 2022; Last modified on Saturday, April 02 2022