Albatros Productions | Fokker F.I/Dr.I
Reviewed by Kevin Williams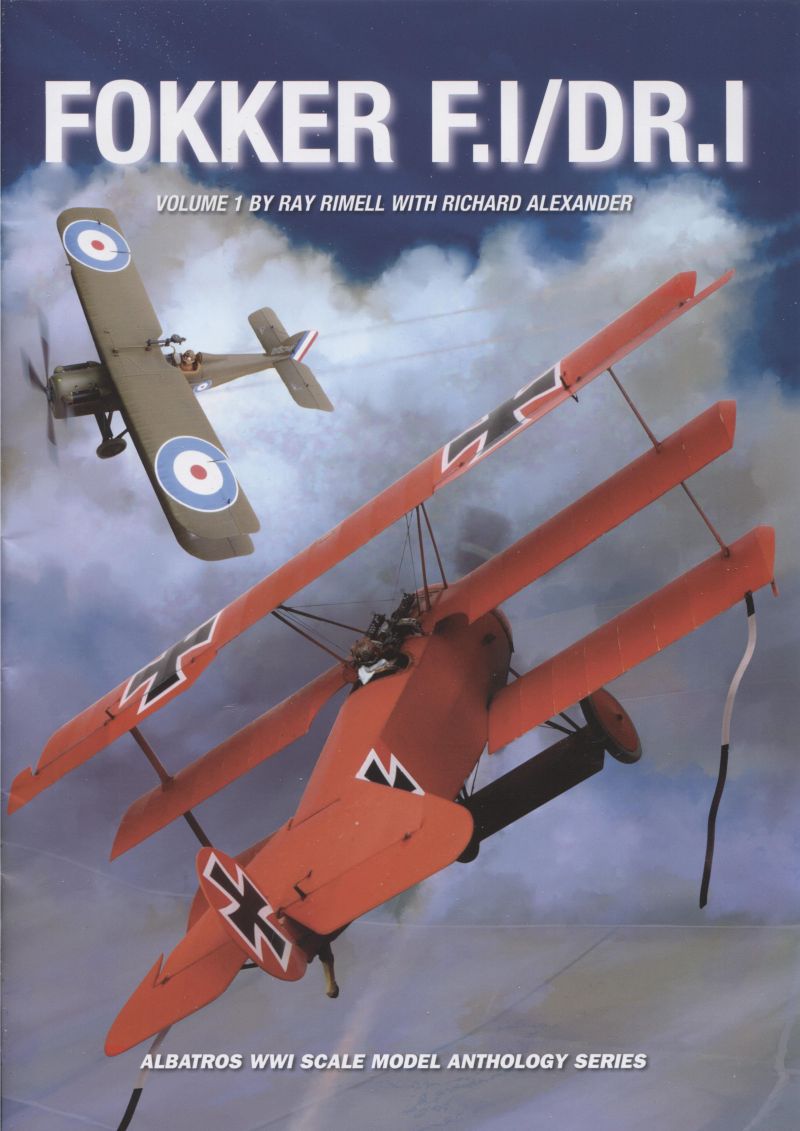 Publisher: Albatros Productions
Author: Ray Rimell
Publishing date: 2021
ISBN: 978-1-906798-61-1
This recently released volume by Albatros Productions (volume one of a proposed two volume set), is one that the WWI aviation community has been looking forward forward to for quite some time, and it certainly does not disappoint, offering up a unique look into the world of the ubiquitous Fokker F.I and Dr.I, an aircraft probably most closely associated with being the infamous mount of "The Red Baron" (Manfred von Richthofen), with a look at the aircraft during the wartime years, as well as some model articles, illustrating some interesting details of the aircraft itself. Adding up to around 74 pages, this is a compact, but visually interesting and very informative volume.
Press Release
---
My book arrived with a press release included, as seen above, offering various data concerning the book and its contents.
This particular volume is authored by Ray Rimell, with Richard Alexander (formerly of Wingnut Wings fame), two men that have been very closely aligned with WWI aviation topics for quite some time, and the contents reflect their devotion and expertise in this area.
Foreword - (Richard Alexander)
Richard makes his first appearance here, with some rather interesting comments regarding the four Meng Fokker Dr.I kits, as well as a brief perspective of his time with Wingnut Wings as general manager.
Introduction - (Ray Rimell)
Ray explains here some of the work and research involved in bringing these two volumes on the Triplane to print, and the efforts to point out subtle differences, supplementing the Meng kits in particular, with more clarity. Volume two will apparently more heavily involve the latter batch of 200 air-frames entered into service; a volume I'll be patiently waiting to get my hands on.
Table of Contents
The large scale Dreidecker: a comprehensive kit survey
Streaking to the finish line: Richard Alexander. Richard makes his second appearance here, with some rather interesting observations regarding Dr.I painting practices; the streaked or "strie" finishes.
F.I Folio: the pre-production triplanes
Fokker F.I 103/17 (Werner Voss): fully-detailed Meng build log (Rimmel)
Recreating a legend: Richard Alexander on design; a Q&A with Ray Rimmel
Under the skin: a very, very late production Dreidecker!
'Dreidecor' Nr.I: Ronny Bar's profile set
Fokker Dr.I 204/17: Ray Rimell keeps track of the Roden kit
Fokker Dr.I 425/17: Meng's red one built by Ray Rimell
Fokker folios: early production Dr.I archive
Appendices I-III: glossaries, references, suppliers and more...
Anyone with even a passing interest in WWI aviation, is usually familiar with the extensive line of publications offered by Albatros, and the overall quality that is typical from them. This volume is certainly no exception, offering forth a glimpse into an era long since passed, but hopefully, never forgotten.
Numerous build articles appear throughout the publication, all expertly crafted by Ray himself, some really stuff here, as one might expect.
Of particular interest to me, are the numerous Ronny Bar profile schemes (10, by my count) depicted in the book, several of which I was otherwise unaware of, and/or are reinterpretations of known and reasonably familiar and documented schemes. Now if we just had some 1:32 (and 1:24) decals for some of these schemes...
Also of note, are the quite nice illustrations included by Juanita Fronzi, an accomplished artist in her own right.
Also included in the book, are sections devoted to additional references and WWI model aircraft parts suppliers, figures, decals, weapons, ground equipment and whatnot, a nice touch.
There is also a nice tribute to Paul Leaman (1929-2020), author of the wonderful "Fokker Dr.I Triplane: a World War One Legend" book (Classic Publications/Ian Allan), as well as numerous other WWI aircraft article contributions over the years.
Typical Photo Selection/Drawings
---
The text is augmented with a very nice selection of period photos, as well as numerous color profiles (one with plan view), all created by talented and well known aviation artist Ronny Bar, whose work here appears in a somewhat modified form, based upon new information/conclusions regarding Triplane finishes.
Summation
All in all, I'd recommend this book without any reservation at all. At a pretty hefty 74 pages, this volume makes for a nice addition to the library, and may well prove invaluable when I attempt to eventually model one of my own 1:32 or 1:24 scale Meng kits.
Noted at various points in the publication, are referrals to two very specific publications on the Dr.I: "Fokker Dr.I Jagdstaffeln" (Greg Van Wyngarden, Albatros Productions, REF/1) and "The Fokker Triplane" (Alex Imrie, Arms and Armour Press, REF/2). Adding either one (or both) of these volumes to the aircraft library, is highly recommended by this reviewer, assuming you have a passion for the Triplane, as I most assuredly do.
While not specifically called out in the references section, another book that I personally would unhesitatingly recommend, if for no other reason than the really nifty 3D representations, is the Kagero volume: "Fokker Dr.I, The aces' Aircraft". This volume, in combination with this splendid new Albatros Productions book on the Dr.I, as well as the additional references highlighted above, will really give the enthusiast/modeler a real "feel" for this vaunted and world renowned aircraft.
My review copy compliments of Ray Rimell at Albatros Productions Ltd. Thanks a ton, Ray, it's much appreciated, and I already anxiously look forward to volume two.
© Kevin Williams 2021
This review was published on Wednesday, November 24 2021; Last modified on Monday, November 13 2023