Kagero | Focke-Wulf Fw 190A, Vol. 1
Reviewed by Kevin Williams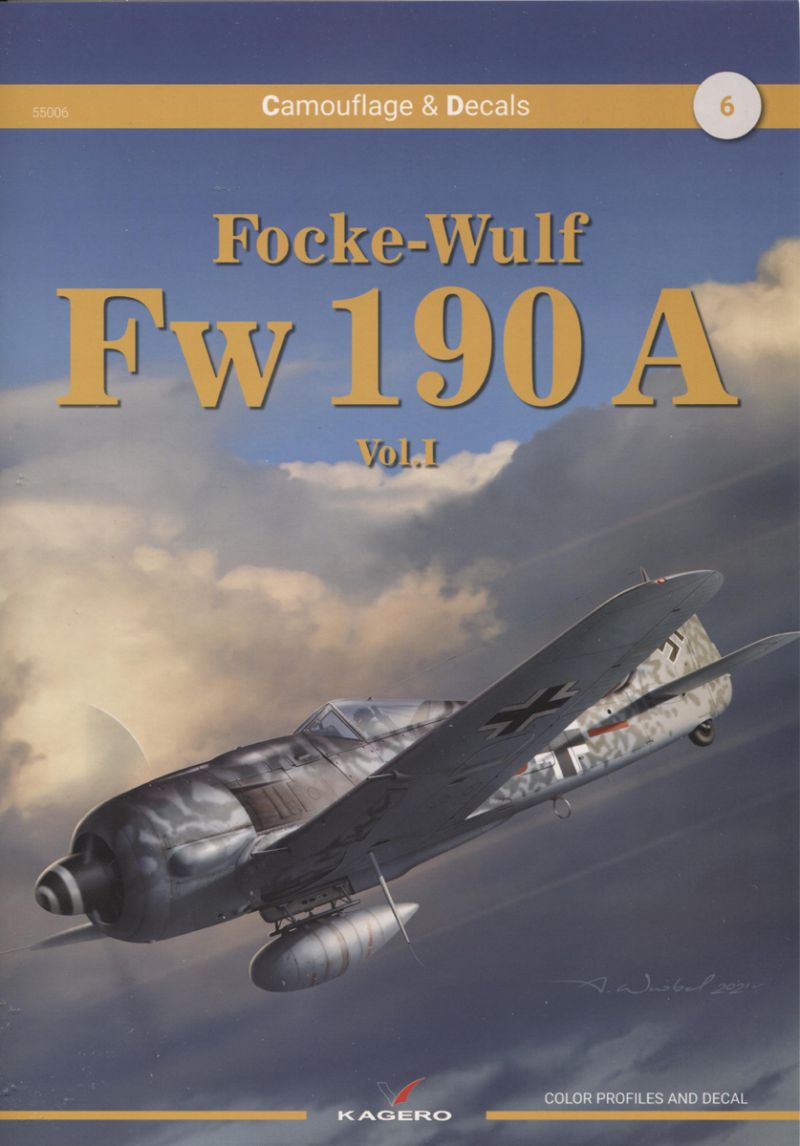 Publisher: Kagero
Artwork provided by: Janusz Światłoń & Arkadiusz Wróbel
Editor: Damian Majsak
Publishing date: 2021
ISBN: 978-83-66673-40-3
Number 6 in the "Camouflage & Decals" series, this book explores various schemes (in the way of color profiles) of the Fw 190A series, and also covering various theaters of conflict during WWII.
This specific volume, is entirely devoted to Fw 190A artwork, and that artwork is indeed quite splendid. There are no photos of the depicted subjects, so one just has to presume that they're accurate, as is the case with perhaps most artistic interpretations. Page 39 is devoted to Reich defense bands, and will undoubtedly be a handy reference to have on hand.
Typical Illustration Excerpts
---
This publication is (naturally enough) a compilation of several schemes associated with the Fw 190A series aircraft, mostly profiles, but with numerous plan views as well. The book is printed on good quality semi-gloss paper, which is nice to see. I have to say, the winter white machine (an A-9 of JG 300) is my favorite of the lot, though several others are very appealing as well.
The Decals
---
One of the perplexing things (at least to me) about this aspect of the series (assuming this to be a typical example), is the fact that unlike several other Kagero publications that offer complete decals that depict several aircraft that are featured in the artwork of the book (Topcolors, for instance), these decals provide national insignia and swastikas only. While the national insignias that are provided (offered up in both 1:72 & 1:48 scale) may undoubtedly come in handy, this leaves the modeler with no recourse but to seek the unique aircraft specifics (unit badges, chevrons, numbers, data stencils and victory markings), from another source, rendering the whole concept of providing decals in the book in the first place, somewhat pointless, at least as far as I see it.
The uptick regarding the decals, is the registration is perfect, and opacity also seems to be quite acceptable. While they appear just a tad thick to me (certainly not Cartograf quality, by any means...another step backwards), they'll probably serve the average modeler well enough. No mention is made of who the actual decal printer may have been.
Summation
Comprised of 39 pages, for the art lovers out there, the art is really quite nice indeed. Despite the rather odd decision to not provide complete decals to depict any of the aircraft profiled in the book, I'd still give this book a thumbs up, if for no other reason than the quality of the artwork alone.
My review copy compliments of Casemate Publishers. Many thanks to Casemate for providing me with this review sample.
© Kevin Williams 2021
This review was published on Tuesday, October 05 2021; Last modified on Saturday, March 12 2022