ICM | 32061: AH-1G Cobra (late production) + Quinta Studios Cobra Set
Reviewed by Brian Leitch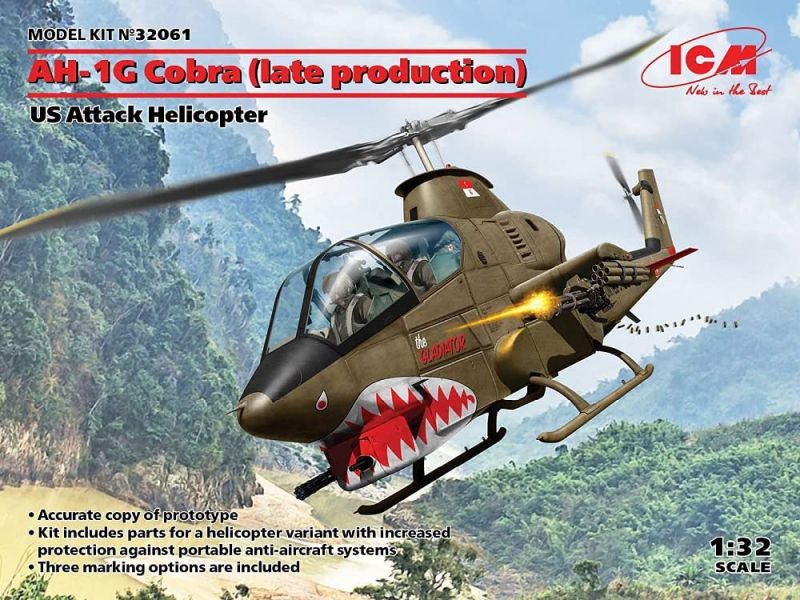 This is the second release of the ICM AH-1G 1/32nd scale family of US attack helicopters. ICM has of late burst onto the scene in large scale and given the LSP community a variety of new tool 1/32nd scale releases that have generally been regarded as great value for the money. This is my second ICM kit, and I can attest that the new ICM AH-1G (late production) kit is no exception. I wont go into detail here on the history of the AH-1G, as others may attest more accurately than I, but instead will concentrate more on the kit itself.
With a production run of 30+ years, the AH-1 has been an extremely successful gunship platform and the ICM kit really seems to represent the spirit of the first generation of Cobras.
This ICM kit came to me from a reputable Ukrainian seller in just under 2 weeks, and arrived in pristine condition.
The 1/32nd boom of late from ICM has been a great thing for the large scale community, and this new AH-1G kit will only further that. The kit came in a standard top opening box, with full topped box under that, with all sprues in a single clear resealable bag and instructions and decals under that
ICM AH-1G (late production) model kit #32061 contains:
6 light gray sprues
1 clear sprue
1 A4 sized 28 page booklet style instruction sheet
1 8" x 8" decal sheet
My AH-1G late kit came in a top opening box with a white top hinged box under it, and all sprues in a single clear bag, including the clear parts. The decal sheet has a wax sheet cover and is inserted into the A4 instruction sheet booklet. The kit is molded in light gray plastic, and has a wonderful mix of fairly delicate recessed panel lines, raised panels, recessed panels & vents as well as many varying sizes of raised rivets.
Box/Packaging
The ICM box art is very appealing, and the full wrap around box top art scene really draws you into what is inside the box: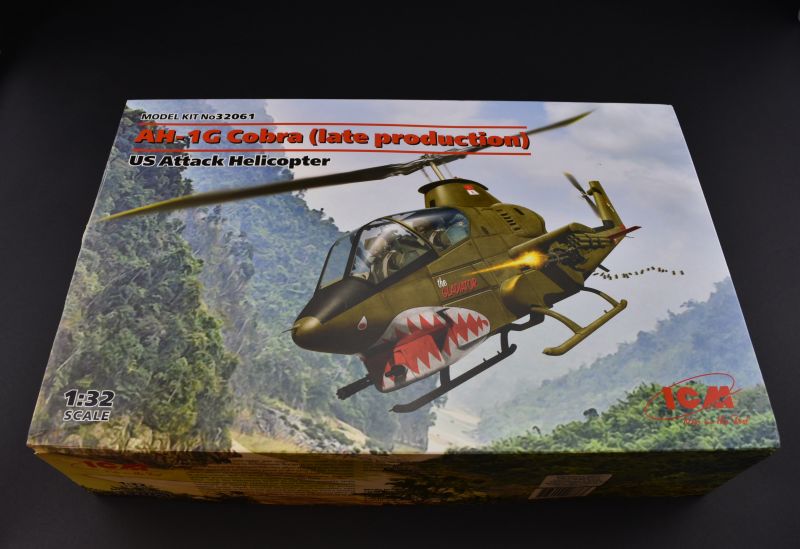 When you open the box top, you find a nice top opening white box under it, and then the model itself, all in one single clear bag. Although I always much prefer to have all sprues in their own separate bags, there did not seem to be any damaged or missing parts.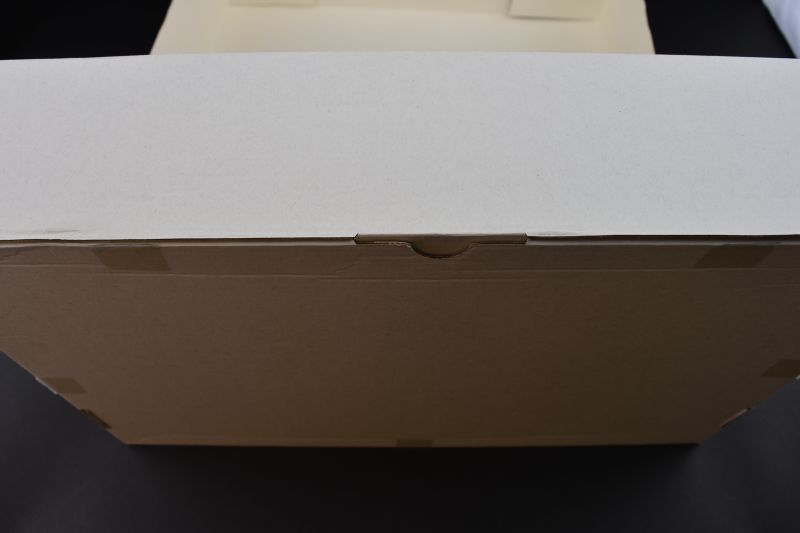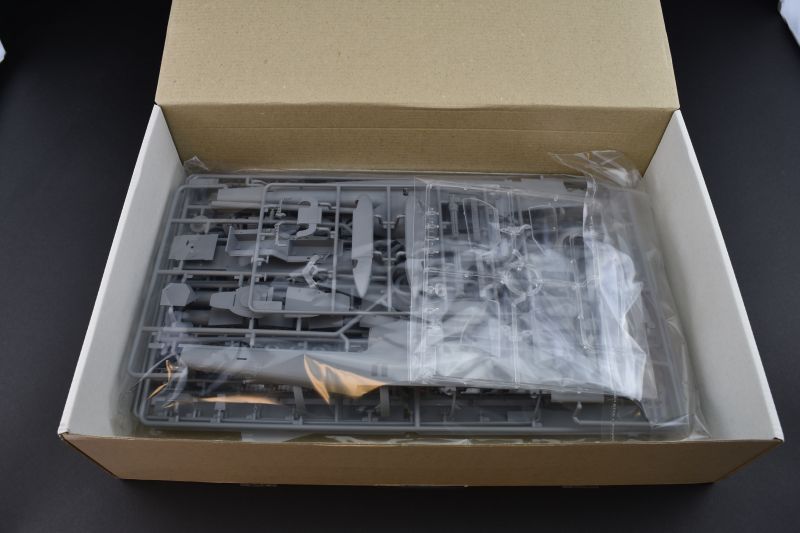 Sprues
There are only 6 main sprues in this kit, and some of the internal detail is a bit simplified, but by todays standards, the 1:1 early Cobras were also much more basic. With a total of only seven sprues overall, including the one clear sprue for the glass house, the kit is not overly complex. The minimal parts list does not mean its a bad kit, as I have actually found the opposite, that this kit is a great value and very well done overall.
The 6 light gray sprues contain all the parts to make a late production version AH-1G, as well as the parts to make an early production version AH-1G, with the main difference being the sprue containing the stub wing mounted mini guns and cheek mounted ammo containers.
While I am no Cobra SME, the kit very much seems to embody the spirit of the early generation Cobras, and I have seen no real glaring errors, but others may speak to that better than I. One of the few issues I had with this kit, was the fact that it does not come with any PE or belts in the box whatsoever, so the modeler is responsible for those himself. More on that later in this review.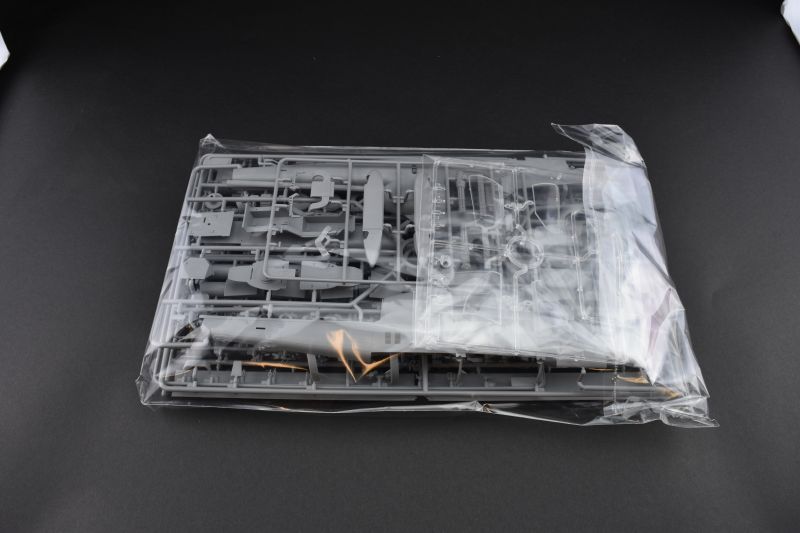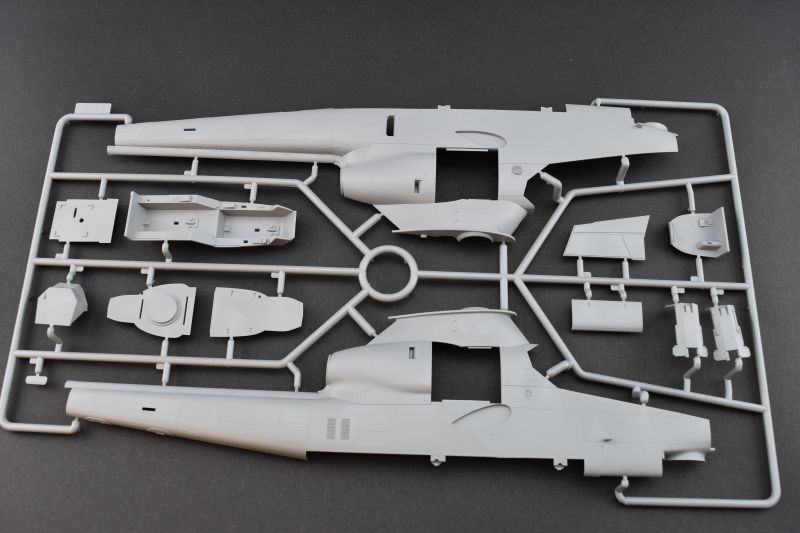 ---
The mini-guns ICM provides are actually not done badly at all, and with some expert painting and detailing, could look outstanding on the finished model.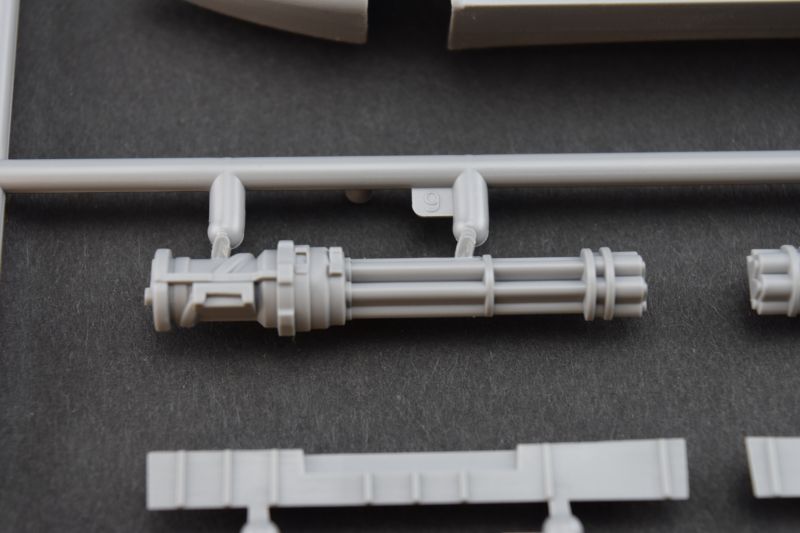 ---
The only flash I found was some very minor spots on the toilet bowl exhausts. This should be easily taken care of with a #11 and a sanding stick.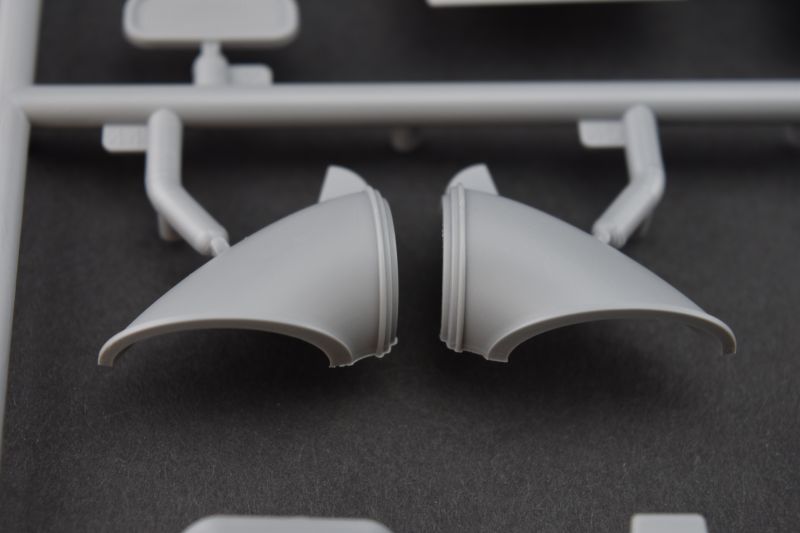 The kit also contains unused parts for the early production Cobra, including left side tail rotor, older style skids, and the older style tail planes. ICM also provides two weapons sprues on top of the previously mentioned mini gun sprue.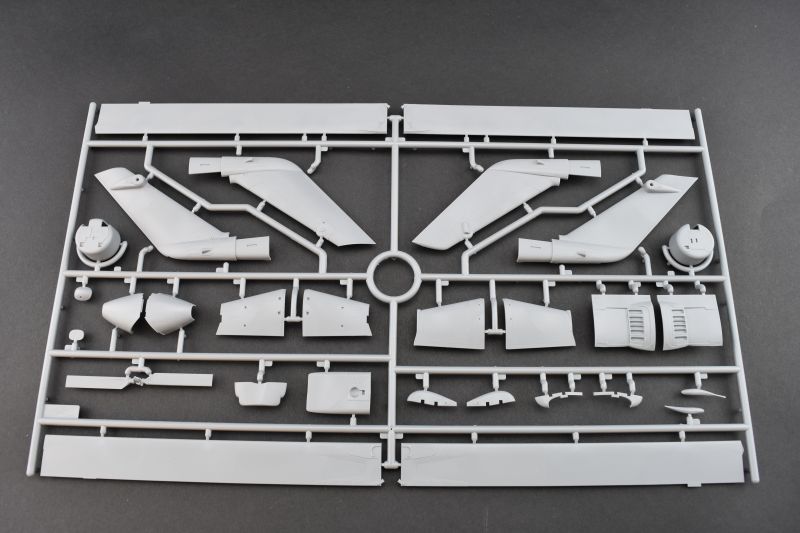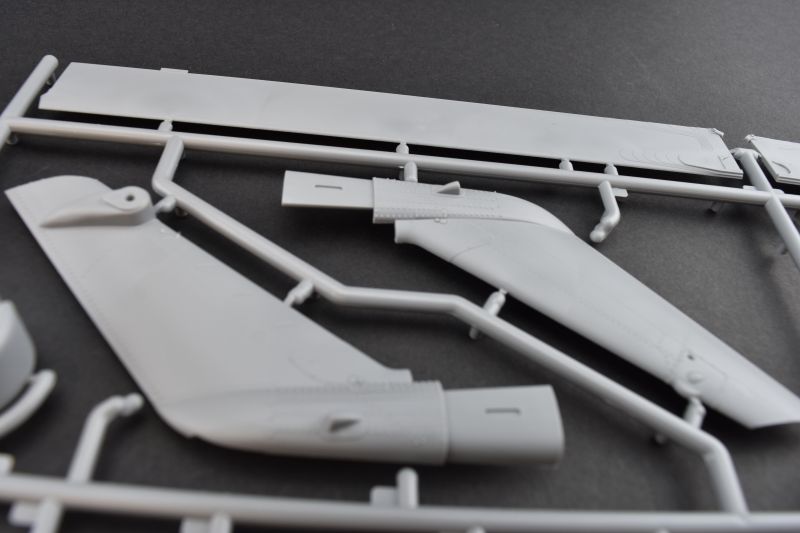 ---
Clear Parts
ICM supplies a single clear spue, with the center canopy section, along with the four side canopy parts, as well as the early style nose light and various landing/flying lights.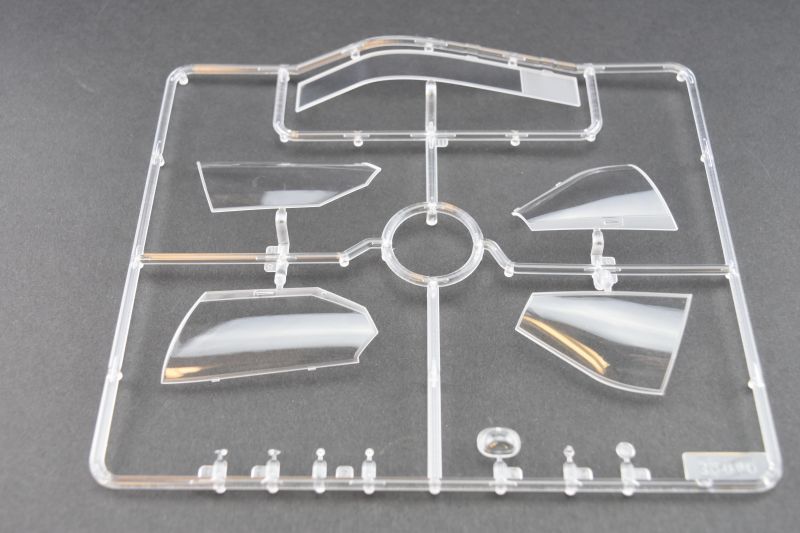 While the clear parts did not come in a separate bag or box, the parts did not receive any ill will from the long shipping voyage, and they are crystal clear with no distortions.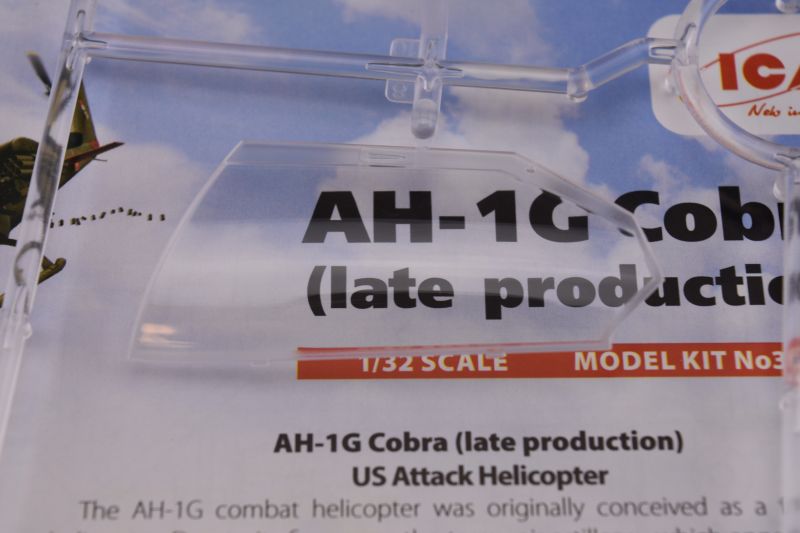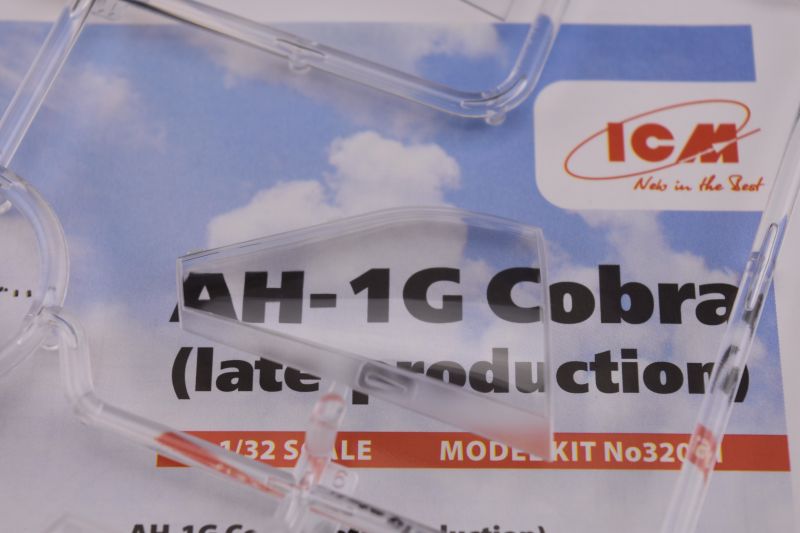 Instructions
ICM supplies an A4 sized 28 page generally black and white instruction booklet, that seems clear and precise, with weapons layouts and color scheme profiles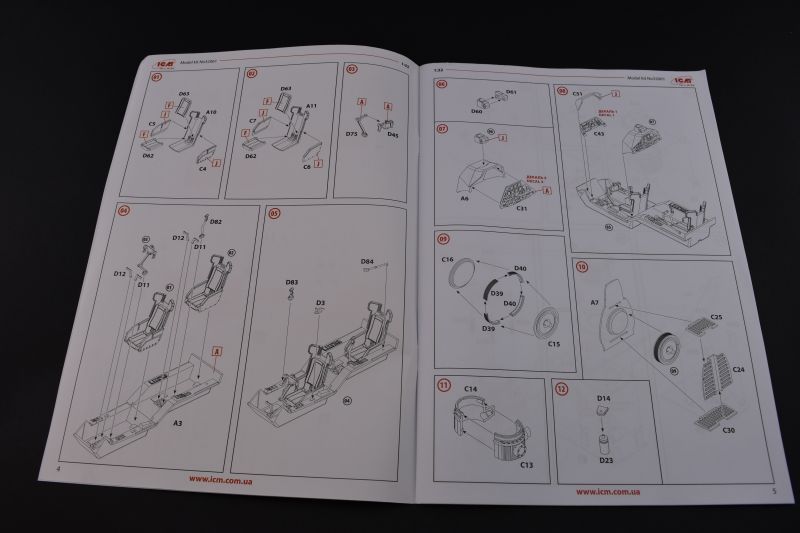 ---
---
Decals and Schemes
ICM provides three schemes in the kit: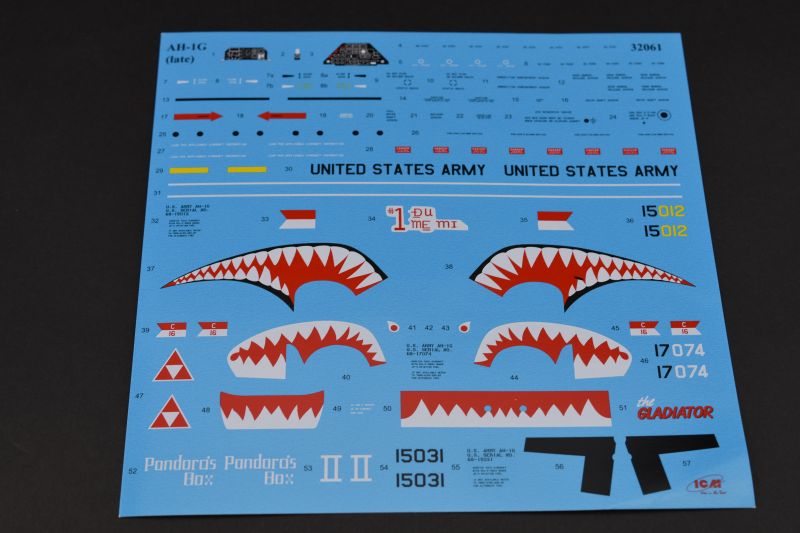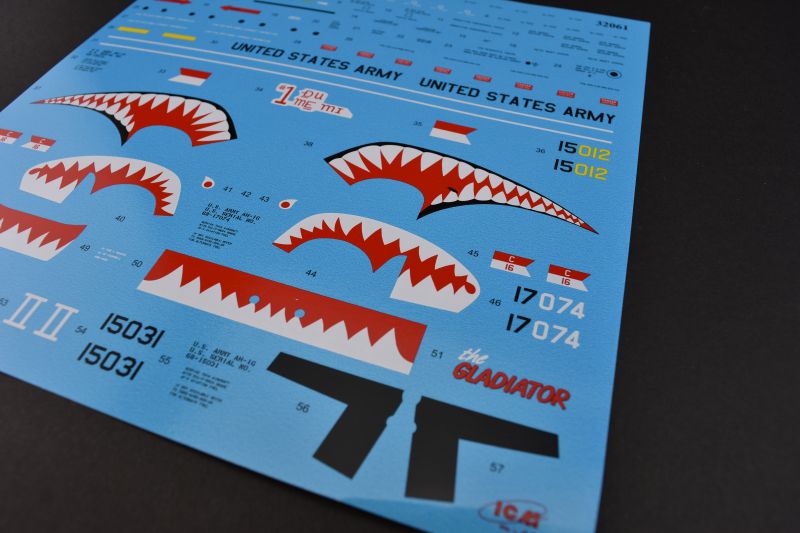 AH-1G 68-17074 "the GLADIATOR"

C Troop, 16th Cav, Can Tho January 1972

Ah-1G 68-15031 "Pandora's Box"
AH-1G 68-15012 "#1 Du Me Mi"

F Troop, 4th Cav, Phu Bai, 1972
BONUS - Quinta Studios AH-1 Interior Set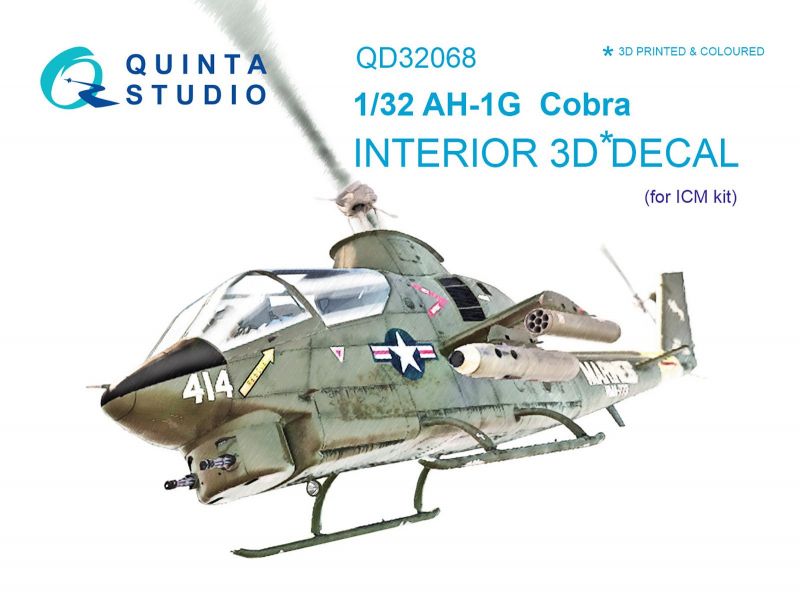 While the ICM Cobra kits are very nice IMHO, they lack one major thing: seat-belts. With all that glass, and the ability to pose some of it open, seat belts are most definitely lacking, and its very noticeable in this scale when they are not present. The Quinta studios 3D printed resin interior and belt set solves this issue. The new tech of 3D-printed resin on decal paper makes quite a good impression, and will really dress up the Cobra IP, as well as delivering the above missing seat belts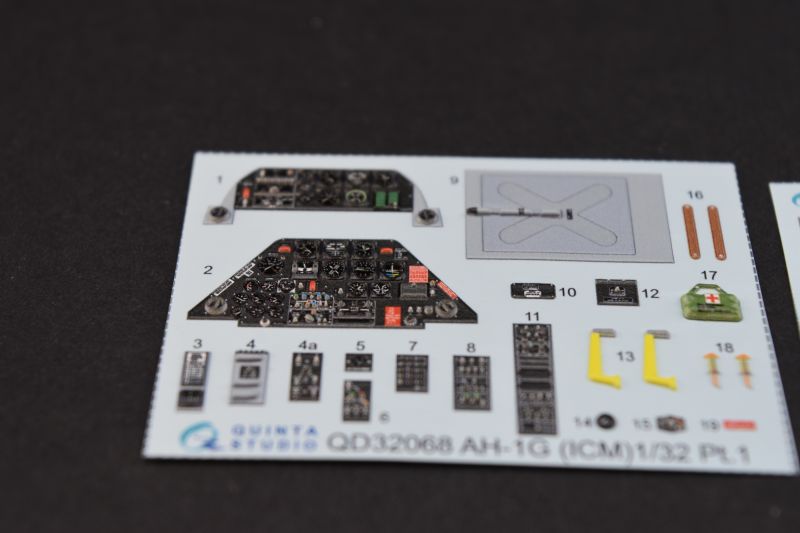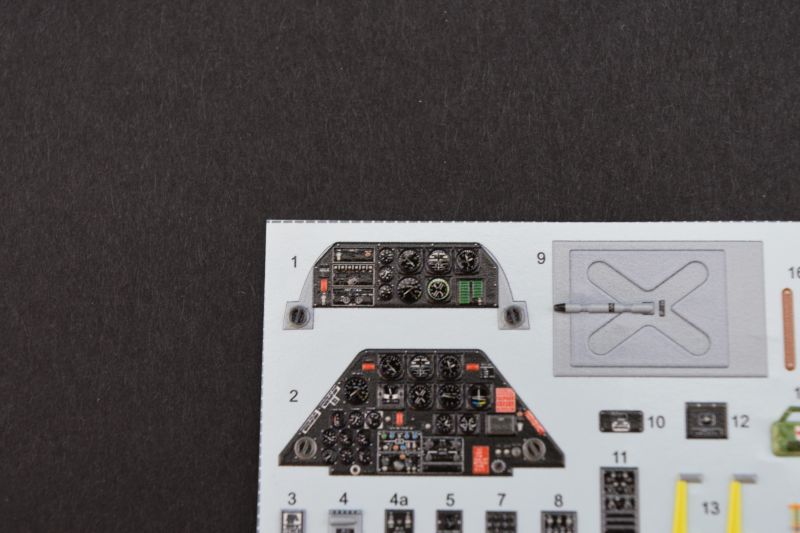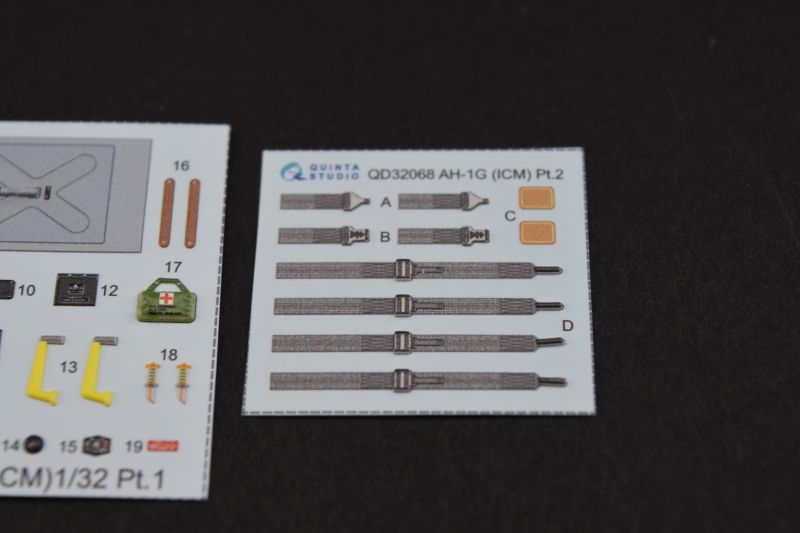 ---
Conclusion
ICM has been delivering those who love large scale, and specifically 1/32nd scale a lot of love recently, and their new 1/32nd scale Cobras have continued that tradition. The kit is not overly complex, but does give the super detailer, as well as the out-of-box builder both a chance to make a VERY nice model. With a gorgeous mix of raised and recessed detail, this kit is sure to be a hit with Vietnam era Helo lovers. With the addition of the Quinta studios set for the AH-1, the kit becomes even better and more complete, since the kit contains no belts.
If you love Vietnam era equipment, or helos in general, or even just want a really nice kit you can build into something VERY special the ICM AH-1G might be for you. HIGHLY recommended.
Acknowledgment
Review courtesy of my wallet.
© Brian Leitch 2021
This review was published on Saturday, September 11 2021; Last modified on Saturday, September 11 2021