Valiant Wings Publishing | Airframe Album No. 17: The Henschel Hs 129
Reviewed by Kevin Futter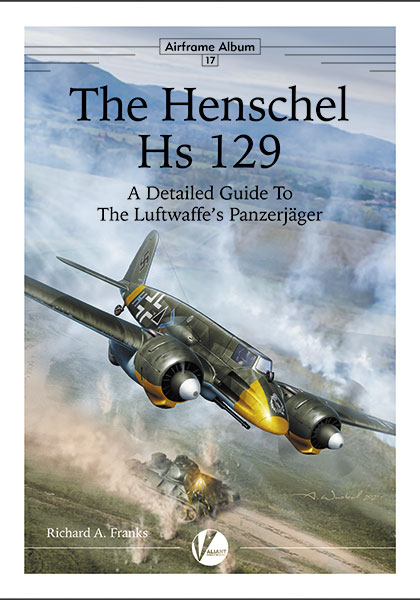 Valiant Wings Publishing has just released the 17th instalment in its Airframe Album series, entitled The Henschel Hs 129: A Detailed Guide To The Luftwaffe's Panzerjäger. In common with previous titles in the series, this one is authored by Richard A. Franks, a well-known name in modelling and aviation publishing.
The first thing that strikes you with this book is the terrific cover art by Arkadiusz Wróbel. The presentation of material in this book is impressive throughout. Photographs are generally clear and crisply reproduced, as are the isometric line drawings by Juraj Jankovic. The colour profiles by Richard Caruana are handsomely rendered.
The content itself is organised into five main sections plus an introduction and appendices:
Introduction
1. Technical Description
2. Evolution - Prototype, Production and Projected Variants
3. Camouflage & Markings
4. Models
Appendices

I. Hs 129 Kit List
II. Hs 129 Accessories, Decals & Masks List
III. Bibliography
1/72 Plans
It should be evident from the list of contents alone that this title is aimed squarely at the modeller. There's plenty here for aviation enthusiasts and Hs 129 aficionados too, but the emphasis is on providing the modeller with copious data and as much detail as possible.
The Technical Description section of the book is packed with period photographs and technical drawings, and is surprisingly comprehensive given the type's relative obscurity and brief service life. Coverage is from nose to tail, with special emphasis on those areas of the most interest to modellers: cockpit and engine.
The section on the evolution of the airframe gives a concise but very clear overview of the development of the Hs 129, from early prototypes, to production machines and various proposed or tested variations. This section is handsomely illustrated with isometric drawings by Juraj Jankovic.
The Camouflage and Markings section covers the type's use by the Luftwaffe, as well as its use by Rumania (officially Romania since 1975), and post-war evaluation by enemy powers. A decent selection of period photographs is accompanied by a selection of colour profiles. A stencil placement guide in 1/48 scale is also included.
I'd like to see larger versions of some of the photos, but that's a perennial constraint that all aviation publications have to deal with, and hardly a criticism.
The final of the main sections of the book features a pair of model builds by Steve Evans. The first is an excellent build of Hasegawa's 1/48 kit, which is followed by an even more impressive build of the amazing Zoukei-Mura kit in 1/32 scale. While not intended to be comprehensive build tutorials, both models feature a very high standard of work, and will serve as handy inspiration for your own builds.
The final section is the Appendices, and these follow the customary pattern for this series of books, in outlining what options the modeller has in terms of kits, accessories and decals for producing a scale replica Hs 129. All of the extant 1/32 kits are covered.
The book rounds things out with a bibliography of existing titles covering the Hs 129, which serves as a handy launch pad for further research into the type.
Sample Pages
Here's a small selection of sample pages, courtesy of Valiant Wings:
---
Conclusion
This is a detailed, comprehensive and modeller-friendly title. If you're building, or intend to build, a model of the Henschel Hs 129 in any scale, this book will prove invaluable, and I highly recommend it. It will certainly come in handy when I eventually tackle my Grey Matter Figures 1/32 scale resin kit!
Thanks to Valiant Wings Publishing for the review sample.
© Kevin Futter 2021
This review was published on Monday, August 30 2021; Last modified on Monday, August 30 2021