Casemate Publishers | U.S. Aircraft Carriers 1939-45
Reviewed by Kevin Williams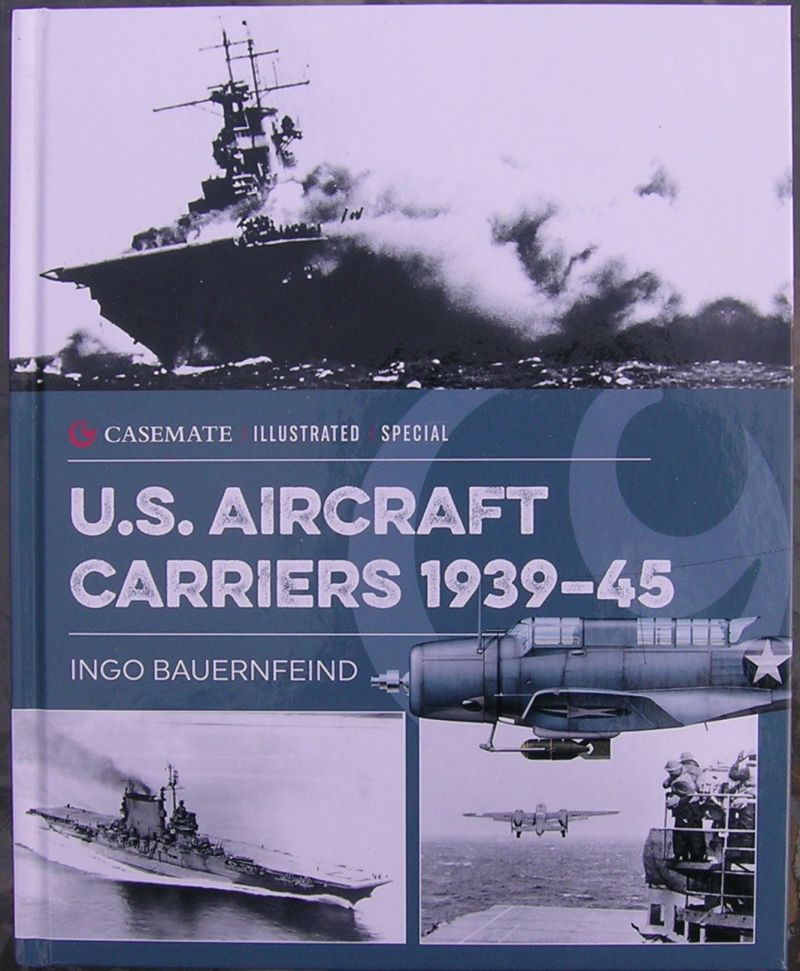 Publisher: Casemate Publishers
Author(s): Ingo Bauernfeind
Publishing Date: 2021
ISBN: 978-1-61200-934-6 (Hardbound)
ISBN: 978-1-61200-953-3 (Digital)
Pages: 240
This volume from Casemate, much to my satisfaction, is, naturally enough, primarily dedicated to the aircraft carriers that served with the U.S. Navy during WWII and their corresponding victories/exploits and in some cases, destruction.
Featured artwork is primarily, but no exclusively, of aircraft, which I've mentioned elsewhere, but also included, are some nice illustrations of various carrier class plan layouts, and rather interesting camouflage schemes as well, one of which was applied late in the war (Measure 32/11A, specifically to the Saratoga) which is very worthwhile for the novelty of this particular disruptive scheme.
Carriers covered: Saratoga, Lexington, Ranger, Yorktown, Enterprise, Essex, Intrepid, Franklin, Randolph, Bunker Hill, Ticonderoga, Wasp and Hornet. Final disposition of the previously named carriers are covered adequately; for instance, the Saratoga (CV-3, sunk at the Bikini Atoll during test "Baker", an underwater atomic bomb detonation, causing severe damage to the hull, and she subsequently sank). Numerous escort and light carriers are also mentioned.
Obviously, kits are available in our scale, of many of the aircraft highlighted in this book. Aircraft covered: Vindicator, Devastator, Hellcat, Wildcat, Helldiver, Dauntless, Avenger, Buffalo and Corsair, all of which are being presented, again, with excellent quality photographs. Representative color artwork associated with each of these types (in single profile illustrations), are also provided. The given aircraft data and photos, are the primary reason this book is being reviewed here on LSP.
Photo Samples
---
As is clearly evident, the photos are quite superb.
There is also a nice Bibliography and an Index.
Summation
On a scale of 1 to 10, I'd rate this book as a solid 10, no question about it. Topping out at 240 pages of iconic WWII American American Aircraft Carriers and the associated aircraft that flew from them, facts, anecdotes and history of the hard fought and perilous US carrier fleet battles in the Pacific, it is highly recommended.
My review copy compliments of Casemate Publishers. Thanks a ton to Casemate, it's a truly awesome piece of reference work, and one that will surely fill the bill for any WWII aviation enthusiast/modeler that has a passion for US Carrier fighters, torpedo planes and dive bombers from the WWII time-frame, as well as (of course), WWII US Aircraft Carriers themselves. I'm very proud to add this book to my collection.
© Kevin Williams 2021
This review was published on Wednesday, August 25 2021; Last modified on Sunday, August 29 2021