Pheon Decals | 32072: 1/32 Sopwith Camel Aces of the RFC and RAF Volume 1
Reviewed by Mike Swinburne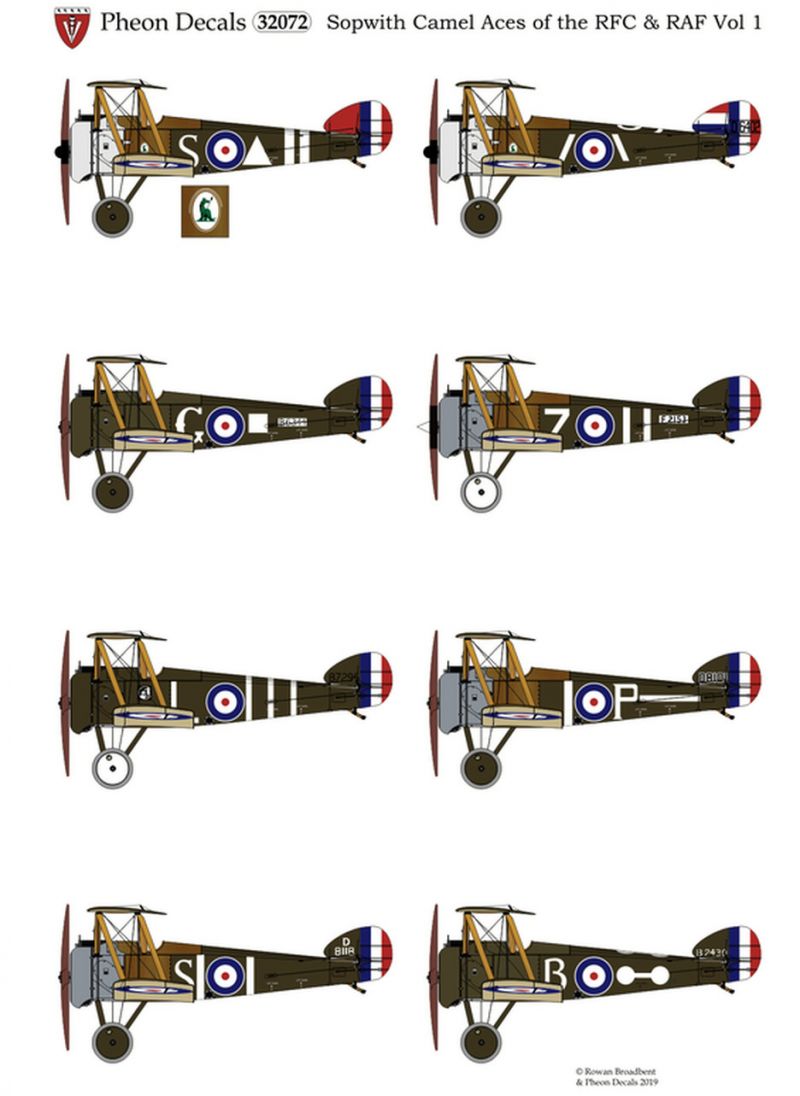 Pheon Decals has returned with the first volume of decals in 1/32 for the Sopwith Camel. While no mention is given in the instruction booklet to what engines were used in the selected aircraft in this volume (an apology note is included regarding Rowan's health and the brevity of the notes on each aircraft), it is noted on Pheon's website that a Clerget-engined Camel is the correct type to use for the aircraft featured in this set.
The Paint Schemes
Decals provided cover seven different aircraft, including two noticeably different variations of one aircraft depending on what date you wish to depict it. The options are:
1a: D6402, Capt. H.W. Woollett, 43 Squadron. This aircraft briefly wore white splotches painted over the tops of the wings and tailplane, and 1a depicts this scheme with the serial number overpainted. A small dinosaur badge is featured on the wooden panel under the cockpit opening. Woollett survived the war with 35 victories.
1b: D6402, Capt. H.W. Woollett, 43 Squadron, (after March 22nd, 1918). The same aircraft as 1a, but with significantly different fuselage markings, serial number painted on the rudder, horizontal red/white/blue stripes on the tail, two white stripes on the upper center wing, and two small roundels painted on the upper surfaces of the bottom wings. The dinosaur badge under the cockpit is retained.
2: B6344, Capt. James Hart Mitchell, 28 Squadron, November 1917. Mitchell had 11 victories to his credit and received multiple medals including a Distinguished Flying Cross and Italian Medal of Military Valour. This aircraft is overall PC10 (including painted wheel hubs, cowling and fuselage wooden panels over top of the usual clear-doped linen. B6344 is also recorded as having been flown by Capt W.E. Hallonquist in October of 1918, still based in Italy.
3: F2153, Lt. George Raby Riley, 3 Squadron, Valheureux, September 1918. Very little information is given about Riley except that he scored a string of victories between March and September 1918. The propeller on this Camel has a white nose cone and the profile artwork strangely depicts the inner third of the prop blades painted black.
4: B7296, Lt. G.S. Hodson, B Flight, 73 Squadron, February 19, 1918. Hodson shot down ten aircraft split evenly between his time with 73 Sqn and later 213 Sqn. The overall PC10 over CDL airframe has a small white emblem on black background of a dog looking out of a window, located on the fuselage side underneath the cockpit opening. The aircraft's identifier letter "L" is repeated on the top wing in white, and underneath the bottom wing in white, inside a black (or possibly PC10?) band.
5: D8101, Lt. Gerald A Birks, C Flight, 66 Squadron, San Pietro in Gu, June 1918. Birks was "a favoured wingman" of fellow Canadian ace William Barker. He claimed 12 victories including Hungarian ace Josef Kiss according to the information provided by Pheon.
6: B2430, Lt. Earl McNabb Hand, A Flight, 45 Squadron, Grossa, April 1918. Another Canadian ace, Hand shot down five aircraft with two more unconfirmed before himself being shot down by Austro-Hungarian ace Frank Linke-Crawford. He survived the crash with injuries and spent the remainder of the war as a POW. This is another overall PC10 aircraft over CDL. a stylized B aircraft identifier letter is on both sides of the fuselage as well as on top of the wing in white and underneath in black.
7: D8118, Capt. John Gilmour, 65 Squadron, Bertangles, July 1918. No information is given on Gilmour's aerial victories, but there must have been at least a few owing to his medals (DSO and MC with two bars).
---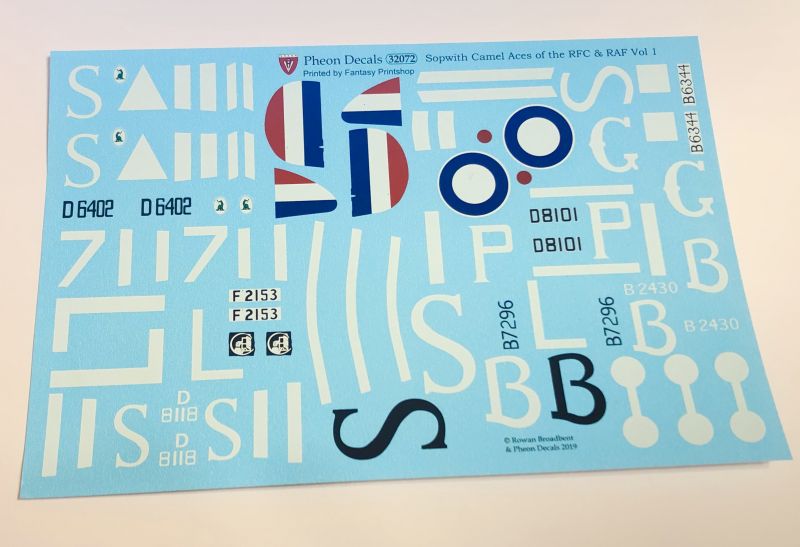 The Decals
As always, Pheon has used Fantasy Printshop for the decal printing. Fantasy is known for their high quality decals, which is why I'm surprised to see two small print issues in my sample. The first is a small dark speck in the white of the tail stripe decal for #1b, and also what appears to be a fine piece of dust inside the white ink of one of the small roundels for #1b (these are the roundels that go on top of the lower wings). I'm sure this must be a one-off and both of these will be very easily hidden.
I can tell from the grainy blue/white coloring of the decal paper that the white decals were printed in one layer only, meaning that these will darken up a little bit when placed over the green PC10 paint. There do not appear to be any decals that lay over multiple colors, so the builder will not need to worry about a see-through effect of uneven color demarcation showing through the white decal areas.
---
Aside from the points mentioned, the decals themselves are the usual top-notch sharpness, even right down to the very fine details of the dinosaur emblem on Woollett's aircraft (#1a/1b). The printing is perfectly in register as can be expected from Fantasy Printshop-produced decal sheets, also. One thing to consider when building aircraft from this sheet would be to separate the decals from their carrier film in the instances where there are multiple stripes next to each other so as to minimize chances of decal silvering. I'd especially recommend considering this if building Hodson's aircraft (#4), as the three white fuselage bands are provided as a single decal with continuous carrier film in between.
It's great to see the new releases from Pheon Decals, and it's great to see the tribute paid to some of the lesser known aces of the Royal Flying Corps and Royal Air Force. I sincerely hope volume two of the Camel Aces sees the light of day before long - especially if my personal favorite (Beamish's Tiki from 3 Sqn RNAS with the rear fuselage in white with green bands) is included. Aside from the two very minor and easily fixed issues mentioned with the decal printing - which I do believe are one-offs as stated earlier, this is another product that will not disappoint Camel builders at all. I am happy to recommend this to builders of all skill levels. Thank you very much to Rowan and Sabine of Pheon Decals for the review sample.
© Mike Swinburne 2020
This review was published on Thursday, August 13 2020; Last modified on Saturday, August 15 2020