Valiant Wings Publishing | Airframe & Miniature 7: The Focke-Wulf Fw 190 Radial-engine Versions (Second Edition)
Reviewed by Kevin Futter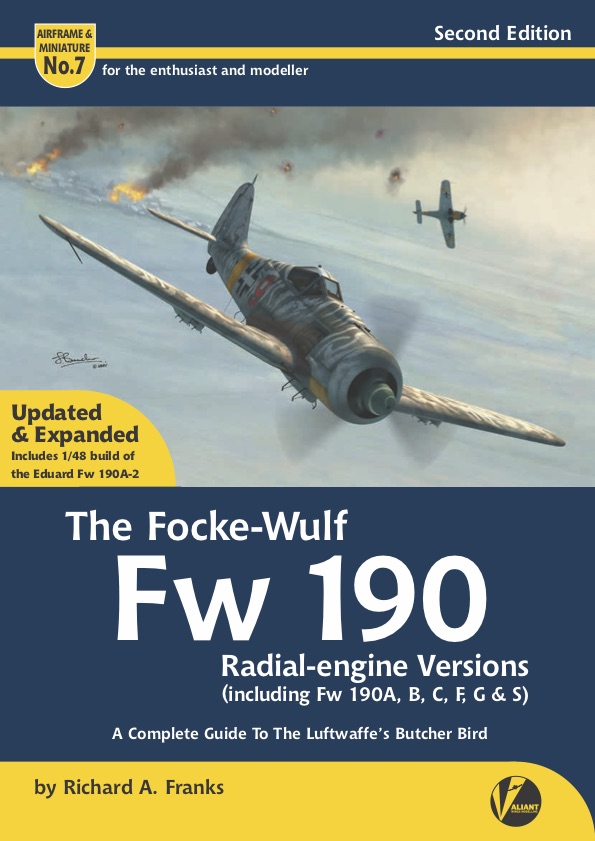 Valiant Wings Publishing has published a second edition of the seventh title in its Airframe & Miniature series. Entitled The Focke-Wulf Fw 190 - Radial-engine Versions (Fw 190A, B, C, F, G & S), it features 16 additional pages when compared with the first edition. Written as usual by Richard Franks, it tells the tale of the short-nosed, radial-engined versions of the Fw 190.
The book is divided into two main sections, Airframe Chapters and Miniature Chapters, each of which has a number of sub-sections.
Airframe Chapters
Evolution - Prototypes and A-Series
The F and G-Series
Conversions, Projects and New-builds
Camouflage and Markings
Miniature Chapters
Fw 190A to G Kits
Building a Selection
Building a Collection
In Detail: The Fw 190A to G
There is also a preface, along with a collection of appendices at the rear of the book:
Kit List
Accessory and Mask List
Decal List
Bibliography
Only the Bibliography existed in the first edition, so a more expansive set of appendices is a welcome revision.
The last part of the book is taken up by a set of fold-out plans in 1/48 scale.
The sample images below (courtesy Valiant Wings Publishing) should give a good indication of the nature and style of the book's contents:
---
The Airframe Section
The Airframe section starts off with a summary of each variant produced, from the initial prototypes through the to final G series. This is a very handy primer on not only the sequence in which the variants were produced, but the defining differences between them. Each variant is illustrated with a port-side profile, neatly rendered in black, white, and grey.
Chapter 4 kicks off a discussion of Fw 190 camouflage and markings, including breakdowns of the different styles of national and squadron markings used. Also covered are cowl markings, the familiar exhaust markings, as well as camouflage patterns and theatre markings. Page 72 covers the RVD bands used by the Fw 190, while page 74 kicks off six pages of colour profiles.
The illustrations and colour profiles by Richard Caruana are gorgeous, and take full advantage of the quality glossy paper used throughout.
Something new for this new release on page 75 is a set of stencil placement guides, which is a welcome addition indeed.
The Miniature Section
This section is introduced with chapter 5, a detailed look at applicable Fw 190 kits. All the major scales are covered, from 1/144 to 1/24, and while the section begins with a caveat stating that older kits have been excluded from consideration, I thought the 1/32 kits from PCM were an odd (and unexplained) omission that has been carried over from the first edition. Still, it's a good overview of what's generally available, and how they stack up.
Chapter 6, "Building a Selection", features a number of kit builds in 1/72, 1/48, and 1/32. First up is Libor Jekl with four builds in 1/72:
Airfix 1/72 Fw 190F-8
Hasegawa 1/72 Fw 190A-8/R8
Revell 1/72 Fw 190A-7
MPM/Revell Fw 190S-8
Libor states in his Fw 190S build that this is the only kit available of the two-seat trainer. This is not correct, as MPM also produced this version in 1/48 scale as kit 48028 (though technically it is unlikely to still be generally available).
Steve Evans then introduces a new build for this revised edition:
Eduard 1/48 Fw 190A-2 [new for 2nd edition]
This build replaces Dani Zamarbide's build of the Eduard 1/48 Fw 190A-5 from the first edition, but he does come in next with a single build:
Steve Evans rounds things out with two more builds, one each in 1/48 and 1/32:
Hasegawa 1/48 Fw 190A-4/F-1
Hasegawa 1/32 Fw 190A-5
One of the most interesting sections to me is chapter 7, "Building a Collection". Through a series of isometric 3-D drawings by Jacek Jackiewicz, this section illustrates the pertinent features of each revision of the airframe as it progressed through its development. When combined with the information presented in the first part of the Airframe section, it becomes a simple matter to understand the features present on any particular variant or sub-variant. In fact, this section could easily have been included in the Airframe portion of the book, rather than the Miniature section.
Chapter 8, "In Detail", features a series of close-up photographs and technical drawings to reveal those airframe details so often sought after by modellers. Many of the photographs are of restored airframes, so the usual caveats regarding those apply here, but they're useful nonetheless.
The four appendices (three of which are new) cover the usual list of available kits, aftermarket, decals, and mask sets, as well as a concise bibliography for further research.
Scale Plans
The final component of the book is a set of fold-out scale plans in 1/48 scale. These are printed on a heavy plain stock, and have been drawn by Jacek Jackiewicz. The airframes featured are:
Fw 190 V1
Fw 190A-3
Fw 190A-6
Fw 190A-8/R2
Fw 190F-9/R1
Fw 190S-8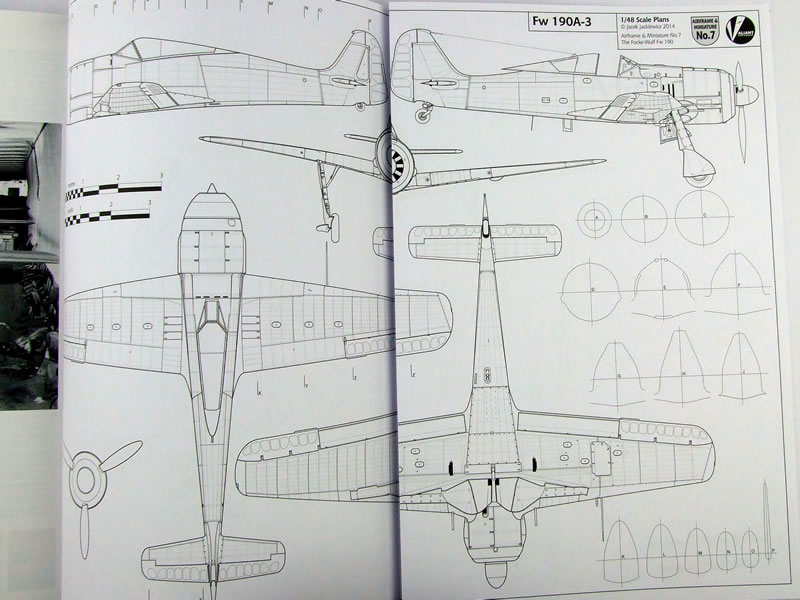 All but the S-8 plans feature fuselage and wing cross-sections. The plans themselves are very nicely drawn, with complete panel line and rivetting detail. My only complaint is that their fold-out nature makes them awkward to work with, and there's no convenient way of removing them from the book for separate study. Perhaps making them either easily detachable (perforated attachments?) or a separate insert might solve this problem, but it might also drive up costs and complicate production. In any case, they're still a most welcome and worthwhile inclusion.
Conclusion
It's difficult to evaluate a book such as this, being devoted to an aircraft of enormous popularity, about which so much has already been written. The bibliography included in this very title testifies to that! I certainly can't vouch for the accuracy of any of the included content, though it does at first glance appear to be exhaustively researched. The production values are, however, first class, and the contents explore the book's stated remit—airframe and miniature—in extensive detail.
Overall though, this second edition is packed with a wealth of information and detail about radial-engined Fw 190s, is lavishly produced, and should serve as a handy one-stop reference for the type. If you already have the first edition, it's difficult to give this a clear-cut recommendation, as the changes and additions are refinements, rather than breakthrough changes. If you don't have this book already, however, then it is indeed highly recommended.
Thanks to Valiant Wings Publishing for the review sample.
© Kevin Futter 2020
This review was published on Sunday, March 01 2020; Last modified on Sunday, March 01 2020