Wingnut Wings | 32079: 1/32 Hannover Cl.II (Early)
Reviewed by Andrew Birnie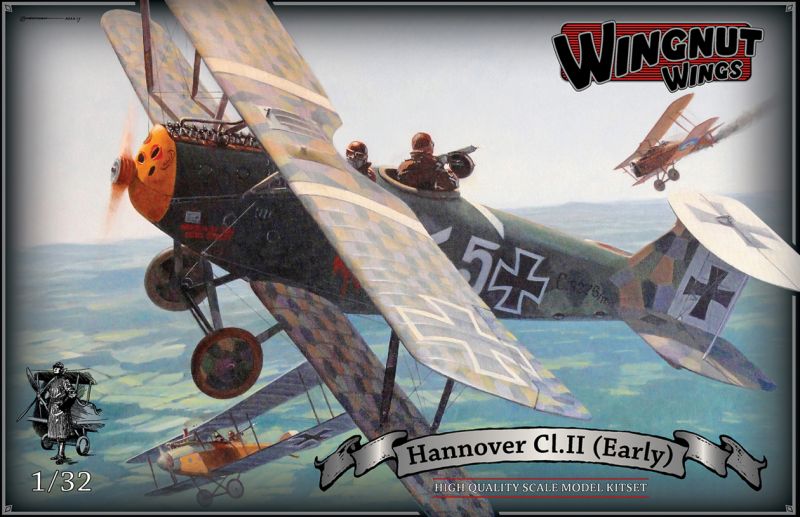 It doesn't seem all that long ago when the only 1/32 WWI aircraft I had was the Roden Fokker Dr.I, then Wingnut Wings happened and the landscape of 1/32 aircraft modelling changed overnight. Beginning with an initial four-kit release, there has been a steady stream ever since, amongst which was the Hannover Cl.II - which I'd initially come across as the subject of a 1/72 kit by Airfix, many moons ago - and like many of the Wingnut kits it quickly sold out, now we have a new release focusing on the early version, though not entirely.
Instructions
The box lid features the familiar, classy, artwork of the subject matter, and inside the sturdy box lies the kit contents, including the instruction booklet - twenty-six quality glossy pages chock full of technical and historical information about the aircraft, and all you would need to know in order to build the model, including superb 3D images of the highest order, colour views of the decal options, including original black and white photographs of the real thing, and a clear rigging guide. I don't know of any model company which produces better. The complete instructions are available to see on the Wingnut Wings website.
---
The full contents breakdown is as follows:
10 grey plastic sprues - 2 X D, & 2 X G2;
1 small clear plastic sprue;
1 small photo-etched fret;
3 decal sheets;
1 instruction booklet.
All individually bagged - the decals together in one with the instructions.
The Plastic Sprues
Aside from the sole clear sprue, which supplies the windscreen, and camera lens, the kit is moulded in mid-grey plastic, and is a wondrous compendium. You can see the passion for the subject in every part, the subtle texture on the wings, the rib detail, the scalloping out of the inner fuselage where the cooling vents are - to provide the impression of scale thickness, and also prevent any clogging when it comes to painting - a choice of four cameras, also a box with photographic plates, two ladders, wheel chocks, a homing pigeon box, and even a toy bear, not to mention the aircraft itself, which is just so incredibly finely detailed, including a superb rendition of an Argus As.III engine, kits just don't come any better.
---
Photo-etched Fret
The small etch sheet contains a few cockpit detail parts, seat belts, radiator shutter, and optional - full plastic parts are supplied - gun cooling jackets, these will require rolling to make cylindrical, and there are plastic parts supplied to help achieve this.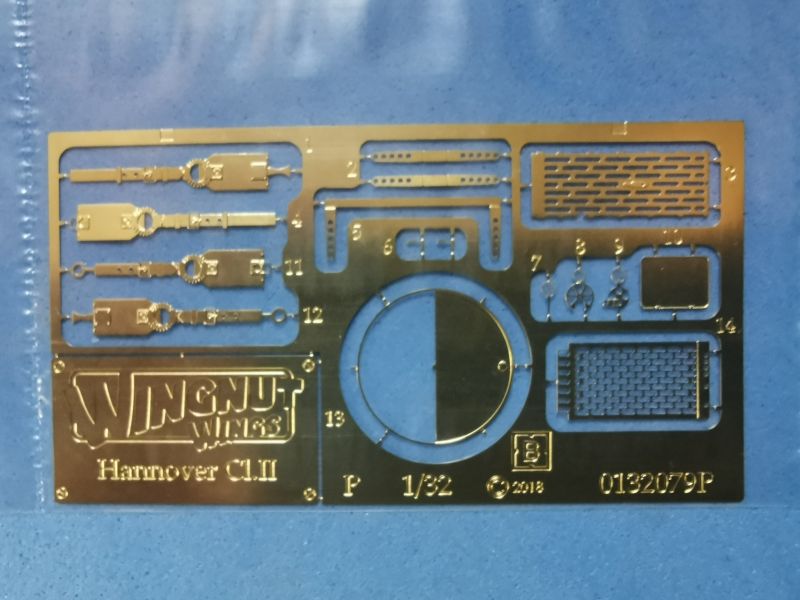 Decals and Markings
The kit provides markings for five aircraft; four early, all with lozenge, and as a concession for those with a fear of large lozenge decal sheets, a late version with light blue fuselage, and bleached lined coloured wings, both "Comet" and "White 2" are also equipped with a camera.
Hannover Cl.II 9276/17 "White 5", H Bronner, Royal Bavarian Schusta 27b, late 1917 to early 1918
Hannover Cl.II 9280/17 "Comet", Gronhagen? & J Gfror, FA (A) 282, November 1917
Hannover Cl.II 9301/17 "White 4", J Missfelder, Royal Prussian Schusta 12, 1918
Hannover Cl.II 9398/17 "2" JKH Muller & Zitzelberger, Royal Bavarian Schusta 24b, March 1918
Hannover Cl.II (Rol) 622/18 "White 2", Bayerische-Fliegerschule 5, mid to late 1918
---
The decals printed by Cartograf in Italy, are of the highest order, in perfect register, and feature a wonderful range of colours, the hardest part will be deciding which one to make.
---
Conclusion
It's like Christmas every time you receive a Wingnut Wings kit, they set the bar so high, and meet it every time. Even a two-seater such as the Hannover is not unduly large, won't take up too much space once complete, and will be a jewel in any display case, if you don't have one yet, why wait for Santa?
Many thanks to HobbyLink Japan for the review kit, which can be purchased via the following link:
© Andrew Birnie, 2020
This review was published on Wednesday, April 15 2020; Last modified on Wednesday, April 15 2020