Valiant Wings Publishing | The Henschel Hs 123: A Technical Guide
Reviewed by Kevin Futter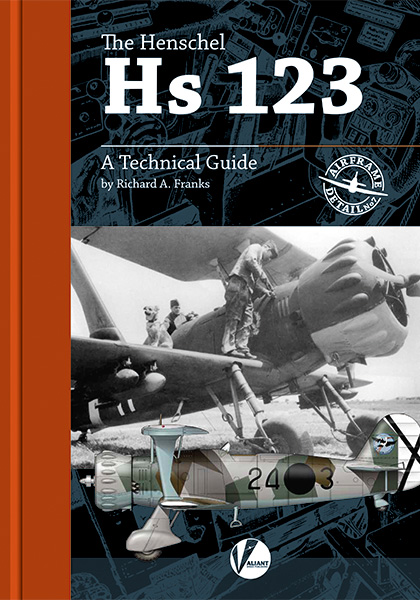 UK-based publisher Valiant Wings Publishing has just released the seventh volume in its Airframe Detail series, covering the Henschel Hs 123. Entitled The Henschel Hs 123: A Technical Guide, this 66-page volume is authored by series editor Richard Franks, and illustrated by Richard J. Caruana.
At 66 pages, this is one of the shorter titles in the series, which makes sense given the explanation that there are no extant airframes or even parts for detailed analysis. Combined with a relative paucity of period images, this means that coverage of the type is naturally more limited than in previous titles in the series.
Following the usual format for this series, the book consists of only three main sections, plus an introduction and appendices:
Technical Description
Camouflage & Markings
Kit Build
The appendices feature a run down of available kits and accessories, as well as a concise bibliography on the type. Let's take a closer look at each section.
Introduction
The Introduction consists of an 11-page history of the type, copiously illustrated with captioned photographs.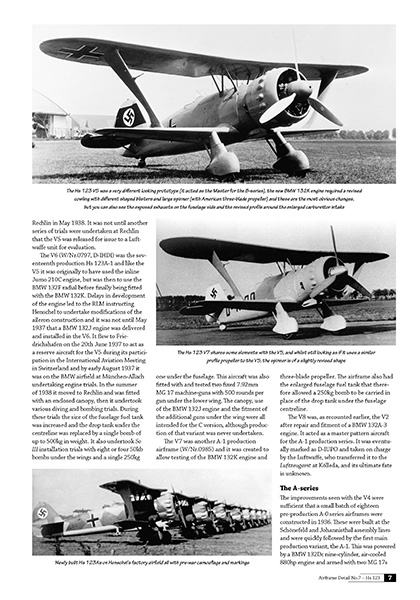 It's a handy primer on the history and development of what is an important but relatively obscure type in the grand scheme of Luftwaffe aircraft.
Technical Description
This is the longest section of the book, clocking in at 23 pages. For reasons explained above, the content is mostly limited drawings taken from the flight and parts manuals, though a selection of period photographs is also included. Eight distinct areas are covered:
Fuselage
Undercarriage
Tail
Wings
Weapons
Radio
Miscellaneous
Engine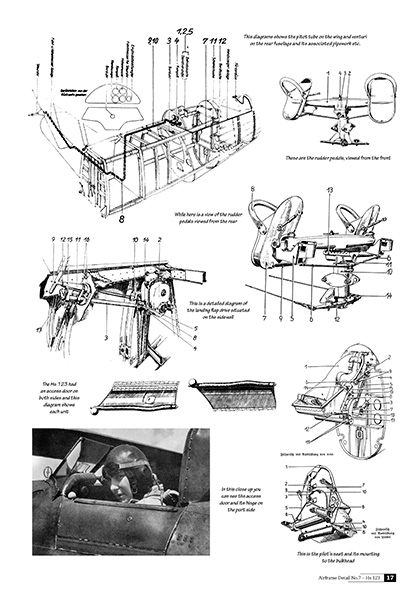 Camouflage & Markings
This section comprises 18 pages, and makes limited but effective use of period photos. There are four pages dedicated to colour profiles by Richard Caruana, along with a smattering of others placed throughout the text. Schemes covered included Legion Condor, Luftwaffe, Spanish Air Force, and a single Chinese example.
Note that no scale plans or stencil placement guides are included.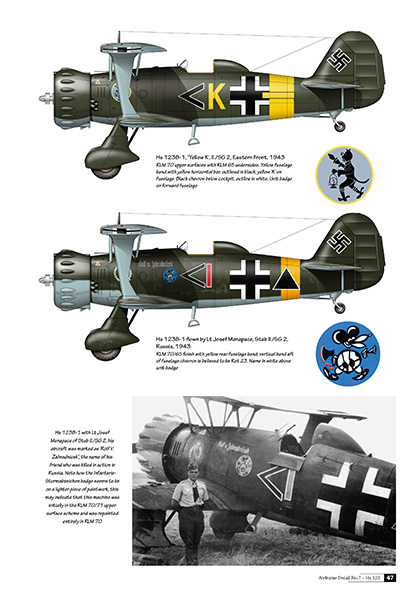 Handsome Henschel
In this section, Steve Evans builds the highly regarded GasPatch 1/48 scale kit. The resulting model is predictably excellent, but does make me yearn for an injection-moulded kit of the type in 1/32 scale!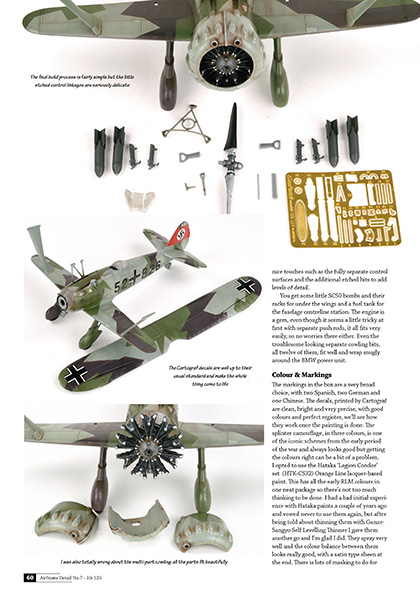 Appendices
The five appendices occupy the last four pages of the book. The first three appendices cover known kits, accessories, and decals, most of which are obviously in 1/72 scale and 1/48 scale. The few 1/32 scale kits are also listed, these being either vacuform (Combat, Schmidt Vacu-modellbau) or resin (Montex, re-released by Alley Cat).
The final appendix is a brief bibliography, which is a handy adjunct for those doing deep research into the type.
Conclusion
This is a very good one-stop technical reference for Henschel's anachronistic Hs 123. It's a shame that a more detailed photographic record wasn't possible, but the supplied drawings provide more than enough information to satisfy detail freaks and scratch-builders. Overall, though somewhat slimmed down, this is still an excellent title.
Thanks to Valiant Wings Publishing for the review copy.
© Kevin Futter 2019
This review was published on Saturday, December 14 2019; Last modified on Saturday, December 14 2019