Valiant Wings Publishing | Airframe Detail 5: The Boulton Paul Defiant
Reviewed by Kevin Futter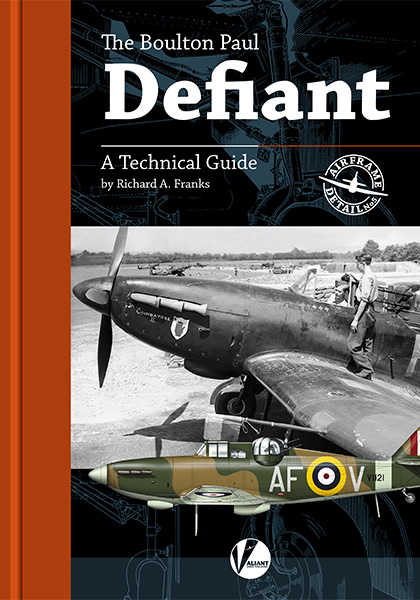 UK-based publisher Valiant Wings Publishing has just released the fifth volume in its Airframe Detail series, covering the the Boulton Paul Defiant. Entitled The Boulton Paul Defiant: A Technical Guide, this 98-page volume is authored by series editor Richard Franks, and illustrated by Richard J. Caruana.
Following the usual format for this series, the book consists of only three main sections, plus an introduction and appendices:
Technical Description
Camouflage & Markings
Kit Build
The appendices feature a run down of available kits and accessories, as well as a concise bibliography on the type. Let's take a closer look at each section.
Introduction
While not listed as one of the major sections in the book's index, the Introduction consists of a substantial 22-page history of the type, copiously illustrated with captioned photographs.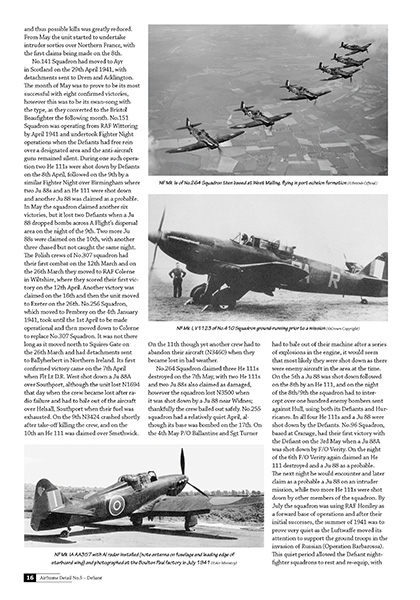 The description of the thinking and early development efforts that laid the foundations for the Defiant are especially interesting.
Technical Description
This is the longest section of the book, clocking in at 38 pages. The content is a mix of original factory drawings, period photographs, and close-ups of preserved examples. Nine distinct areas are covered:
Fuselage
Undercarriage
Tail
Wings
Engine, Cowlings & Propeller
Fuel, Hydraulic, Coolant & Pneumatic Systems
Armament
Electrical Equipment
Miscellaneous Equipment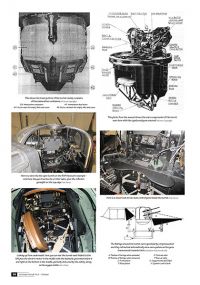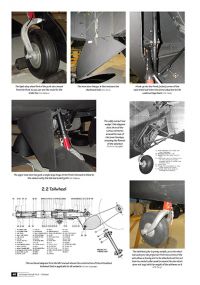 ---
Camouflage & Markings
This section comprises 23 pages, and makes heavy use of period photos. There are four pages dedicated to colour profiles by Richard Caruana, along with a smattering of others placed throughout the text. Page 81 contains a handy set of markings and stencil placement guides.
The last five pages of this section are given over to a set of scale planes in 1/48, covering most of the limited variations seen on the Defiant airframe. Perhaps some enterprising modeller will use them to fashion a 1/32 Defiant from scratch.
Building a Defiant Mk I
In this section, Steve Evans builds the new Airfix 1/48 scale kit. The resulting model is predictably excellent, but does make me yearn for an injection-moulded kit of the type in 1/32 scale!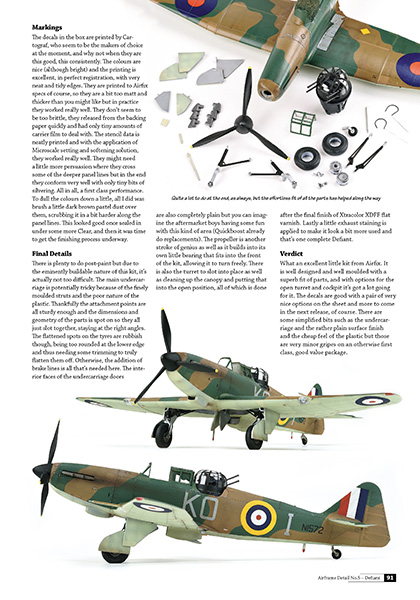 Appendices
The five appendices occupy the last seven pages of the book. The first three appendices cover known kits, accessories, and decals, most of which are obviously in 1/72 scale and 1/48 scale. The only kits produced in 1/32 scale (or larger) that I know of are the I.D. Models vacuform kit (now marketed by Tigger Models), and the rare Scratchbuilders resin kit, which are both listed.
The Appendix iv, labelled Production & Squadrons, gives a rundown of all squadrons that operated the Defiant, including experimental and testing operations.
The final appendix is a brief bibliography, which is a handy adjunct for those doing deep research into the type.
Conclusion
This is a very good one-stop technical reference for Boulton Paul's much-maligned Defiant. The type's operational history was limited, but it's still an important type in the catalogue of British aircraft of WW2. And as a self-proclaimed Technical Guide, this book's detail coverage of the areas commonly of interest to modellers (cockpit, wheel bays, engine) is as good as it can be for a relatively obscure type, and on that basis alone I can heartily recommend this book.
Thanks to Valiant Wings Publishing for the review sample.
© Kevin Futter 2018
This review was published on Saturday, October 13 2018; Last modified on Sunday, March 22 2020