Valiant Wings Publishing | Airframe Extra 9: North Africa Campaign
Reviewed by Kevin Futter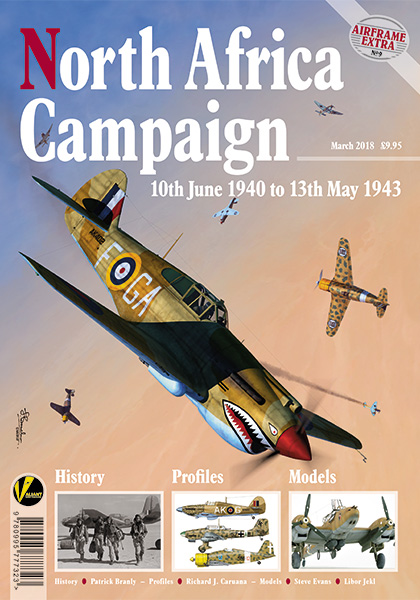 UK-based publisher Valiant Wings Publishing has just released the ninth title in Airframe Extra series. Issue No. 9, entitled North Africa Campaign: 10th June 1940 to 13th May 1943, combines historical narrative, profile artwork, and six model builds, and clocks in at 82 pages.
The specific structure of the contents is as follows:
History
Colour Reference
1/144 Ju 52/3m Build
Luftwaffe Profiles
1/72 Kittyhawk Build
Allied Profiles
1/32 Hurricane Build
Italian Profiles
1/72 He 111H-6 Build
1/72 D.520 Build
French Profiles
1/48 Bf 110C-2 Build
USAAF Profiles
There's also a brief foreword from publisher Mark Peacock, followed by a table of contents. It's then on to the main content sections.
History
This 18-page section is written by Patrick Branly, and covers the background and conduct of the North Africa campaign, running from June 1940 to May 1943. The format follows a basic chronological description of events, with context given where appropriate. It includes a smattering of interesting period photographs, and represents a handy primer for the events of the conflict itself, as well as being a good starting point for further historical research.
Colour Reference
Not mentioned on the Contents page, This single-page reference lists each of the major colours used by RAF, USAAF, Luftwaffe, and Regia Aeronautica aircraft, and matches them against paint numbers from seven different brands - seven acrylics (Akan, GS Mr Aqueous, Humbrol, Lifecolor, Mission Models, Tamiya & Xtracrylix) and four enamels (Humbrol, Revell, White Ensign & Xtracolor). Terrific stuff, and a fantastic bit of value-add.
1/144 Ju 52/3m Build
The first of the title's six model builds sees Steve Evans build the neat little 1/144 scale Ju 52/3m kit from Eduard. Like all the builds in this book, it's a typical magazine-style photo-essay of the build, covering five pages of hints, tips, and advice. While largely an out-of-box build, the result is terrific, and truly belies the model's tiny scale.
Luftwaffe Profiles
As with all the profiles in the book, this section is illustrated by Richard Caruana, and features three pages of colour profiles with captioned colour notes. While the schemes are largely of the familiar sand-and-spinach variety, there's enough variation here to serve as inspiration for a wide range of Luftwaffe types.
1/72 Kittyhawk Mk Ia Build
Libor Jekl tackles the book's second build, featuring the Special Hobby 1/72 Kittyhawk Mk Ia kit. The style of this eight-page build is similar to the preceding one, as is the result! Libor Jekl's builds for Valiant Wings publications have single-handedly persuaded me that 1/72 models can in fact appear as convincing as those from larger scales. Bravo!
As with the other builds in this book, it features a section entitled "Historical Significance", wherein that particular aircraft's role in the battle is elucidated. It's a nice touch, and saves the historical section from becoming bogged down with such tangents.
RAF Profiles
These six pages contain plenty of Hurricane, P-40, and Spitfire profiles, along with a grab-bag of other common types deployed during the campaign—probably the most surprising example being a Sunderland. Once again, plenty of inspiration on offer.
1/32 Hurricane Mk IId Build
Steve Evans returns to tackle Fly's large scale Hurricane kit across six pages, and does a terrific job. The kit is tricky in some areas, especially in fitting the cockpit, so Evans' tips will be invaluable to anyone building this kit.
Regia Aeronautica Profiles
This section probably features the greatest range of camouflage schemes and variations in the book, with various shades of brown and green splashed about with seemingly casual abandon. Among the expected Folgores and Falcos, there are also Bredas and Capronis, IMAMs and Macchis, a selection from Savioa-Marchetti, and even a single Stuka. Anybody looking for an airbrushing challenge could do worse than look here!
1/72 He 111H-6 Build
Libor Jekl is back with a nine-page build of the Hasegawa 1/72 He 111H-6 kit, and the result is predictably superb. Lots of hints and tips for getting the most out of this kit, too.
1/72 Dewoitine D.520 Build
The large page title misspells Dewoitine as Dewoitone, but that's about the only flaw on show, as Libor Jekl takes the 1/72 scale RS Models kit through its paces, and produces a model that easily looks like it could be 1/32 scale.
French Profiles
Some really interesting schemes here, and a surprising amount of colour, with lots of red and yellow stripes on show. The two pages of subjects are dominated by the D.520, but also feature a P-40F, a pair of Hawk 75s, and a Free French Blenheim, among others.
1/48 Bf 110 C/E Build
The book's final build article features the Eduard 1/48 Bf 110C/E kit, and is again handled by Steve Evans over six pages. It's a complex kit, but the result is, yet again, terrific.
USAAF Profiles
The final section of the book is three pages of colour profiles featuring arguably the largest variety aircraft types. Several P-40s and Spitfires are included, along with B-24s, B-25s, a B-17, a Mustang and a Lightning, among others.
Sample Pages
Here's a small selection of sample pages, courtesy of Valiant Wings:
---
Conclusion
I enjoyed this title a great deal. Its blend of interesting history, attractive artwork, and impressive model builds is nearly perfect. The magazine format is highly accessible, and can be used as a launching pad for more comprehensive research into the period covered.
I think this is a fine starting point for modelling aircraft of the North African campaign, and has much to recommend it.
Thanks to Valiant Wings Publishing for the review sample.
© Kevin Futter 2018
This review was published on Wednesday, May 09 2018; Last modified on Wednesday, May 09 2018