Valiant Wings Publishing | Airframe Extra No. 8: Air War Over Italy
Reviewed by Kevin Futter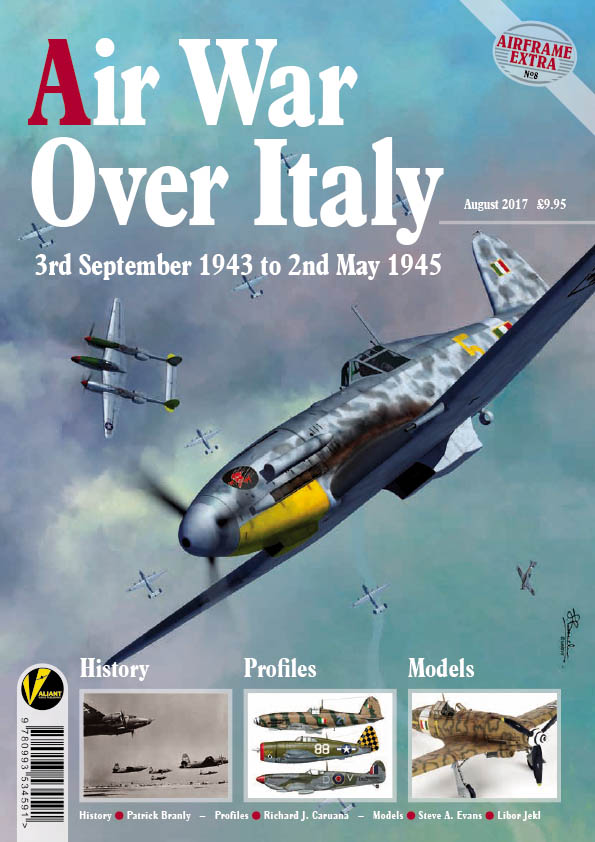 UK-based publisher Valiant Wings Publishing has just released the eighth title in Airframe Extra series. Issue No. 8, entitled Air War Over Italy: 3rd September 1943 to 2nd May 1945, combines historical narrative, profile artwork, and six model builds, and clocks in at 82 pages.
The specific structure of the contents is as follows:
History
RAF/USAAF Profiles
1/72 Baltimore Mk V Build
1/72 Spitfire Mk IXC Build
1/72 Fiat G.55 Build
1/72 Ju 88 Build
Axis Profiles
1/48 P-39L/N Build
Colour Reference
1/32 C.205 Build
Co-Belligerent Profiles
There's also a brief foreword from publisher Mark Peacock, followed by a table of contents. It's then on to the main content sections.
History
This 17-page section is written by Patrick Branly, and covers the background and conduct of the invasion of Italy and subsequent Italian campaign, with a particular focus on the air war. The format follows a basic chronological description of events, with context given where appropriate. It includes a smattering of interesting period photographs, and represents a handy primer for the events of the conflict itself, as well as being a good starting point for further historical research.
RAF/USAAF Profiles
As with all the profiles in the book, this section is illustrated by Richard Caruana, and features eight pages of colour profiles with captioned colour notes. There are plenty of colourful Spitfires, Mustangs, and Thunderbolts on offer, along with a selection of twin-engined types (B-26, Beaufighter, Hudson) and heavy bombers (B-17, B-24). There's even a pair of amphibious aircraft (Walrus, Sunderland) represented. So, no shortage of interesting schemes to choose from.
1/72 Baltimore Mk V Build
The first of the title's six model builds features Libor Jekl's build of the Special Hobby 1/72 Martin Baltimore Mk V kit. Like all the builds in this book, it's a typical magazine-style photo-essay of the build, covering eight pages of hints, tips, and advice. Jekl is an absolute wizard in this scale, and his expert handiwork has delivered a build so exquisite that it truly belies its tiny scale. Libor Jekl's builds for Valiant Wings publications have single-handedly persuaded me that 1/72 models can in fact appear as convincing as those in larger scales. Bravo!
1/72 Spitfire Mk IXC Build
Libor Jekl returns with the book's second build, featuring Eduard's 1/72 Spitfire Mk IXC kit. The style of this seven-page build is similar to the preceding one, as is the result!
As with the other builds in this book, it features a section entitled "Historical Significance", wherein that particular aircraft's role in the battle is elucidated. It's a nice touch, and saves the historical section from becoming bogged down with such tangents.
1/72 Fiat G.55 Build
Libor Jekl makes it three in a row with his build of the Special Hobby 1/72 Fiat G.55 kit. Over the course of eight pages, Jekl shows us how to handle Special Hobby's mixed-media kit, and as usual, he turns out a very impressive model indeed. It's probably my favourite in the book.
1/72 Ju 88A-4 Build
The fourth build in this title sees Steve Evans pick up the reins, and features the highly-regarded Hasegawa 1/72 Ju 88A-4 kit. This kit appears to be highly detailed, but tricky to assemble in places, and Evans does a terrific job turning out an impressive model.
Axis Profiles
These eight pages contain a terrific selection of Regia Aeronautica, ANR, and Luftwaffe aircraft - almost too many to mention. It's fair to say that the main interest is in the Italian aircraft represented, and along with the expected MC.202, MC.205, and G.55 fighters, there are also some multi-engined types represented, in the form of SM.79s, SM.81s, SM.82s, SM.84s, and Z.107s. Luftwaffe types appear in the guise of a Bf 109G-10, an Fw 190A-5, and a Ju 88A-4, though several of the Italian aircraft are depicted in Luftwaffe markings.
1/48 P-39L/N Build
Steve Evans is back with a five-page build of the Eduard 1/48 P-39L/N kit. Evans builds it as an Italian co-belligerent machine from 1944, and turns out a most impressive model.
Colour Reference
This single-page reference lists each of the major colours used by RAF, USAAF, Luftwaffe, and Regia Aeronautica aircraft, and matches them against paint numbers from nine different brands - six acrylics (Akan, GS Mr Aqueous, Humbrol, Lifecolor, Tamiya & Xtracrylix) and four enamels (Humbrol, Revell, White Ensign & Xtracolor). Terrific stuff, and a fantastic bit of value-add.
1/32 C.205 Build
The book's final build article is a bit of a surprise, in that it features the elusive 21st Century Toys 1/32 C.205 kit. It's again handled by Steve Evans over six pages. Kits from this manufacturer were part toy, and part scale model, and this one is no different. Evans shows you how to handle its idiosyncrasies, and turns out a typically excellent result.
Co-Belligerent Profiles
The final section of the book is three pages of colour profiles featuring Italian Co-Belligerent aircraft. With the exception of a single Spitfire and a lone P-39, the types are all Italian, and include Folgores, Veltros, Re.2001s, and a small selection of drab multi-engine types.
Conclusion
I enjoyed this title a great deal. Its blend of interesting history, attractive artwork, and impressive model builds is nearly perfect. The magazine format is highly accessible, and can be used as a launching pad for more comprehensive research into the period covered. The included model builds and profile artwork serve as a great source of inspiration for your own modelling efforts, especially if you feel up to tackling a smoke ring or two!
Thanks to Valiant Wings Publishing for the review sample.
© Kevin Futter 2017
This review was published on Friday, September 15 2017; Last modified on Sunday, September 17 2017