Valiant Wings Publishing | Airframe Extra No. 6: Continuation War
Reviewed by Kevin Futter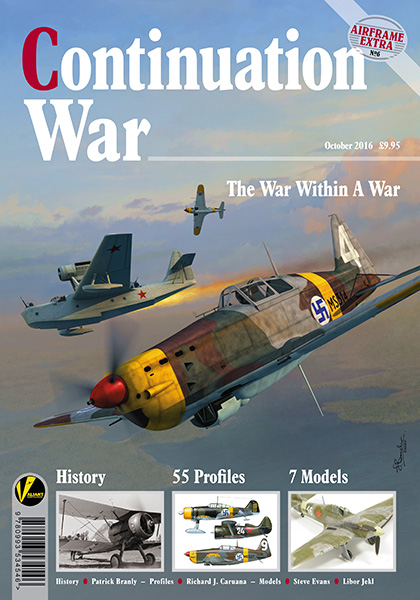 UK-based publisher Valiant Wings Publishing has just released the sixth title in Airframe Extra series. Issue No. 6, entitled Continuation War: The War Within A War, combines historical narrative, profile artwork, and seven model builds, and clocks in at 82 pages.
The specific structure of the contents is as follows:
History
Finnish Profiles
1/72 B-239 Buffalo Build
1/72 Hurricane Mk IIb Build
1/72 Morane-Saulnier MS.410 Build
Colour Reference
1/72 Ilyushin Il-4 Build
Russian Profiles
1/32 B-239 Buffalo Build
1/72 I-153 'Chaika' Build
1/48 Lysander Mk III Build
There's also a brief foreword from publisher Mark Peacock, followed by a table of contents. It's then on to the main content sections.
History
This 18-page section is written by Patrick Branly, and covers the context and conduct of the Continuation War between Finland and the Soviet Union, running from November 1939 to September 1944. The format follows a basic chronological description of events, with context given where appropriate. It's also chock full of interesting period photographs of some of the types involved, though the focus is definitely on Finnish side of the conflict. Nevertheless, it's a handy primer for the events of the war itself, and a good starting point for further historical research.
Finnish Profiles
As with all the profiles in the book, this section is illustrated by Richard Caruana, and features 10 pages of colour profiles with captioned colour notes. Since Finland had no contemporary indigenous aircraft types to speak of, its air force at the time comprised a motley array of aircraft bought or captured from other nations. This included many Russian types, which would often have found themselves pitted against an enemy flying the same aircraft.
The list of types itself is too long to detail here, but includes aircraft from Britain, America, Germany, France, and more. Finnish wartime camouflage schemes really were quite eye-catching, so the next time you're building a Hurricane, and want to do something a little different with it, this book has your answer!
1/72 B-239 Buffalo Build
The first of the title's seven model builds features Libor Jekl's build of the Hasegawa 1/72 B-239 Buffalo kit. Like all the builds in this book, it's a typical magazine-style photo-essay of the build, covering nine pages of hints, tips, and advice. Jekl adds a Kuivalainen photo-etched set and a Quickboost resin engine to the base kit, and his expert handiwork has delivered a build so exquisite that it truly belies its tiny scale. Bravo!
1/72 Hurricane Mk IIb Build
Libor Jekl returns with the book's second build, featuring Revell's 1/72 Hurricane Mk IIb kit. The style of this seven-page build is similar to the preceding one, as is the result! Jekl really does some amazing things with these tiny kits.
As with most of the other builds in this book, it features a section entitled "Historical Significance", wherein that particular aircraft's role in the battle is elucidated. It's a nice touch, and saves the historical section from becoming bogged down with such tangents.
1/72 Morane-Saulnier MS.410 Build
Libor Jekl makes it three in a row with his build of the Azur 1/72 MS.410 kit. Over the course of seven pages, Jekl shows us how to handle Azur's kit of this obscure type, and as usual, he turns out a very impressive model indeed. Jekl really does some amazing things with these tiny, difficult, short-run kits.
Colour Reference
Page 57 contains a very useful colour reference section, where the major camouflage colours used by each combatant are given their hobby paint equivalents in acrylics (Akan, Gunze, Humbrol, Lifecolor, Tamiya, Xtracrylix) and enamels (Humbrol, Revell, White Ensign, Xtracolor). This is an extremely handy one-stop-shop for paint information if you're building aircraft from this conflict.
1/72 Ilyushin Il-4 Build
The fourth build in this title sees Steve Evans pick up the reins, and features the Zvezda 1/72 Do 17E kit. It's another impressive small-scale build, though Evans is not so impressed with the kit itself. Still, he turns out a fine build of a difficult kit, and his build article is certainly instructive.
Russian Profiles
In contrast to the section on Finnish profiles, Russian aircraft are given only two pages, though a decent variety of types is still featured. Interestingly, of the nine profiles given, three of them feature foreign types (two Hurricanes and a P-39). Also featured are two I-153s, two I-16s, a MiG-3, and LaGG-3. Plenty of variety, though perhaps not quite as colourful as their Finnish counterparts.
1/32 B-239 Buffalo Build
Steve Evans is back with the title's only 1/32 scale build, which features the Special Hobby B-239 Buffalo kit. It's another impressive build, though Evans is once again not so impressed with the kit itself. I'd like to have read in a little more detail his use of Milliput to form the missing intake ducts in the cowling. The results are superb! But I still can't quite visualise how he managed it.
1/72 I-153 'Chaika' Build
Libor Jekl is back with an eight-page build of the ICM 1/72 I-153 kit. Jekl augments the build with an instrument panel from Yahu, and a resin upgrade set from SBS. His build of this kit is assured, and he turns out quite a stunning result. It's hard to believe it's only 1/72 scale.
1/48 Lysander Mk III Build
The book's final build article features Gavia's 1/48 Lysander kit, and is again handled by Steve Evans in another five-page treatment. And once again we have a seriously good result from an otherwise difficult kit.
Sample Pages
Here's a small selection of sample pages, courtesy of Valiant Wings:
---
Conclusion
I enjoyed this title a great deal. Its blend of interesting history, attractive artwork, and impressive model builds is nearly perfect. The magazine format is highly accessible, and can be used as a launching pad for more comprehensive research into the period covered.
My only complaint is that, for a title with such a heavy modelling focus, there is only one large scale build featured. I appreciate that these larger projects take more time and effort to complete, but I would have liked to see the new Fly Hurricane feature, or perhaps the Special Hobby I-16.
That said, I think this is a fine starting point for modelling aircraft of the Continuation War, and has much to recommend it.
Thanks to Valiant Wings Publishing for the review sample.
© Kevin Futter 2016
This review was published on Sunday, December 11 2016; Last modified on Sunday, December 11 2016