Crowood | Junkers Ju 87 Stuka
Reviewed by Ed Crowley
Junkers Ju 87 Stuka
Crowood Aviation Series
Author Peter C. Smith
Published: 1999
Overview
The first thing I noticed was the weight of the book, which I would consider a coffee table book with a nice dust jacket showing three Ju 87s on the front cover and three color photos (one in flight) of the Ju 87 on the back cover.
The book has 240 pages all of which are printed on good heavy paper stock, adding a nice feel to the book when one holds it in hand. Twenty seven chapters, seven appendix sections and a few pages of notes. This section breaks down the notes according to the various chapters in the book.
The photos in the book are black and white and the quality of photos varies given the period of time when the photos were taken. Lots of inflight or action photos along with photos of the aircraft on the ground either just sitting or having maintenance or repair work being performed on them.
There are some nice detail shots of the aircraft examples include air cooler intakes, ejector exhaust stubs and the Dora type bomb cradle fixture and bomb mounts. Some of the pictures include various Luftwaffe pilots and high ranking officers inspecting various aircraft. One of the photos shows Stalin looking over a captured Ju 87. There are some cockpit photos but nothing that shows much detail.
Photo Excerpts
---
Other photos are of the aircraft that were shot up and wrecked on the ground. Interesting note shows a picture of Ju 87B-2/Trop that was presented to the Chicago Museum of Science and industry by the British. On section of the appendix shows the unit markings of the various units that flew the Ju 87.
The book in general has a ton of technical information about the aircraft from the beginning of its design all the way through the end of the war. Chapter 17 covers Stukas of other Axis powers. Bulgarian and Hungarian are two examples included in the book.
In this review I have included some photos that are in the book. Some are very good detail shots and others just general photos of the aircraft.
Rear Cover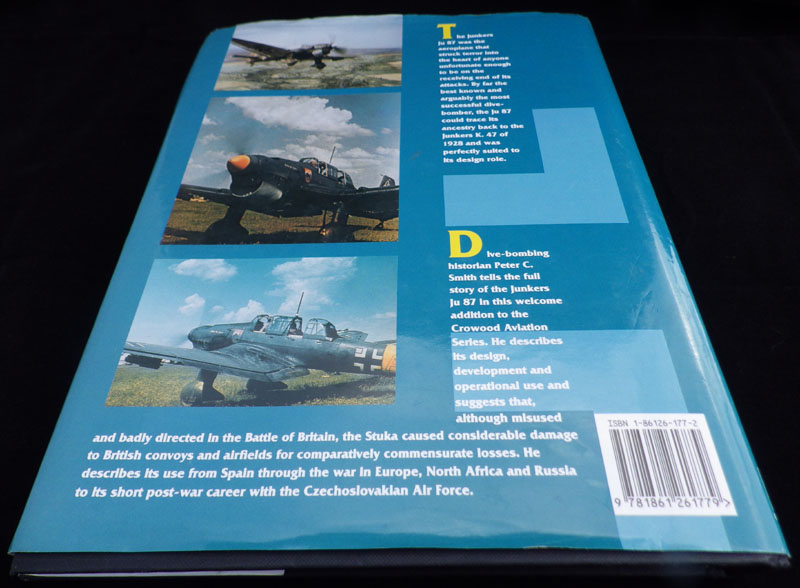 Summation
All in all this book I feel would make a great addition to one's military library and offers some good photos for the person so inclined to model the Ju 87, although this is not what I would consider a good starting point for someone who would be interested in the details while building a model.
© Ed Crowley 2016
This review was published on Sunday, October 30 2016; Last modified on Sunday, October 30 2016