Valiant Wings Publishing | Airframe Extra No. 5: The Spanish Civil War
Reviewed by Kevin Futter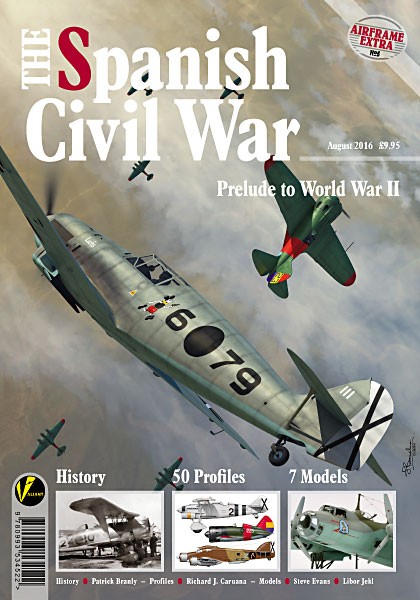 UK-based publisher Valiant Wings Publishing has just released the fifth title in Airframe Extra series. Issue No. 5, entitled The Spanish Civil War: Prelude to World War II, combines historical narrative, profile artwork, and seven model builds, and clocks in at 82 pages.
The specific structure of the contents is as follows:
History
Nationalist Profiles
1/72 Ju 87A-1 Build
1/72 I-15 Build
1/72 Ro.37bis Build
1/72 Vultee V-1A Build
1/72 Do 17E Build
Republican Profiles
1/48 D.510 Build
1/48 He 51B-1 Build
There's also a brief foreword from publisher Mark Peacock, followed by a table of contents. It's then on to the main content sections.
History
This 23-page section is written by Patrick Branly, and covers the context, preparation, and conduct of the Spanish Civil War, running from July 1936 to April 1939. The format follows a basic chronological description of events, with context given where appropriate. It's also chock full of interesting period photographs of some of the types involved, though it can only scratch the surface of the more than 280 types ultimately employed in the conflict. Nevertheless, it's a handy primer for the events of the war itself, and a good starting point for further historical research.
Nationalist Profiles
As with all the profiles in the book, this section is illustrated by Richard Caruana, and features nine pages of colour profiles with captioned colour notes. An extensive range of Italian and German types is covered, along with a pair of Russian I-16s, and a single Hawker Fury. The array of schemes on offer is truly spectacular, and should offer no end of inspiration to anyone seeking to build any of the depicted types in Nationalist SCW guise.
Interestingly, this particular title has eschewed the format's usual inclusion of a colour reference section, citing poor documentary evidence from which to draw any conclusions. A few educated guesses would have been helpful, but I can certainly appreciate the logic behind this decision.
1/72 Ju 87A-1 Build
The first of the title's seven model builds features Libor Jekl's build of the Special Hobby 1/72 Ju 87A-1 kit. Like all the builds in this book, it's a typical magazine-style photo-essay of the build, covering eight pages of hints, tips, and advice. While largely an out-of-box build, Jekl is an absolute wizard in this scale, and his expert handiwork has delivered a build so exquisite that it truly belies its tiny scale. Libor Jekl's builds for Valiant Wings publications have single-handedly persuaded me that 1/72 models can in fact appear as convincing as those from larger scales. Bravo!
1/72 I-15 Build
Libor Jekl returns with the book's second build, featuring the Azur 1/72 I-15 kit. The style of this six-page build is similar to the preceding one, as is the result! Jekl really does some amazing things with these tiny, difficult, short-run kits.
As with the other builds in this book, it features a section entitled "Historical Significance", wherein that particular aircraft's role in the battle is elucidated. It's a nice touch, and saves the historical section from becoming bogged down with such tangents.
1/72 Ro.37bis Build
Libor Jekl makes it three in a row with his build of the Azur 1/72 Ro.37bis kit. Over the course of eight pages, Jekl shows us how to handle Azur's kit of this obscure type, and as usual, he turns out a very impressive model indeed.
1/72 Vultee V-1A Build
It should be no surprise by now that Libor Jekl is the author of yet another superb build in 1/72 scale, this time featuring Azur's Vultee V-1A kit. Jekl turns this little-known pre-war American civil transport aircraft into a bomber used by the Republican forces in an impressive five-page build essay.
1/72 Do 17E Build
The fifth build in this title sees Steve Evans pick up the reins, and features the RS Models 1/72 Do 17E kit. It's another impressive small-scale build, though Evans is not so impressed with the kit itself. Still, he turns out a fine build of an early Dornier, and his build article is instructive.
Republican Profiles
In contrast to the section on Nationalist profiles, Republican aircraft are given only two pages, the majority of which is comprised of the Polikarpov I-16. Of the remainder, two depict the Hawker Fury, another features the Bristol Bulldog, and the last one is a CASA-built Breguet Bre.19. Despite the limited number of profiles, they're all very interestingly coloured aircraft, and would make for quite interesting models (especially the erstwhile RAF types).
1/48 D.510 Build
Steve Evans is back with a five-page build of the Fonderie Miniatures 1/48 Dewoitine D.510. It's amazing that this ungainly anachronism only entered service in 1936, but it had little impact on the war. Evans' build of this difficult kit is assured, and he turns out quite a stunning result.
1/48 He 51B-1 Build
The book's final build article features Roden's 1/48 He 51B-1 kit, and is again handled by Steve Evans in another five-page treatment. And once again we have a seriously good result. It seems the worst thing about this kit is the decals.
Sample Pages
Here's a small selection of sample pages, courtesy of Valiant Wings:
---
Conclusion
I enjoyed this title a great deal. Its blend of interesting history, attractive artwork, and impressive model builds is nearly perfect. The magazine format is highly accessible, and can be used as a launching pad for more comprehensive research into the period covered.
My only complaint is that, for a title with such a heavy modelling focus, there are no large scale builds featured. I would like to have seen a Silver Wings He 51, Special Hobby I-16, or perhaps even an early Emil build.
That said, I think this is a fine starting point for modelling aircraft of the Spanish Civil War, and has much to recommend it.
Thanks to Valiant Wings Publishing for the review sample.
© Kevin Futter 2016
This review was published on Sunday, August 28 2016; Last modified on Sunday, August 28 2016