Jim Brown | 1/32 Typhoon/Tempest Resin Engine and Mount
Reviewed by Kevin Futter
M.A.N. Models is run by modeller Jim Brown, and their debut aircraft-related release is a replacement engine set for the Revell Hawker Typhoon.
The set includes a full one-piece engine block, firewall, and engine mounts, and comes in a pair of resealable clear plastic bags: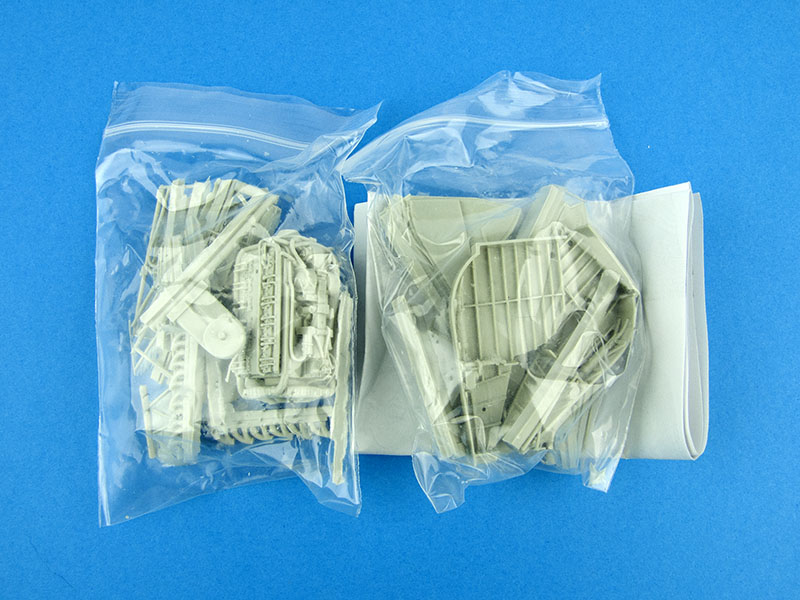 Also included are a pair of replacement exhaust stacks, replacement landing gear bays, legs, and doors, and sundry detail parts to flesh things out. There's a rather crude A4 sheet of illustrations included to aid with construction, though you couldn't really call them instructions.
Napier Sabre
The centrepiece of the set is a very nicely rendered resin Napier Sabre, featuring some very fine wiring and plumbing detail: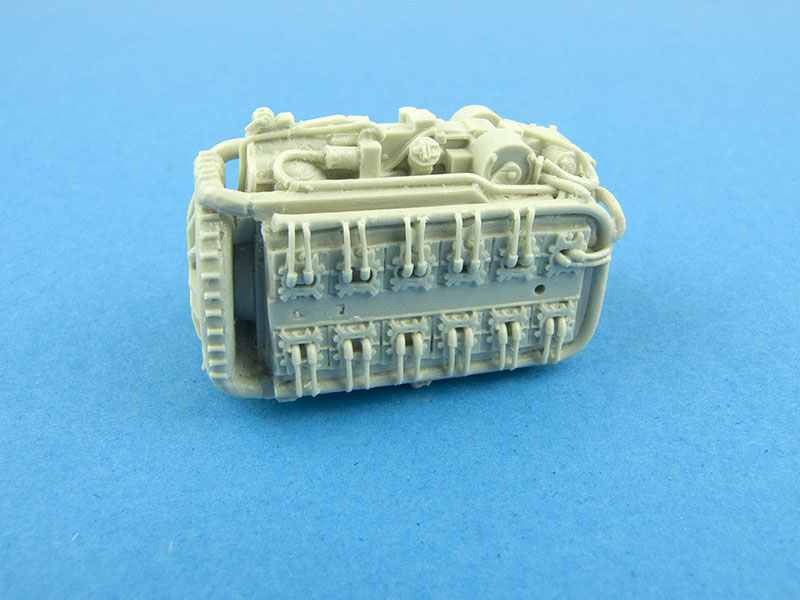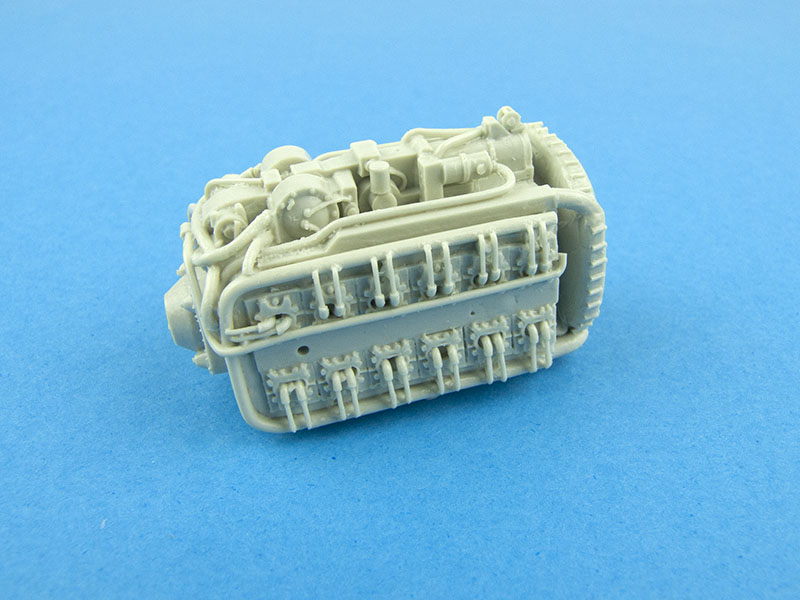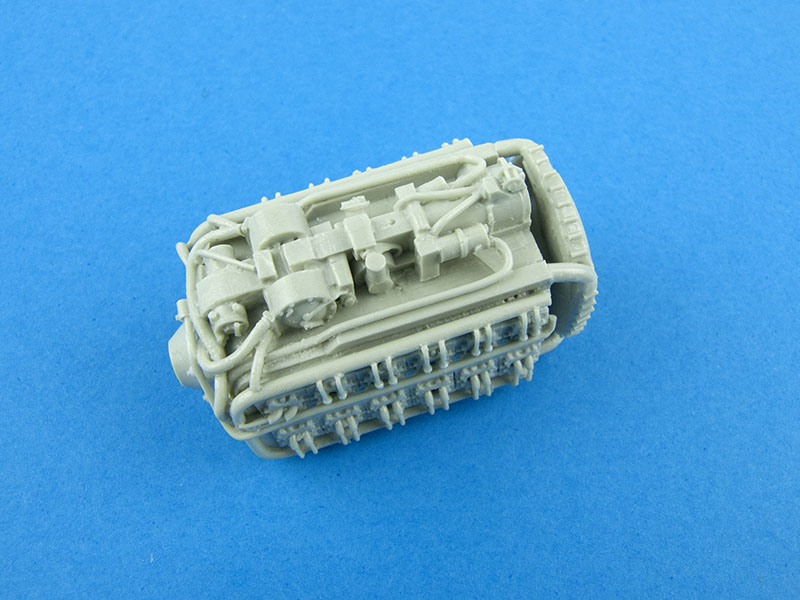 While it's a little rough in places, it represents a significant improvement over the kit unit: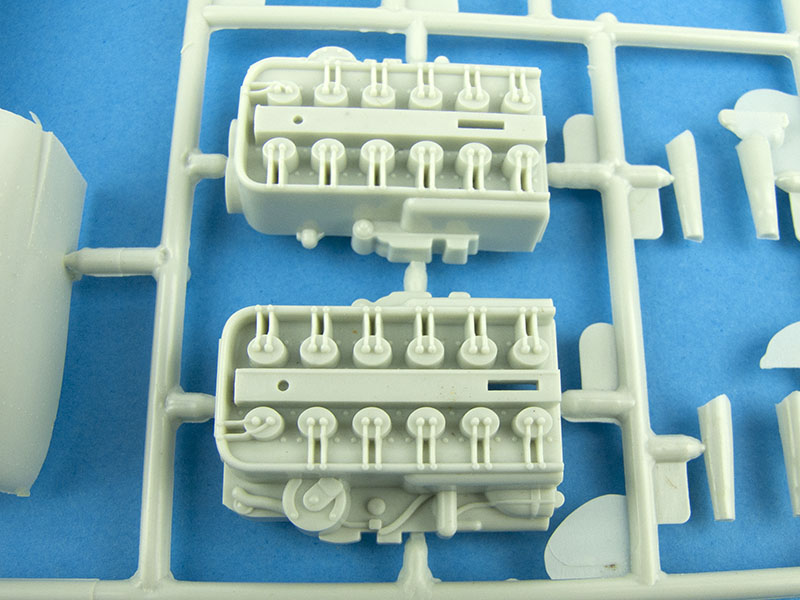 Along with the engine itself, there is a range of detail and structural parts associated with the engine assembly:
---
The included exhaust stacks are also much better than the kit-supplied units, being of better shape, and nicely hollowed-out: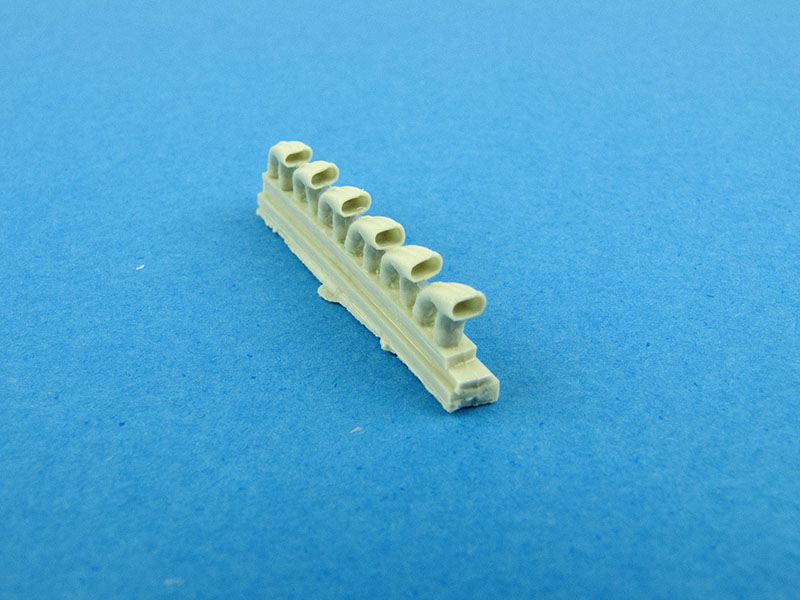 Landing Gear
The other notable element in the set is an almost complete set of replacement landing gear parts, including a pair of detailed wheel bays: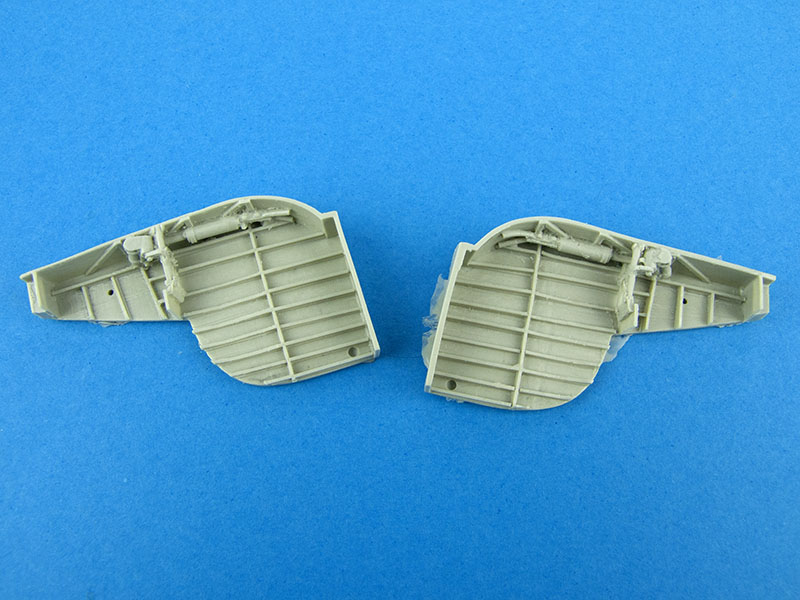 Again, the casting is a little rough in places, but offers much better detail than the plain kit parts: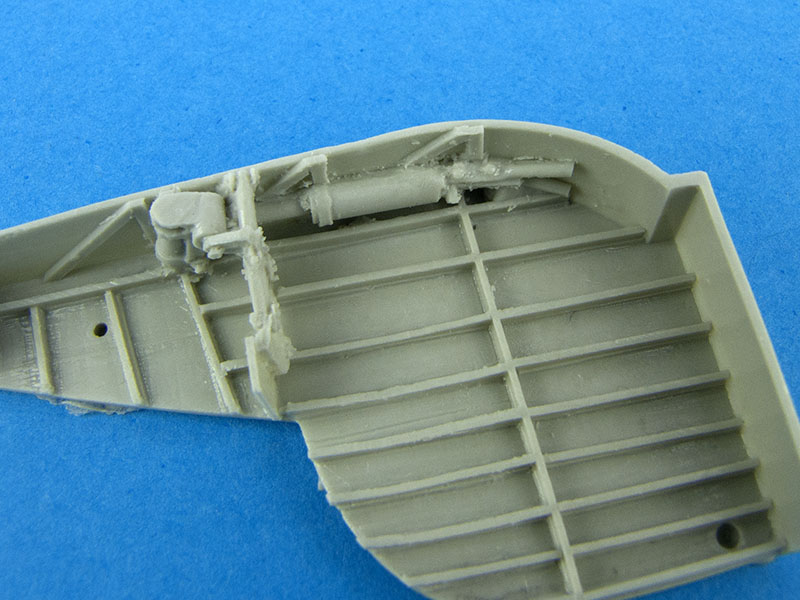 There's also a replacement pair of main undercarriage legs, with metal reinforcement rods moulded integrally: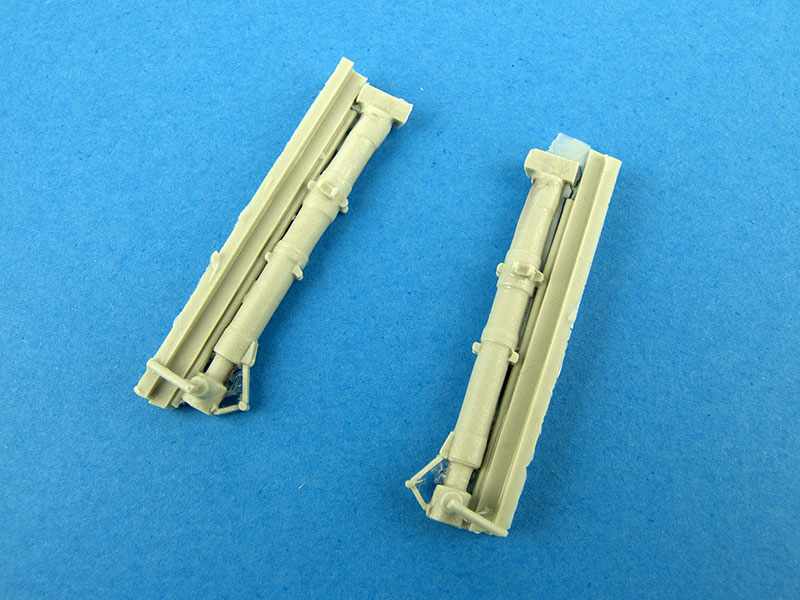 And a full set of replacement gear doors: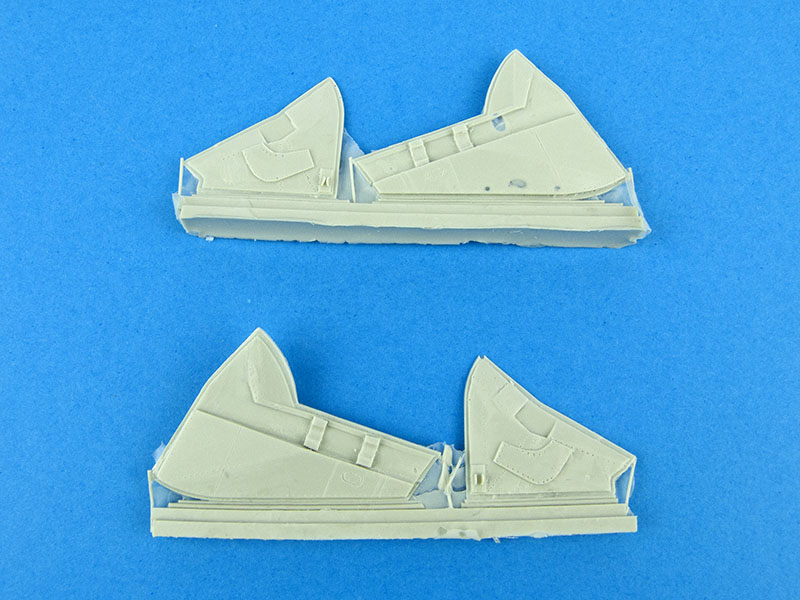 The detailing on these is a little crude, and one of the parts in my sample is slightly warped, but again, they're a definite improvement on the kit parts.
A nice bonus included in the set is a replacement cockpit door and pilot's headrest, with the former being handy if you intend to model it in the open position: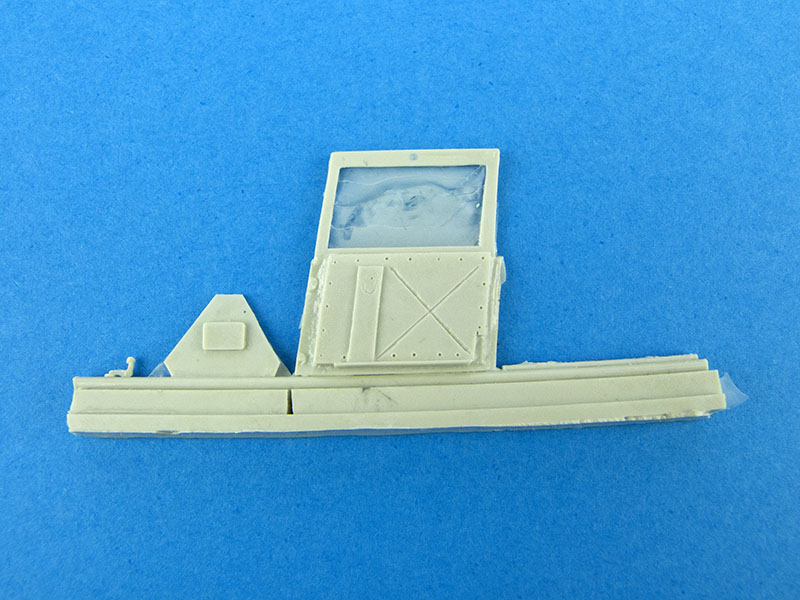 Instructions
This is probably the weakest element of the set, comprising some poorly reproduced photographs and drawings, intended to show where all the new parts go. While they will offer some assistance in that regard, only the engine assembly is covered, and you'll need to refer to your references to assist with the placement of some of the pipe work and wiring.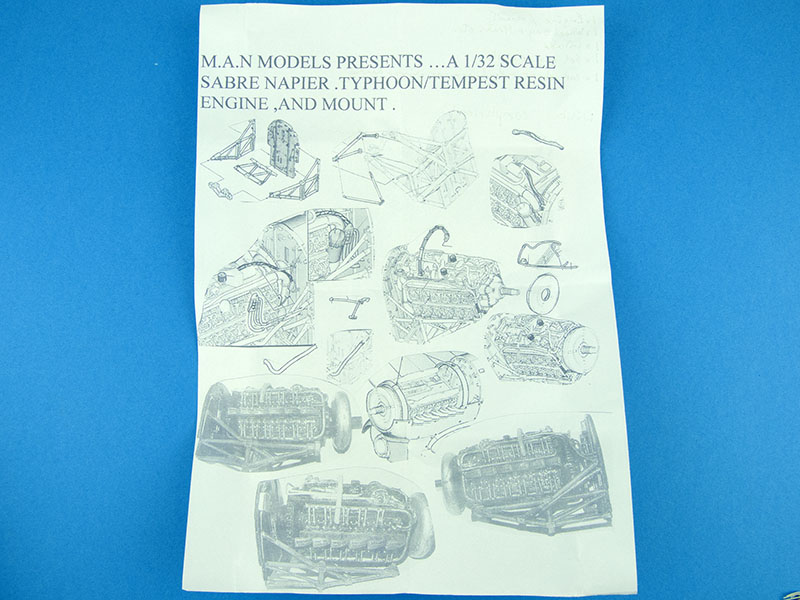 Conclusion
While it's fair to say that this set from M.A.N. Models has some rough edges, and is not in the same league as the best commercial resin sets out there, it's still a very decent effort, covering a long-neglected subject. The engine and exhaust upgrades are probably worth the price of admission alone, and the rest can be considered a bonus. As evidenced by the photos, there's plenty of resin flash to clean up, and some generally tidying-up of the parts will be required, so I wouldn't recommend this as your first resin upgrade set. But in the hands of an experienced modeller, this set offers some substantive improvements over the relevant kit parts, and could easily form the basis of something really impressive.
This set is currently available from Jim's eBay store, and can be purchased in combination with a set of replacement engine cowls and intake, or without the landing gear elements. To quote Jim:
I have three sets available, set one, A complete engine and firewall and mounts, set 2 A replacement set of engine cowls + air intake cowl, set 3 A replacement wheel bay & oleo struts and wheel covers. All sets can be purchased as one inclusive set, or as three individual sets. Set 4 all off the above.
In conclusion, I think this is a really useful upgrade combination for the old Revell Typhoon, and I can recommend it to modellers who possess the level of experience this set will require.
Thanks to Jim Brown for the review sample.
© Kevin Futter 2016
This review was published on Saturday, April 23 2016; Last modified on Monday, April 25 2016